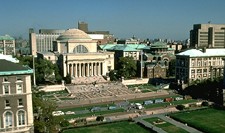 olumbia University, located in New York City on Manhattan's Upper West Side, is one of the world's leading institutions of higher education and research. Founded as King's College in 1754 and a member of the Ivy League since its inception in 1956, Columbia today comprises 16 undergraduate, graduate and professional schools. The University offers 6,350 courses in 69 academic departments and divisions, covering the arts and sciences, and the professions of architecture, arts, business, dentistry, engineering, international affairs, journalism, law, medicine, nursing, public health, planning and preservation, public affairs and social work. Columbia's historic main campus consists of 71 buildings on 36 acres and was originally designed by the architectural firm of McKim, Mead and White.
Walking tours of the main campus are offered through The Visitors Center, 213 Low Memorial Library. Please call (212) 854–4900 to arrange to take one.
We invite you to view a cross section of academic and administrative buildings on this interactive tour.