Jefferson Svengsouk, Alum
Columbia College 1990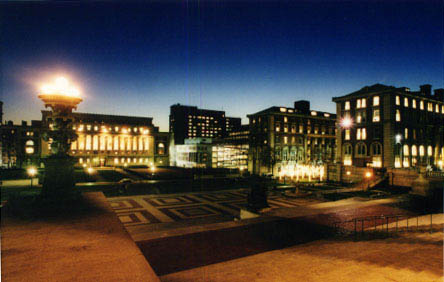 An urban university campus is not the first place in the world that comes to mind when I think of locations that have the capability to move the soul, but Columbia has these places. Like most miracles, these places are not things that the common individual like myself pursues or constructs. As a matter of perception and awareness, one finds oneself immersed in miracles, episodically stumbling into them with a surprise of realization and delight, even though they always have been there.
The first place of beauty did not reveal itself until some student mission placed me in the vicinity of Low Library in the dead of night. Looking south across Low Plaza over to Butler Library and her sister buildings was very inspirational to me, the lights from the buildings revealing warmth, and the shadows suggesting mystery, contrasting with the simple concrete classical beauty seen during the day. The massive warm glow emanating from the large, paned windows between the multitude of columns on Butler's facade spoke to me of the millennia of wonders contained within.
The second place of beauty, while technically not a part of Columbia's campus, deserves mention. As described earlier for "My Columbia: Favorite Place (Not) to Study," the gardens at the Cathedral of Saint John the Divine are a wondrous refuge and respite from the trials and tribulations of student life, recharging the spirit for the upcoming tasks at hand.
The third place of beauty comes from within that monument to urban development, the East Campus tower. Cold, gray, and functional, even this place can be the gateway to the wonders of the world. Early one forlorn morning, high up in the tower, I stepped out of my suite into the hall, and a brightly lit window beckoned to me from the other end. From that east-facing window, high above the world, I saw a majestic sunrise, warming the fog-shrouded greens and browns of Morningside Park, and illuminating my soul as well. It would be a good day.