Michael Werthman, Alum
Columbia College 1962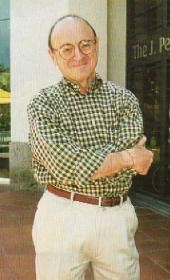 I lived on the ninth floor of Livingston Hall in my freshman year (1958-59) and on the second floor for a few months at the start of my sophomore year. In addition to trips to the Lion's Den, sessions playing bridge or poker, hours of conversations about books, ideas, and girls, several of us enjoyed watching the communal TV on the ground floor of our dorm. Our favorite was "Maverick" one of the many westerns that dominated prime time, after the Columbia-related scandals drove the long-popular quiz shows such as "21" from the air.
The viewing was interactive. Each of us responded to the program and commercials with what we thought were witty quips. The others in the room judged the cleverness of our come-backs and put-downs and amplifications of what appeared on screen. They laughed, booed, one-upped in a lively hour of "can you top this." Most seemed to enjoy these respites from study, which were well-attended each week. We even moved the act to the Nemo, the closest movie house (later replaced by a Daitch Dairy Store), on Broadway.
Instead of members of the audience (mostly Columbia students and faculty) telling us to shut up, several joined in to make even the most ordinary second feature more entertaining and a night out of the dorms at the movies a true Columbia experience: irreverent, illuminating, creative, erudite, and intellectually challenging.
Interestingly, some of the students who made the sharpest remarks in the Livingston Hall TV Room or in the darkened Nemo were individuals I remember as being hard to draw out during interchanges in the classroom, unless the course was being taught by one of the many entertaining and involving professors we were fortunate to have in the late fifties and early sixties - such as Jim Shenton and Joseph Rothchild - who made every topic they covered a not-to-be-missed "prime-time" "first-run event."