Elliot Bassman (1978)
City Memoir, pen and ink on paper, 36" X 24", 2006
Eternity Series, acrylic on canvas, 80" X 64", 2004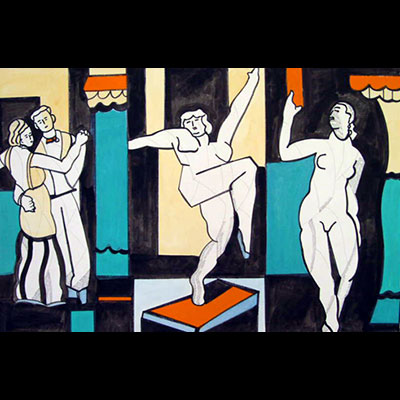 Music and Dance Series, mixed media on paper, 29" X 40", 2003-2006
Prism, acrylic on canvas, 54" X 30", 2005
Toshio Series, ink on paper, 22" X 30", 2004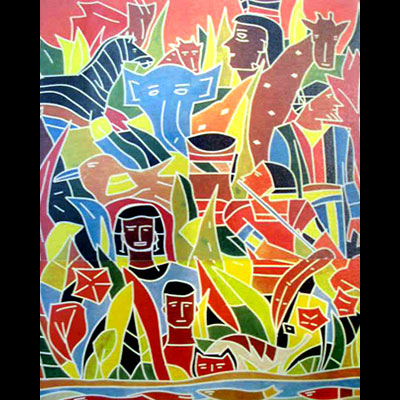 Twenty Five, mixed media on paper, 38" X 50", l993-2006
I studied drawing and painting with artists Leon Goldin and David Lund. I studied printmaking with Robert Blackburn. The drawing classes took place in Dodge Hall and they often included drawing from models, under the direction of Leon Goldin. In our private studios-located uptown-we were allowed daily access. There, my painting mentor, David Lund, took a strong interest in technique and encouraged my bold and persistent regard for a personal theme.
Of particular interest were several visiting artists who came to our studios and worked with us individually. I remember Wolf Kahn exclaiming the "no-commercial" character of my "dark and brooding" painting, however, he coveted my artistic freedom. Stephen Greene, on the other hand, clearly expressed his preference for my minimal, monochromatic works.
Truly, some of the most exciting experiences occurred in Robert Blackburn's printmaking classes. Supportive and encouraging, I experimented with several processes-the lithograph stone and the monoprint plate. In the former I found the work arduous and belabored; in the latter, I was more free and expansive. Mr. Blackburn saved an untitled lithograph of mine-a figure in a toga-and placed it in his private collection. Mr. Blackburn's genius was recognized in the last years of his life, a recipient of prestigious awards. Last year I received a letter from the assistant curator of prints at the Library of Congress. She wrote to me that the Library had acquired Mr. Blackburn's private collection, and that my untitled lithograph, printed at Columbia University, was among the prints purchased by the Library.
Of further interest, I recall that my letters of recommendation in my application to Columbia were written by artist and photographer, Steven Sloman, and by the very inspiring artist, Philip Guston.
Having studied with WPA artists at City College of New York; a private tutor, Harry Shoulberg; the Art Students League at Woodstock, New York; the Skowhegan School in Maine; the New York Studio School in Greenwich Village; and Columbia University-my official fine arts education felt completed, and I have continued to paint as a professional artist for the past twenty-five years. I have explored many styles, techniques, have exhibited in a vast array of spaces, and my work has found its way from Germany to Alaska. Indeed, I find it noteworthy, that my attendance at Columbia was the last "protective" ground I experienced, before I joined the wider world of art and life.