Michael Bogdanow (1979)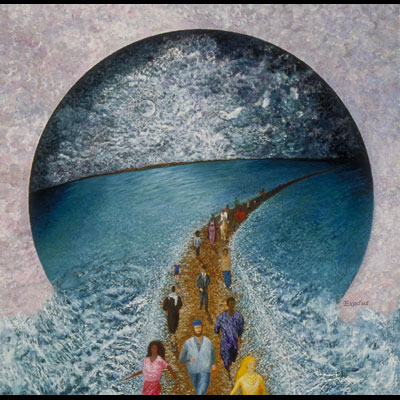 Exodus, oil on canvas, 2001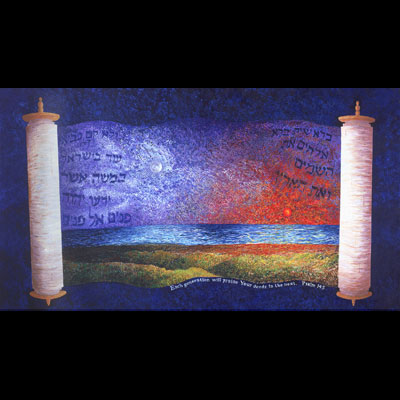 Generation To Generation, acrylic on canvas, 24" X 42", 1999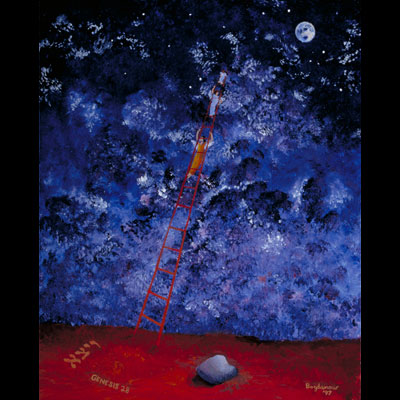 Jacob's Ladder, oil on canvas
Jerusalem Sunrise, oil on canvas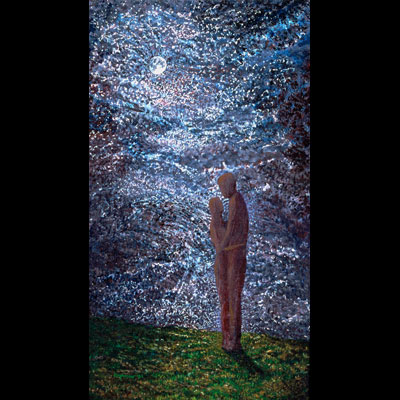 One Flesh, oil on canvas, 2001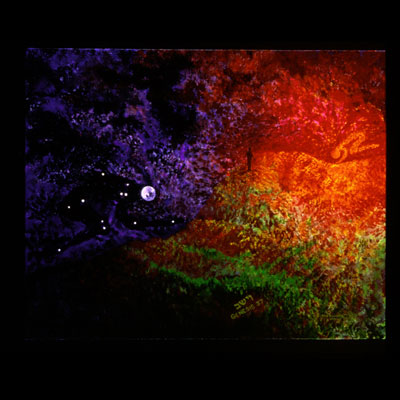 Joseph's Dream, oil on canvas, 1998
I received my M.F.A. in Painting and Sculpture from Columbia University in 1979. At the beginning of my years at Columbia, I hammered and welded metal sculptures while Saul Swarz was overseeing the graduate sculpture students. Then Saul left and Bill Tucker came in. Around that time, I was primarily creating mixed media sculptures and paintings. To this day, I still create mixed media sculptures, often in the form of mobiles utilizing beads and thread, creating spheres of hanging beads. Hard to put into words, of course.
Most of my art of the past ten years has used the Torah and other biblical texts as a source of inspiration for the art. The ancient text serves as a source of inspiration to begin the creative process, but, once the painting begins, the goal is always to create a unique, fresh and vibrant painting, transcending the specific text or images that inspired it. I exhibit and sell the original paintings, as well as reproductions of them and licenses to use the imagery. I've also devoted much of my time in art to commissioned works, collaborating with an institutional or individual purchaser to create unique, individualized works of art, many of which are also inspired by biblical texts.
My undergraduate degree was in studio art from Brandeis University (magna cum laude with honors in fine arts). After my years at Columbia, I was a high school art teacher, and then obtained a law degree from Harvard Law School (cum laude). To this day, I maintain careers in both art and law, practicing in the Boston law firm, Meehan, Boyle, Black & Fitzgerald, P.C., where I also serve as managing officer. I play keyboard in the rock band, the Titanic All Stars, and have served as president and chairperson of several arts, educational and legal associations in the Boston area.
My most recent artistic endeavor was the publication of "Visions of Torah: An Artist's Reflections On The Torah As A Source Of Insight Into Our Lives." The book contains 25 reproductions of my paintings and 30 pages of text, re-telling the entire Torah, from Creation to Moses' final moments gazing at the Promised Land. The text is interpreted through my own words and images, applying the ancient texts as a source of insight into our lives and times. My website - www.MichaelBogdanow.com - provides imagery and information about my art and the new book.