Helene Brandt (1975)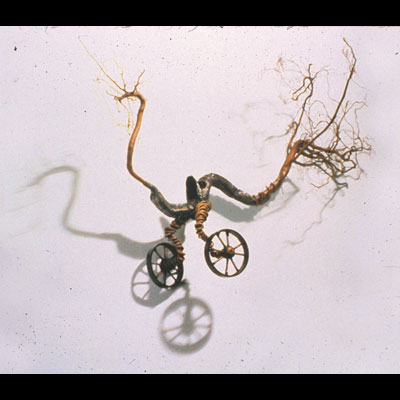 Flying Roots I, steel/roots/paint, 16" X 24" X 11", 2003
Pussy Willow, wood/steel/springs/pussy willow, 23" X 16" X 6", 2004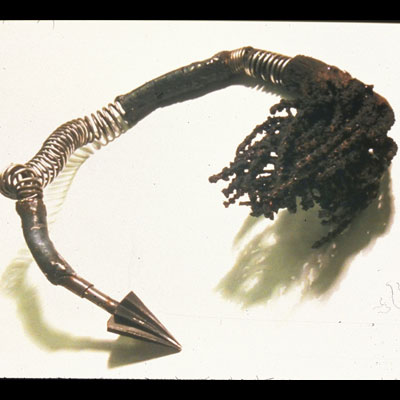 Star Drill, steel springs/palm inflorescence/drill, 14" X 15" X 5", 2004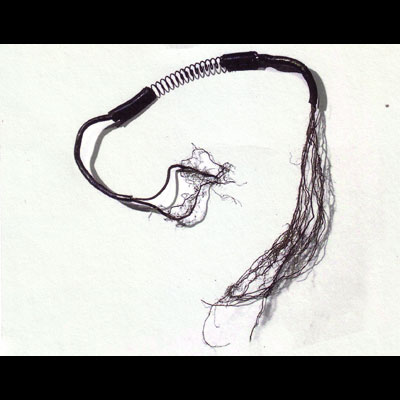 Spring (Hanging Roots 11), steel, roots, spring, 16" X 17" X 1 ½ ", 2003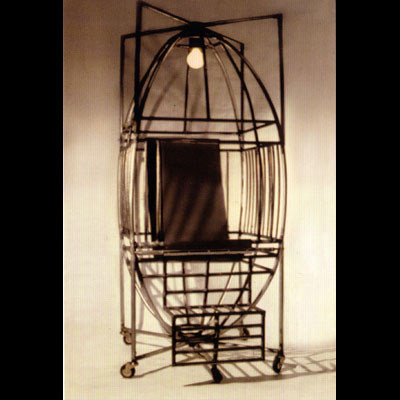 Throne, welded steel, 1979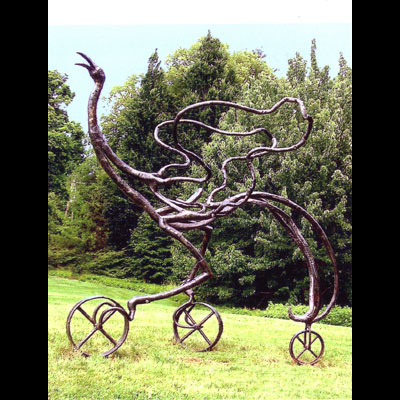 Charion, welded steel, 75" X 52" X 65", 2004
My years as an MFA student at Columbia School of the Arts changed my conception of the meaning of art and of art making. When I entered in 1973, I was welding together sheet steel to make solid looking forms. When I left I was making kinetic and musical sculptures of cut up bicycle parts, Chinese woks, bass drum heads attached to bicycle wheel frames. These later evolved into tubular structures built around my own body that the viewer could enter into and move around in.
This transformation was directly related to my experiences at Columbia. I was with a group of eight stimulating and talented students. Three of us later were awarded Guggenheim Fellowships-myself, Ursula Von Rydingsvard and Mary Ann Unger. For our first year, George Sugarman was our visiting artist. When he saw my sculptures he said, "You used to be a dancer. How can you make such stiff sculptures?" I tried, but had a hard time loosening up.
Then towards the end of my first year, an undergraduate student in the welding course (I was a teaching assistant for Sahl Swarz) said his uncle had a warehouse full of dysfunctional bicycles and would I be interested in using them for my sculpture. I went to his uncle's place and chose about forty excitingly colored bicycles and loaded them in a van-with the neighborhood children looking on with envy-and put them on the roof behind the welding studio at Prentis and started making sculptures out of them.
For our second year our visiting artist was Ronald Bladen. He said he had a friend who every year celebrated his birthday by jumping off a roof of a building on Canal Street into a large inflated swimming pool on the pavement below. That is how exciting Bladen thought making art should be. In reaction to my discontent that even my bicycle tubing sculptures looked rigid he suggested I throw the tubing across the room and weld it together where it landed. Unfortunately the resulting forms weren't as exciting as the experience of the throwing. When I started joining them with springs and music making elements, they came alive, and I could actually dance with them. Fortunately this is all recorded in the film "Bicycle Music" directed by Tom Coyne ('78) and with music by Alice Shields, a Music Division Ph.D., a copy of which is now in the Columbia Visual Arts Archive.
---
My father was an inventor and my mother was a sculptor. So much emphasis was placed on creativity when I was growing up that I tried to rebel against it. But I wasn't successful in overcoming my strong need to understand my father's logic in an emotional way and my mothers emotions in a logical way. My parents met at the Batona Hiking Club In Philadelphia. Nature, invention, art, rationality and irrationality are all part of my background and part of my art.
I didn't start out in sculpture. My first love in the arts was dance and my favorite activity was improvisation. I completely lost myself in the world created by my moving body. But there were things I didn't like about it. I couldn't stand back and look at what I was doing. Everything disappeared when I stopped moving. Except for the pure physical joy of dancing, making sculpture satisfies me more. I can be more inventive with form and when I stop working, the sculptures continue to exist and what I learned and experienced as a dancer has been incorporated into my sculpture. My artistic decisions are both visual and visceral.
I use steel tubing to make openwork, skeletal-like sculptures. I often build enclosure around my own body, some cage-like, some more lyrical and open. My current work is greatly influenced by my love of nature and the time I spend hiking in the woods. I have become so fascinated by the linear qualities of the trees, branches and roots that surround me that it has affected the way I use my materials. In my earlier sculpture I bent the tubes carefully making sure the curves were smooth. Now I heat them until they are red hot and bend them with abandon welcoming the kinks, twists and turns that bring them to life. My latest sculptures are no longer enclosure but are perhaps the creatures that have emerged from the enclosures. They seem to have metamorphized from scavenged roots and twisted tree branches.