Abby Goell (1965)
Calmth, oil/acrylic on canvas, 42" X 40", 2004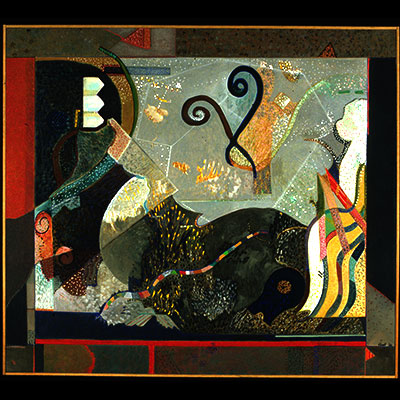 Counterpoint in a Fugue, oil-acrylic on canvas, 48" X 55", 2002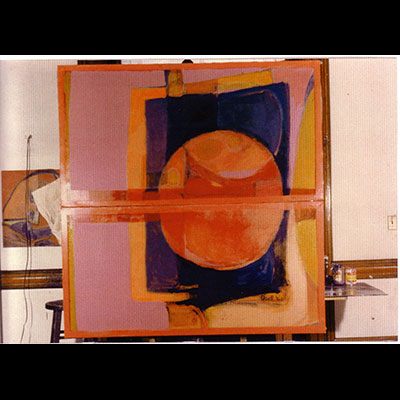 Lost Painting (since 1966)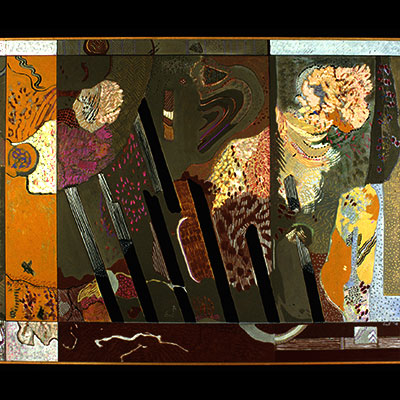 Lucky Grey, oil/acrylic on canvas, 48" X 64", 2004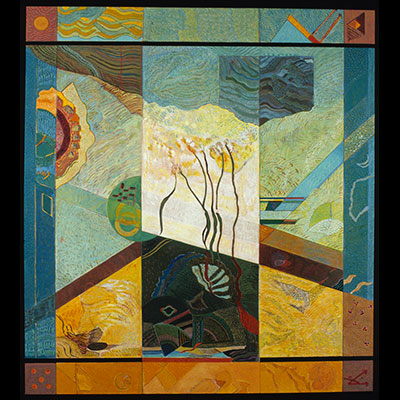 Newton's God, oil/acrylic on canvas, 72" X 65", 2005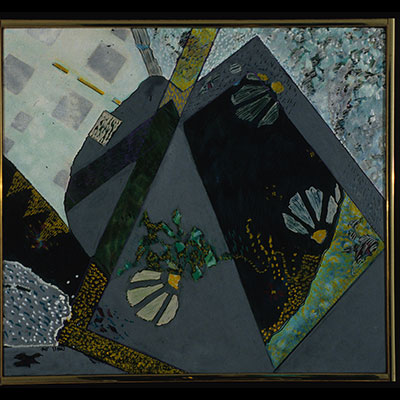 Searching for Persephone, oil/acrylic on canvas, 20""X 22", 2004
I have drawn and painted from early childhood-the reality of words, ideas, shapes and colors and textures have always seemed to me of equal weight and importance. I concur with Delacroix's statement-"to know the invisible, seek only the visible"-but the visible is full of mystery, nuance, changes. I try to make order out of chaos, perhaps too ambitious an agenda for a mere painter.
I also fell in love with architecture, and more recently with gardens and landscape. Had this happened earlier, I might well have gone into landscape architecture instead of returning to graduate school for an MFA in painting. They are certainly equally impractical in terms of earning a living.
My teachers in graduate school at Columbia included Robert Motherwell, Stephen Greene, John Heliker, Meyer Schapiro for art history, Howard M. Davis, Julius Held. All were forthcoming, interesting, and generous with ideas and time. We were a class of only seven-today I'm sure it is quite different, less personal and "fraternal" in spirit. But the best thing I got at Columbia was the casual acquaintance, often random chats, of brilliant scholars and researchers in totally unrelated fields of study. It was a unique opportunity-I recognized it.
The demands of a normal family, social and financial life weigh more heavily on women artists, I believe. But in the long run, it's healthier to heed those demands and develop a more balanced personality. I am aware that life becomes more complex, not simpler, as it unfolds, but complexity seems to be the hallmark of every evolved species and culture.
Picasso said, "Art is a lie that reveals the truth." I agree with that strongly. Often, I feel guilty, when the world is falling apart, to spend my best energies and time on something that can seem so frivolous and irrelevant, at best. But my long study of history tells me it is the only part of a culture that survives. I feel lucky and privileged to be able to contribute even a tiny bit to the larger human effort to reflect our time.