Hyunok Ko (1989)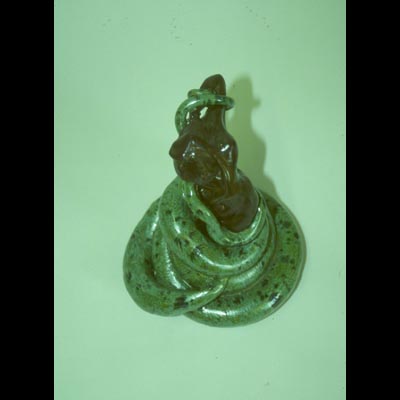 Agony A, Ceramics, 1' tall
Agony B, Ceramics, 1' tall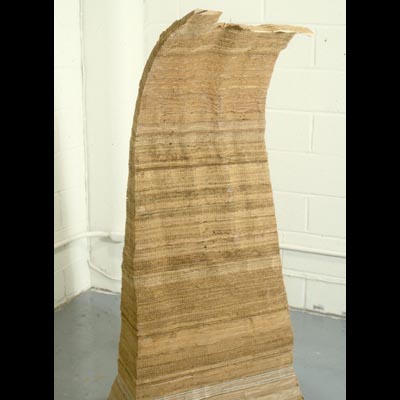 diary, Cardboard, 2' x 5'
Earth, Ceramics, 1' tall
Echo, Ceramics, 1' tall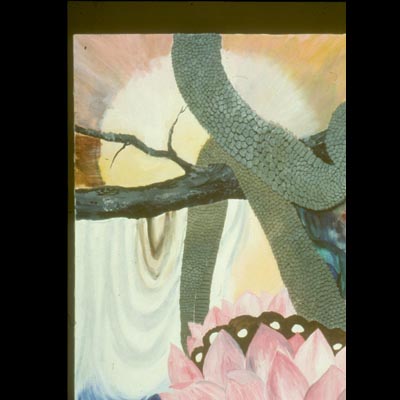 Nirvana, paper mache & acrylic
I translate dreams and wishes, pain and despair into art. Through my work I try to evoke sound of Ocean, sound of Earth or echo of silence. The piece titled "Diary" was exhibited at "13th Annual Paper in particular" 1992 in Columbia College, Columbia, MO. Piece titled "Agony" was selected by jury to be exhibited for "Small Works" in SRW Art Gallery in Sierra Madre, CA, 1995.
For last 3 years, I have been making jewelry with semi-precious stone for a Buddhist art dealer. In future I should be able to show pictures of my jewelry.
---
My Experience at Columbia
When I was interviewed at Columbia University before entering MFA program, I said I will be working with clay. However during my graduate school years, all my work was made of stacked cardboards. In spite of sounding like a cliché, Columbia University MFA program helped me to think outside the box. Once I entered Columbia University, I stopped thinking sculptural mediums are limited to clay, steel, bronze, wood, and stone. During my two years at Columbia, there were around 20 students in MFA program each year. Every one of them had distinctive individual style. Probably I turned to cardboard to find my unique style. We all influenced each other. I remember especially being influenced by Rothschild. She had her own symbols as writing system. I also tried to find my own characters to write and I began to approach making sculpture like writing a diary. During those two years I was fortunate to have Luise Kaish as advisor for 2 years in a row. Thus I was able to develop my style without any interruption.
What I remember the most with fond memory is the evening, several of us at MFA program, visited Luise Kaish's home. My second year at Columbia University Professor Kaish invited some of us to her home. We were excited and also bit nervous about meeting renounced painter, Morton Kaish, who is Luise Kaish's husband. Their home looked like art gallery as we expected. But we were surprised that Mr. Kaish hardly talked about his work or himself. He mostly talked about his wife and his daughter. We learned their only daughter is not an artist, instead she is a business woman. But the center piece of these two famous artists' home was their daughter's sculpture---giant scissor made with wood. Very soon we all forgot we were at world's famous artists' home, instead we realized we were with a nice happy couple who were very proud parents. We got relaxed and ate food professor Kaish prepared for us and chatted for hours. I have to say that evening was the most memorable and fun time I had in my 2 years at Columbia University.