Mary Ann Unger (1975)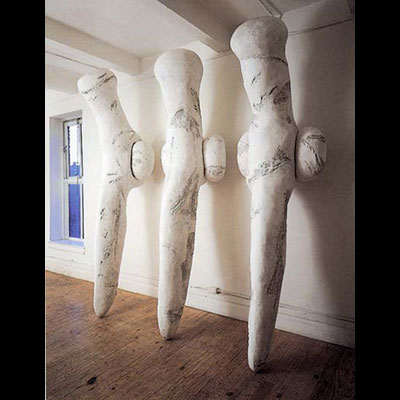 Shanks, 1996-97, hydrocal and steel, 109" x 98" x 34"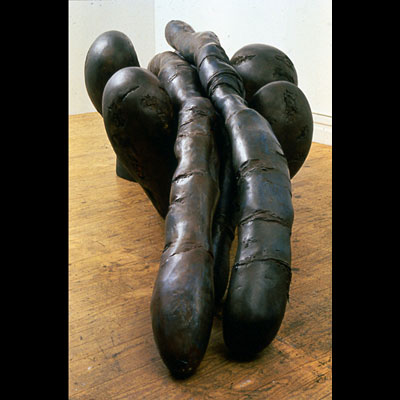 Deposition/Nature Mourned, 1991, hydrocal over steel with pigment, wax and graphite, 36"h x 128" x 54"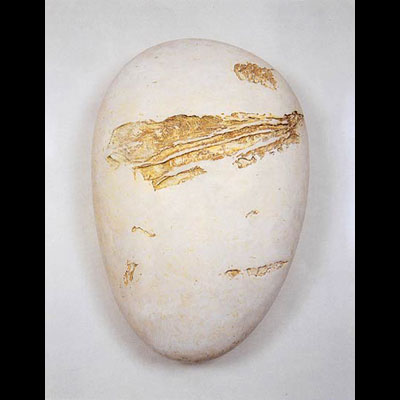 Zygote (Mitosis Series, no. 1), 1996, hydrocal and steel, 35" x 29"x 12"
Black Heart, 1996-97, hydrocal over steel with pigment, cheesecloth, and graphite, 34"x 25"x 6"
Guardian of Music, 1987-91, hydrocal over steel with pigment, wax and graphite, 90"h x 32" x 23"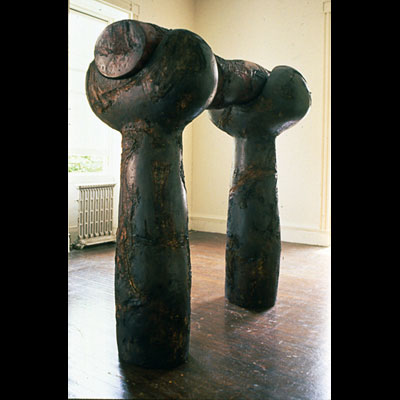 Pall Bearers, 1989, hydrocal over steel with pigment, wax and graphite, 77"h x 72" x 36"
Obituary, written by Roberta Smith, The New York Times, January 3, 1999
Mary Ann Unger (1945 - 1998) received a bachelor's degree in art at Mount Holyoke College, where she learned to weld, cast bronze and carve marble. After a year of graduate school at the University of California at Berkeley, she spent several years traveling, including a trip alone through North Africa. She then received a master of fine arts degree in 1975 from Columbia University, where she studied with Ronald Bladen and George Sugarman. The playful, undulating shapes of the pieces she started exhibiting in the late 1970's reflected Mr. Sugarman's influence.
These evolved into tensile structures whose repeating arcs evoked both Islamic architecture and boughs of trees. The style served Ms. Unger well in numerous public commissions, including "Ode to Tatlin," in 1991, a pair of tall, crisp colonnadelike curving forms that face each other, forming a kind of elliptical gateway, at the Aaron Copland School of Music at Queens College.
After Ms. Unger's breast cancer was diagnosed in 1985, she exhibited a more expressionistic side in her art. Over the next several years she became known for dark, bulbous, beamlike forms that she often laid out or propped up in clusters. Made of hydrocal, a lightweight plaster, over steel armatures, with surfaces that appeared to be scarred and scorched, these pieces could suggest giant twigs, human limbs or sausages, as well as the aftermath of some mysterious ritual or catastrophe.
In their effort to conjure the body without actually depicting it, these works occupied a territory defined by Eva Hesse and Louise Bourgeois. But the pieces combined a sense of mythic power with a sensitivity to shape that was all their own, achieving a subtlety of expression that belied their monumental scale.
Ms. Unger's work is in the collections of the Hirshhorn Museum and Sculpture Garden in Washington, the Brooklyn Museum of Art and the Philadelphia Museum of Art, along with many other public and private collections. Additional works and information about Mary Ann Unger and the Mary Ann Unger Estate can be found at www.maryannunger.com.