Jill Viney (1968)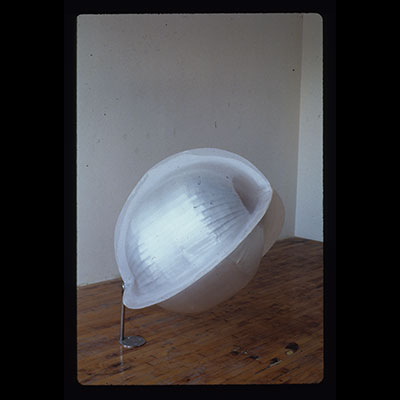 Baja II, mixed media, 46" X 36" X 40", 1995
Drifter II, 1999 and Vigil, 2004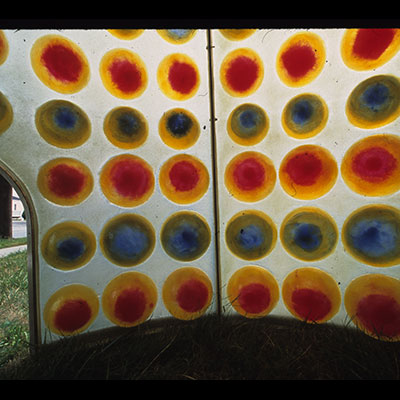 Dwelling (detail), fiberglass and steel, 6' X 5', 2004
Dwelling, fiberglass and steel, 6' X 5', 2004
Pulse I (detail), mixed media, 1996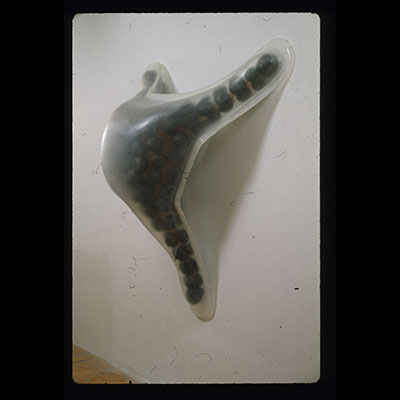 Pulse III, mixed media, 65" X 62" X 26", 1998
The MFA program at Columbia cloistered a dozen students in an old women's hospital at 110th Street and Amsterdam. My "ex-hospital" studio looked out at St. John the Divine. Central in my memories of those years was Stephen Greene, artist and teacher. In any class or studio visit, Greene's low-key presence transmitted a steadfast belief in the honesty of an art work. No category or dogma mattered; he dealt directly with a student and his/her work. The development of the student's idea and how well an artwork expressed it helped open a direction for each artist. Being part of that dialogue was Stephen Greene's greatest teaching skill.
All studios opened onto a single grey corridor, which encouraged a relaxed friendliness. In the middle of the floor lay Kate Resek's studio whose endless supply of fresh coffee brought everyone to hang out and talk there. A group of us have remained in touch, visited, and followed each others' show over the years.
A few of us graduated in June of 1968. The last spring at 116th Street campus was marked by passions and outrage, with a score of NYPD on horseback with helmets and night sticks. The sense of "police state" in America was unnerving. In the confusion, there was no graduation and diplomas were mailed. Mine never arrived.
Students in my class included Porfirio Didonna, Andrew Jansons, Joyce Kozloff, Gary Bandy, Lynne Golob Gelfman, Jerry Neuner, Sandy Walker, and Kate Resek.
I came and left as a painter in the program; I focused on color to create expanding space on a flat surface. In search of more tangible color and space, I explored wall sculptures with organic shapes and paint on canvas or plastics. For the last fifteen years, I have been making sculpture with molded Plexiglas and fiberglass. Molded, these two materials establish a translucent exterior contour as a form in our space. Inside, I build structure of color and reflective materials within the hollow. As the visitor moves around a piece, he/she views a changing interior, somewhat mysteriously.