Welcome - Undergraduate Program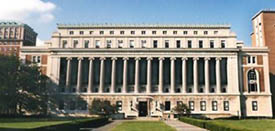 Thank you for your interest in undergraduate biological sciences at Columbia. Please refer to our Current Students

UG site for information related to undergraduate study in our Department. There you will find the information and links you will need to get a feel for our program.

Applying to Columbia:



Undergraduate education at Columbia is offered through Columbia College, the Fu Foundation School of Engineering and Applied Science, the School of General Studies and the affiliated institution, Barnard College. Each school has its own application procedure, however online information is centralized under the following webpage: Applying to Columbia.



Award Winning Faculty



Professor Alexander Tzagoloff received the 2010 Thomas Hunt Morgan Medal for lifetime achievement in the field of genetics.

Associate Professor Harmen Bussemaker is named a 2010 Guggenheim Fellow by the John Simon Guggenheim Memorial Foundation for his project entitled "Deciphering the language of gene expression regulation."

Professor Liang Tong is elected Fellow of the American Association for the Advancement of Science.

Associate Professor Brent Stockwell named a 2009 HHMI Early Career Scientist.


Professor James Manley elected Fellow of the American Association for the Advancement of Science (AAAS).

Professor Darcy Kelley receives the Distinguished Columbia Faculty Award.

Professor Julio Fernandez selected for 2009 U.S. Genomics Award for Outstanding Investigator in the field of Single Molecule Biology.

Professor Martin Chalfie awarded the Nobel Prize in Chemistry 2008 for the discovery and development of the green fluorescent protein, GFP.

Professor Carol Prives elected Member of the prestigious National Academy of Sciences for her excellence in original scientific research.

Dr. Brent Stockwell wins a 2007 Beckman Young Investigator Award for his research into undiscovered mechanisms controlling cell death.

Assistant Professor Dana Peer selected to receive the 2007 NIH Director's New Innovators Award.

Professor Deborah Mowshowitz receives Presidential Award for Outstanding Teaching at Columbia University.


Our award-winning faculty includes Dr. Darcy Kelley, a winner of the newly established HHMI Million Dollar Professors. One of 20 HHMI Professors, Dr. Kelley and her colleagues "all share a goal, however: to make science more engaging for undergraduates." Each is a "leading researcher who will receive $1 million over the next four years to bring the creativity they have shown in the lab to the undergraduate classroom." For her part, Dr. Kelley is "creating a course called Frontiers in Science, with lectures and discussion sections led by graduate students, on topics such as the origins of life and how the brain works." For more information see the links below:

HHMI Professors
Dr. Kelley's HHMI site



Campus



The Visitor's Center provides general tours of our beautiful campus.

You can download the Self-guided Walking Tour here.



For information about Environmental Biology, see CERC Center for Environmental Research and Conservation or E3B Ecology, Evolution and Environmental Biology.