CURRENT PUBLICATIONS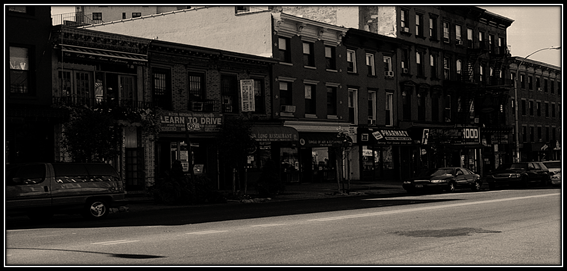 Inner-city neighborhood retail development often engenders vigorous popular and political debate about the scale, scope, and location of projects, as well as their intended and inadvertent effects for urban landscapes, residents, and consumers. The term commercial revitalization is frequently used to characterize the resurgence of retail activity in neighborhoods previously considered moribund and perilous areas to avoid. In most instances, however, the factors animating commercial revitalization are implicitly assumed, and as such, are conceptually and empirically underdeveloped. This article elucidates commercial revitalization and focuses on the agency of Black neighborhood-based small business owners as under-explored stakeholders.
Previous research indicates that urban neighborhood renewal has become increasingly dominated by conventional economic development. At the same time, many urban scholars have become increasingly critical of conventional economic development, particularly its narrowly defined goals, ideological biases, and the often limited social and economic interests shaping development outcomes.
In conventional economic development practice, it is not uncommon for neighborhood insiders - residents, merchants, and community groups – to be relegated to positions of marginality during redevelopment discourse as outsiders – property developers and speculators, locally situated "international" institutions, corporate capital, and state actors - direct local planning and decision-making.
In view of popular power asymmetries, I apply a temporal lens to examine processes of inner-city neighborhood revitalization. In so doing, I expose what I call "merchant effects," or the effects merchants have on the physical, social, commercial, institutional and communicative dimensions of neighborhoods. While merchant effects do not shift manifest power inequities associated with redevelopment, they emphasize the importance of reflecting on the type(s) of neighborhoods we hope to develop and the corresponding strategies we employ. Drawing on an extended case study of revitalization in Fort Greene, this paper complicates conventional understandings of economic development by first focusing on its antecedents and then on the myriad outcomes that are implicitly important for sustaining neighborhood improvement but often ignored or under-valued. I argue that in inner-city neighborhoods, minority merchants should be considered important insiders that influence revitalization processes in ways that go beyond conventional economic development contributions.
- Beyond Safe and Clean: Are Business Improvement Districts (BIDs) Good for Business?
- Does Economic Growth Improve Access to Amenities?
- Can Commercial Revitalization Policy Help Small Businesses Survive?
Sutton, Stacey. (2010) "Rethinking Commercial Revitalization: A Small Business Perspective" Economic Development Quarterly
Sutton, Stacey (2010, forthcoming) [book review] Journal of Regional Science Tom Angotti. New York for Sale: Community Planning Confronts Global Real Estate
Sutton, Stacey A. and Patricia Auspos, Prudence Brown, Anne Kubisch. 2009. "Philanthropy's Civic Role in Community Change." The Foundation Review 1(1): 1-12.
Sutton, Stacey A. 2008. "Urban Revitalization in the United States: Policies and Practices" Report prepared for Seoul National University Industry Academic Cooperation Foundation, Seoul, Korea (June)
Sutton, Stacey A. and Patricia Auspos, Prudence Brown. 2007. "Living Cities and Civic Capacity: Leadership, Leverage, and Legitimacy," Washington, DC: Aspen Institute.
Sutton, Stacey A. 2004. "Corporate – Community Workforce Development Collaborations" in E. Melendez (ed.) Communities and Workforce Development. Kalamazoo, MI: Upjohn Institute. (December)
Lawrence, Keith, Stacey Sutton, Anne Kubisch, Gretchen Susi and Karen Fulbright-Anderson. 2004. "Structural Racism and Community Building." Washington, DC: Aspen Institute Roundtable on Community Change.
Sutton, Stacey A. 2002. [book review]. The American Project: The Rise and Fall of the Modern Ghetto by Sudhir Alladi Venkatesh (2000). International Journal of Urban and Regional Research, 26(3): 651-653.
Sutton, Stacey A. 2001. "Help Wanted, Inquire Within: Understanding the Impact of Structural Racism on Employment Outcomes." Working Paper Series. Aspen Institute Roundtable on Community Change.
Sutton, Stacey A. 2000. "The Meaning of Black Entrepreneurship in Constructing Community." The Trotter Review. University of Massachusetts, Boston: The William Monroe Trotter Institute (Fall).
Fitzgerald, Joan and Sutton, Stacey A. 2000. "One-stops: Something for Everyone?" Washington, DC: U.S. Department of Labor, working paper B9492095. (February)