"It's not a dearth of utopian ideals but a fear of the margins that emboldens the mainstream and obfuscates alternatives."

"The fact that a plan lacks general support does not demonstrate that it's unreasonable, fallacious, improbable or poorly conceptualized."
-- Stacey Sutton, Director of C

2

ARL
URBAN Magazine
Local economic development
"Small-area" methodologies
Economic localism &
alternative development models

Neighborhood change
Ethno-Racial stratification
Progressive community planning
Community benefits, civic capacity &
collective action
CURRENT RESEARCH
The Commercial Restructuring Project (CRP) seeks to advance knowledge about neighborhood-level retail dynamics using small-area business data to examine fundamental yet underexplored questions regarding the impact of place-based policy, planning, programs, and demographic shifts on the entry, expansion, and closure of "neighborhood retailers."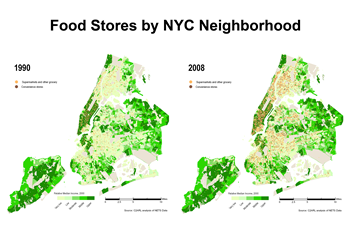 Using address-level longitudinal business data, the CRP examines the direction, magnitude and effect of retail change and continuity along neighborhood commercial corridors, including popular concerns about "commercial gentrification" and the "homogenization of retail." The intent of the CRP is to better understand the degree to which these claims are borne out in various neighborhoods.
The CRP also examines patterns of neighborhood and citywide business birth, growth, survival, and closure; alignment and dis-alignment among small and large retailers; the impact of retail changes for consumers and business-owners; and ways that institutional mechanisms, political processes, economic and social contextual factors shape local retail character.
The novel CRP is uniquely positioned to provide empirically grounded evidence to extant debates about national chain stores and independent retailers, 'organic' and 'institutional' retail clustering, and opportunities for alternative economic development in diverse neighborhoods.
The CRP works intersecting place-based and firm-based policy/planning concerns, such as those related to small business sustainability, minority entrepreneurship, and equitable access to consumer amenities.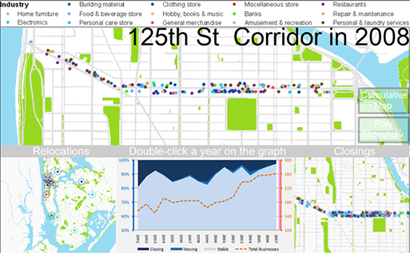 As part of the CRP, a visualization of retail change along the 125th Street Corridor was created to present a case study of a particular area with gentrification concerns. In addition, the establishment of the 125th Street BID in 1993 and the 2007 rezoning make the area an interesting study for possible effects of policy on retail change. Click the map of 2008 to open up the visualization in a new window (requires Flash).
Current CRP studies:
- Beyond Safe and Clean: Are Business Improvement Districts (BIDs) Good for Business?
- Does Economic Growth Improve Access to Amenities?
- Can Commercial Revitalization Policy Help Small Businesses Survive?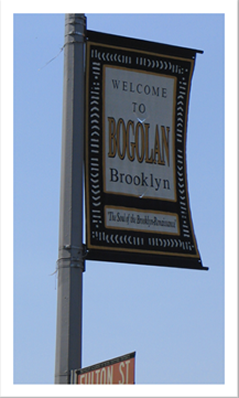 answers these questions and others by describing how, during the mid- to late- 20th century, Black small business-owners envision, represent and play a significant role in reconstructing a stigmatized Black "ghetto" into a commercial and cultural enclave, colloquially referred to as "Black Bohemia." Buy Black illustrates how a diverse group of Black merchants become "early investors" and "revitalizing agents" in Fort Greene/Clinton Hill neighborhood (referred to as just "Fort Greene"). It explains why merchants largely motivated by economic self-interest invoke racial pride as a rationale for clustering in Fort Greene even while the neighborhood was considered an economically and socially problematic Black "ghetto." Buy Black describes how merchants establish cohesion and advance in community-building. This book tells an original story about how Black merchants negotiate the dual roles of business-owner and community-builder. It also reveals tensions that arise during the early 21st-century, rooted in merchants' differing understandings of what it means to be a "capitalist" and a "community builder" since the identity of Fort Greene evolved from the stigma of Black "ghetto" to a "happening 'hood" and a "diverse" destination for consumption, entertainment, living, and then the epicenter of Cultural District redevelopment.
A collaborative research project with Seoul National University
This phase of the Urban Regeneration project analyzes the legal foundations for community and urban redevelopment policies in the U.S. and highlights major differences with Korean law; examines the causes and processes of urban decline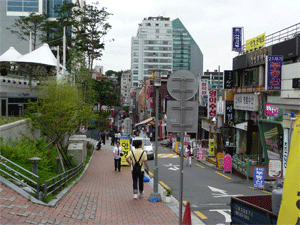 in the U.S. as well as the development of policies and programs for combating decline at the federal, state, and local level; summarizes various methodological approaches for identifying declining urban neighborhoods and develops a typology of urban revitalization projects to be applied in Phase II.
In this phase, C2ARL will examine the confluence of public, private and community actors enmeshed in processes of inner-city improvement. C2ARL conducted in-depth case studies contemporary urban development projects in New York City that typify the complex array of institutional interests, agencies, resources, scales and effects involved in urban development projects.
Numerous studies analyze economic development policy, practices, and theoretical perspectives. Conversely, few studies focus on "commercial revitalization," meaning: processes of improvement that potentially affect physical, economic, social, political and communicative dimensions of neighborhoods and local commerce. Commercial revitalization effects emanate from a normative vision that is conditioned though not fully controlled by the
subjective position of neighborhood incumbents (i.e., merchants, residents, and community based organizations), coupled with strategic actions aimed improving local institutional capacity, sustainability and civic accountability.
Though commercial revitalization is often considered an urban design concern or the effect of "top-down" economic development public policies and institutional practices, it should also be examined in more complex ways. Understanding how to sustain and grow neighborhood-based enterprises requires examining the constellation of public policies, programs and resources targeting (small) business entry and advancement and their accessibility to these entrepreneurs. Additionally, one must explore the myriad informal mechanisms that also support and strengthen neighborhood entrepreneurship.
C2ARL's research project seeks to collect historical data on NYC programs and policies related to neighborhood-level commercial revitalization.
Other Studies: