THE QUEST FOR THE CURE: A New Book by Professor Brent Stockwell

Columbia University Press recently published a new book by Professor Brent Stockwell, a member of the Chemistry and Biological Sciences Departments.  Entitled The Quest for the Cure: The Science and Stories Behind the Next Generation of Medicines, Stockwell's book is written for a general science audience.  The book looks at the history and future of drug discovery through the lens of chemistry. Although academic, government and industrial researchers have been successful at creating many effective medicines over the past century, the rate of new drug discovery has been declining.  Professor Stockwell explores the reasons behind this decline, and looks at the new technologies that may solve the current crisis in discovering new medicines.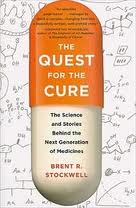 Professor Stockwell's own research interests involve discovering small molecules that can elucidate new biological mechanisms and that may lead to new therapeutics for a variety of currently incurable human diseases.  He recently used this approach to discover a new form of cells death, termed ferroptosis, which may be relevant to treating specific cancers and neurological diseases.
The Quest for the Cure is available from Columbia University Press and Amazon.com.