AWARDS CEREMONY CAPS A SEMESTER OF CHEMISTRY ACHIEVEMENTS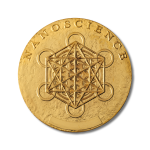 Another semester in which chemistry students and faculty received recognition for outstanding achievements was capped by the 26th Annual Awards symposium and reception on May 20. Members of the chemistry department gathered in lecture hall 209 Havemeyer, where graduate students and undergraduates were recognized for their excellence in teaching and research.  Andela Saric was the recipient of the Hammett Award as the most outstanding PhD student in their final year.  
At the reception following the award ceremony, chemistry department Chair, Professor Ann McDermott, announced that the department received a generous donation from Ravi and Padma Guthikonda to set up a summer research program for Columbia College students.
Faculty and student awards announced since our last publication of The Columbia Chemist are listed below.
Faculty Awards
Louis Brus
2013 Welch Award
Ken Eisenthal
2014 National ACS Award in Colloid and Surface Chemistry
Ged Parkin
2013 Lenfest Distinguished Faculty Award
Wei Min
2013 Sloan Research Fellowship
Graduate Student Awards
Bristol-Myers Squibb Award (Carolyn Wei)
Hammett Award (Andela Saric)
Jack Miller Teaching Awards (Alexander Beecher, Adam Levinson, Andres Montoya, Dat Hoang, Emma Dell, Madalee Gassaway, Marie Harton, Matthew Welsch, Michelle Neary, Serge Ruccolo)
NDSEG Fellowship (Nevette Bailey)
NSF Graduate Fellowship (Peter Chen, Steven Jerome, Miguel Jimenez, Jonathan Kuo, Stewart Mallory, Timothy Su)
Pegram Award (Ahmed Al-Harbi, Daniel Griffith, Trevor Sherwood)

Undergraduate Awards
Brian Bent Award (Ethan Perets, Christopher Torsitano)
Richard Bersohn Prize (Julia Oktawiec)
Brian Bent Award (Ethan Perets, Christopher Torsitano)
Chandler Society Award (William Kender)
Chandler Society Scholarship (Gregory Cleveland)
Goldwater Scholarshiop (Tyler St.Denis)
Thomas J. Katz Prize (Cyril Butcher)