LEARN ABOUT THE COLUMBIA CHEMISTRY CAREERS COMMITTEE!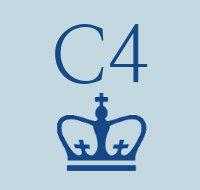 C4, the Columbia Chemistry Careers Committee, is continuing its mission to educate students and postdocs about career options and the shifting chemical and pharmaceutical industry landscapes. As always, our events are organized entirely by current Columbia PhD students. 
This year C4 explored careers in consulting, technology transfer, secondary education, and academia, and we held a workshop on crafting an effective cover letter. We extended a special welcome to Chemistry (and C4!) alumni who took the time to return to Havemayer to discuss their lives after graduate school. Rocky Coscia (PhD '07), Brendan Kelly (PhD '07), and Ellane Park (PhD '07) spoke on a panel about careers in consulting. Paul Vadola (PhD '06) joined current Columbia postdocs at the Atwal Symposium on seeking a career as a research professor.
C4 is always looking for alumni to serve on our panels and participate in our workshops. Do you have a great post-PhD career story to share? Would you like to stop by a networking happy hour with other Columbia chemists, give an informal talk, or sit on a panel? We want to hear about your career trajectory and help you connect with current and former Columbia PhD students. 
You can contact us at ColumbiaChemCareers@gmail.com, or keep in touch with C4 on Facebook, LinkedIn, and Twitter.

(submitted by C. Murrett.)