STUDENTS GATHER FOR PROFESSOR NAKANISHI'S 88TH BIRTHDAY

Students and friends celebrate a special milestone.
The 88th birthday is special in Japanese tradition and so students and friends of Centennial Professor Emeritus, Koji Nakanishi, gathered on May 18 to celebrate this milestone with him (see photo below). The celebration included a symposium in Havemeyer Hall, featuring speakers drawn from his current and former research groups, and a reception at a local restaurant. The proceedings were capped when Professor Nakanishi treated the group to one of his famous magic shows.
A world-renowned bioorganic and natural products chemist, Professor Nakanishi (seen at left some years ago with his granddaughter) has determined the structure of over 200 animal and plant natural products, including ginkgolides from the ancient ginkgo tree, the first meiosis-inducing substance from starfish, and the human eye pigment involved in macular degeneration. Many of the products he has studied are endogenous and/or the first member of a new class.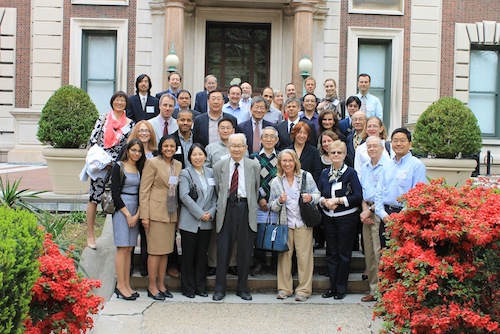 Professor Nakanishi, as always, is an active researcher, with a work and travel schedule that does not appear to have diminished very much over the years. His current research group consists of 7 post-doc's and research scientists. Over 400 students and postdoctoral fellows have spent time in his group. Professor Nakanishi has published over 750 papers and is the author, co-author, or editor of nine books on spectroscopy and natural products.
You can learn more about Professor Nakanishi's research on his group website.