Chou Wen-chung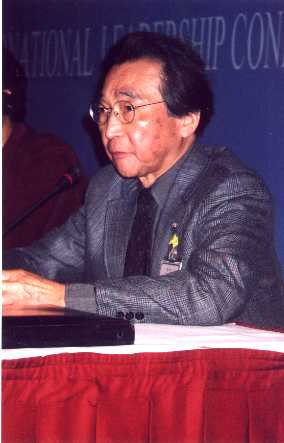 Born in Chefoo, China, on June 29, 1923, Chou Wen-chung is now a citizen of the United States, where he has resided since 1946. Although he arrived with a degree in civil engineering to pursue architectural studies on a scholarship at Yale University, he became a student in composition at the New England Conservatory of Music, where he studied with Nicholas Slonimsky. In 1949 Chou met the late Edgard Varèse, became his pupil and friend, and later served as his literary executor.
Chou has received numerous awards, grants, and commissions, including the 1996 University of Cincinnati Award for Excellence, the 1991-92 John D. Rockefeller 3rd Award, the 1985 China Institute Qingyun Award, a Rockefeller Foundation grant, two Guggenheim fellowships, a National Institute of Arts and Letters award, a Koussevitsky Music Foundation commission, a New York State Council on the Arts commission, a National Endowment for the Arts commission, a Louisville Orchestra commission, and a commission from the Barlow Endowment for Music Composition at Brigham Young University. In 1982, Chou was elected a member of the American Academy of Arts and Letters.
In 1984 Chou was appointed the first Fritz Reiner Professor of Musical Composition at Columbia University. He founded the Fritz Reiner Center for Contemporary Music, and served as its director from 1984 to 1991. In July of 1991 he became Fritz Reiner Professor Emeritus. He served as Vice Dean for Academic Affairs at the School of the Arts at Columbia University from 1976-1987, and chaired the Music Division at the School of the Arts from 1969-1989. Chou is the founder of The Center for U.S.-China Arts Exchange, a nationwide agency for exchanges in the arts with China and elsewhere in Asia; he has served as the Center's director since its establishment in 1978.
Chou is an honorary member of the International Society for Contemporary Music, honorary life member of the Asian Composers League, honorary board member of Composers Recordings, Inc., and a founding member of the American Society of University Composers. He was chairman of the New York State Council of the Arts Music Panel, 1979-1981; president of Composers Recordings, Inc., 1970-1975; and chairman of the Editorial Board of Asian Music, 1972-1974. Chou has contributed numerous articles to periodicals and encyclopedias, and has lectured extensively on contemporary and Asian music. A frequent speaker at international conferences, Chou is particularly concerned with the total integration of Eastern and Western concepts and practices in music, as well as in other arts.
Chou's compositions, published by C. F. Peters, have been performed by orchestras throughout the world, including the New York Philharmonic, Philadelphia Orchestra, Chicago Symphony, San Francisco Symphony, Berlin Philharmonic, Orchestre National (Paris), Sinfonica de Radio Nacional (Buenos Aires), Japan Philharmonic Symphony (Tokyo), and Central Philharmonic (Beijing). They have been featured in festivals such as International Ferienkurse fur Neue Musik (Darmstadt), La Biennale di Venezia (Venice), Berkshire Music Center (Tanglewood), International Society for Contemporary Music Festival (Hong Kong), Asian Music Festival (Tokyo-Sendai), and Pacific Music Festival (Sapporo). In 1996, the String Quartet "Clouds" premiered in New York at The Chamber Music Society of Lincoln Center, Alice Tully Hall, by the Brentano String Quartet.
As a result of extensive discussions in China in 1977, Chou set up The Center for U.S.-China Arts Exchange in 1978. Since 1978, the Center has been carrying out projects in a wide range of arts fields, including arts education, music, literature, theater, dance, painting, and sculpture.