<--
Return to the previous page
Maria Q. Feng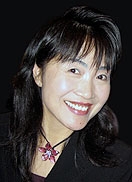 Maria Q. Feng
Renwick Professor
610 SW Mudd, Mail Code: 4709
Phone: +1 212 854 3143
Email:
Home Page
Research Areas
Sustainability of civil infrastructural systems through multidisciplinary research on design of smart structures, structural dynamics and control, and sensor-based structural health monitoring for intelligent maintenance to minimize life-cycle cost.
B.S. 1982, Southeast University, M.S. 1987, University of Electro-Communications, Ph.D. 1992, University of Tokyo 

Professor Feng's current research focuses on sensors and structural health monitoring for civil infrastructure and military applications. She has made a number of original contributions to the state-of-the-art in both academic research and engineering practice through the development of novel fiber optic and vision-based sensors, microwave imaging technology, wind/earthquake/blast protective systems, as well as vibration-based system identification algorithms for structural health diagnostics. She was named a "Top Researcher on Wearable Sensors" by MIT Technology Review for her sensor suites and robots for human motion/power assistance. Professor Feng is the recipient of numerous awards including the CAREER Award by NSF, the Alfred Noble Prize jointly by ASCE, ASME, IEEE, AIME, and WSE, the Collinwood Prize by ASCE, the Water L. Huber Civil Engineering Research Prize by ASCE, the Charles Pankow Finalist Award for Innovation by ASCE-CERF, and the Best Paper Award and the Best Presentation Award by Japan Society of Instrument and Control Engineers. Her work has been reported by national media, including a special feature "The Bridge Doctor" on NBC Nightly News with Brian Williams. She is an ASCE Fellow.