Multimodal Technologies for Interschool Collaboration
Final Report 10/10/96: Tony Webster, John Morris, Bill Spillers, Jane Murphy
---
Project Overview
The Multimodal Technologies for Interschool Collaboration project had five primary tasks:
1. To build a multimodal (ISDN and Internet based) electronic infrastructure for the collaborative development and instructional use of educational engineering materials. The infrastructure includes ISDN and Internet-based Desktop Video Conferencing systems, as well as World Wide Web-based multimedia systems for remote document editing, document sharing, and newsgroups.
2. To have researchers at four Gateway Schools (including Drexel, Ohio State, NJIT and Columbia) use the infrastructure to jointly develop distance learning curricular materials for undergraduate engineering and architectural education.
3. To use the electronic infrastructure, curriculum materials, and individual researchers' special expertise in networked, interschool classes. This includes in-class use of all facets of the infrastructure, which are supplemented with existing computer laboratories and computer-projection equipped classrooms.
4. To evaluate:
The performance of the multimodal digital infrastructure as a toolset for collaborative curriculum development.
The curriculum materials developed by the four-school faculty team.
The infrastructure's ability to broaden the offerings at each of the four institutions.
5. To disseminate the results of the project, in a paper and WWW-based report to NSF-Gateway.
To date, items 1-3 and 5 have been completed. Item 4 is on schedule to be delivered by Columbia University's Institute for Learning Technologies (ILT). A summary of work done for each task of the Multimodal project follows:
Work Completed:
Task 1 (Infrastructure Development)
An extensive ISDN and Ethernet (TCP/IP) infrastructure was installed within Drexel University's Department of Civil and Architectural Engineering. This includes local lines in design labs, and ISDN lines in the following teaching facilities: Hill Conference Room; Satellite CAD Lab; Senior CAD Lab; and the Multimedia Lab. Software and hardware distributed among these locations includes: Mac 9500 PPC, SGI Computers, a variety of PCs, multi-point video conference hardware and software, Localtalk, web browsers and various web page construction tools including HTML savvy text processors, HTML editors, web page editors, animation and audio creation tools, and the requisite utilities necessary to play and manipulate the constructed web objects. Facilities for two party and multiparty Desktop Videoconferencing (DTVC) have been installed. These systems enable DTVC via ISDN phone lines or the Internet. Drexel has also helped set up an ISDN DTVC system in a structural engineering office that allows employees to appear in Drexel classes without leaving their offices.
Columbia has installed facilities for two party DTVC via ISDN and the Internet in a multimedia classroom, an educational lab, and a faculty office. These facilities are currently being upgraded to support multi-party conferencing. Low budget, Internet based DTVC systems for use by students in labs and classrooms have been installed. A prototype multimedia Internet newsgroup has been set up and used for an interschool collaborative teaching project. An ftp site was set up for this grant and used for interschool projects last summer. Columbia maintains the project WWW site, and has installed an experimental HTTP server for individual project collaborations.
OSU has installed an ISDN line and a Proshare DTVC system in an office (to our knowledge it is the only Proshare system on campus). Another ISDN line was already installed in a seminar room. Two DTVC systems paid for under previous Gateway contracts are Vistium systems. All systems have been tested for cross system compatibility, both locally and with Columbia and NJIT. While video and audio communication are easily compatible across Vistium and Proshare systems, application sharing and white board functions are not. OSU has also installed Cu-See-Me to be used locally between faculty office and student labs, which are remotely located on campus. Attached are screen captures of Cu-See-Me in action: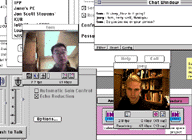 Students using desktop videoconferencing
NJIT has installed a multi-party ISDN/Internet DTVC system. All School's developed the capacity to interact with Proshare, Timbuktu, Cu-See-Me, e-mail, a multimedia newsgroup, and a dedicated ftp site.
Task 2 (Curriculum and Content Development)
An atmospheric model of the Farnsworth House has been prepared, using the "Phoenics" flow modeling software, which was purchased for this work. This project may be seen at:
HTTP://www.cc.columbia.edu/~archpub/BT/GATEWAY/efa.HTML
Mechanical engineering documents for the PATCenter have been obtained and scanned. Analyses of the PATCenter and the Farnsworth House made on a sophisticated, spreadsheet-based thermal analysis are being completed at Drexel.
NJIT has prepared an extensive set of curriculum materials and analysis tools for "Paperless Design of Fabric Structures." OSU and NJIT are sharing services this term. The work is available on the WWW at: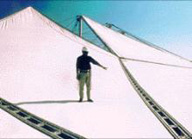 HTTP://www-ec.njit.edu/civil/gateway.HTML
Drexel has put a variety of educational engineering topics on the WWW, including: fire protection, building systems analysis, and architectural engineering design. These projects are are intended for use by and with other schools. They can be seen at:
HTTP://www.coe.drexel.edu/CAE/Fire!/main.HTML
HTTP://www.coe.drexel.edu/CAE/AED1_951/AED1.HTML
HTTP://www.coe.drexel.edu/CAE/AED2_952/AED2.HTML
HTTP://www.coe.drexel.edu/CAE/AED2_954/AED2.HTML

Drexel has also developed Excel spreadsheets for structural system and HVAC system selection, and HVAC system preliminary analysis. These are being used for analyses of the Farnsworth House and the PATCenter, as noted above.
Using the internetworked infrastructure described in Task 1 and the curriculum content described in Task 2, the principal investigators developed a variety of approaches to interschool classroom collaboration:
Pi's and office based professionals participating in classes as 'remote experts' via ISDN DTVC.
Architecture and engineering students working collaboratively to design tensile structures.
Graduate engineering students participating as critics to help develop undergraduate architects' structural projects.
An experimental testbed class for interschool collaborative design and fabrication of engineering components using CNC technology.
Task 3: Use the electronic infrastructure, curriculum materials, and individual researchers' special expertise in networked, interschool classes.
Project participants have used the electronic infrastructure to introduce 'remote expertise' into the curriculum. Drexel University has established a video conferencing link between their design classrooms and local engineering firms. Currently on-line is PWI engineering, a firm specializing in the design of HVAC systems. Drexel's agreement with PWI allows students to "call" their firm via DTVC during a set of pre-established hours (up to eight hours per week).
Professor Webster has taught a seminar-style class on structural typology in cooperation with Drexel faculty in a Drexel class. This session has been recorded on videotape. We expect such "consultations" to be ongoing.
Prof. Spillers and Prof. Murphy have begun trading DTVC visits in classes ongoing this autumn. Prof. Murphy appeared in Prof. Spillers' Matrix Analysis class at NJIT, providing an architect's view on the process of engineering analysis (and design). This term, Prof. Spillers will appear in OSU's "Structural Systems in Architecture" course as a guest lecturer, to present the work he has prepared and posted on the web. The visit will serve as an introduction to a lab project in which architecture students will design fabric structures. His visit will also provide an opportunity, in a course taught by an architect, for students to discuss issues of structure and form with an engineer. Resultant projects will be posted on the web, giving Prof. Spillers (and others) an opportunity to comment on individual projects as well as the format of the exercise.
In addition to using Professor Spillers and his web-based materials, OSU students will use Drexel's web based "Structural choices" page in an exercise about selecting structural systems in normal situations. Existing case studies produced by Columbia University were integrated into the OSU curriculum beginning last summer. The case studies of significant works of architecture serve as examples of structural typologies, as well as demonstrations of issues of coordination of structural systems with other building components and architectural issues. Later this academic year, OSU students will draw on the Columbia materials and other references to produce building case studies.
It is intended that many of the OSU case studies will eventually make their way to the web in order to supplement that very useful library. Some online course materials intended for student use at OSU may be seen at:
HTTP://web1.eng.ohio-state.edu/sar/arch/faculty/murphy/arch724.HTML
Additionally, an OSU student conducted an independent study to develop a web-based environmental controls exercise for use in OSU's Environment Control Systems (ECS) sequence of courses. The exercise is broadly defined to fit within an existing course, and to potentially use the Farnsworth house model developed at Columbia. OSU hopes to integrate exercises between the Structural Systems course noted previously and the ECS course in Autumn 1997.
Participants in the multimodal technology project have also used the electronic infrastructure to enable collaborative work between students at distant schools. Columbia and OSU ran a testbed class featuring remote design collaboration and component prototyping. Students and faculty from both schools worked together to design, analyze and fabricate a mockup of selected architectural and structural building components. OSU students met with Columbia students via DTVC to discuss the subject matter and techniques for CNC manufacturing, and they communicated via e-mail. Three dimensional Form-z component models were shipped between school's using Columbia's project-specific ftp site. Prototype structural components were fabricated on Columbia's CNC milling machine. This project is described in detail at: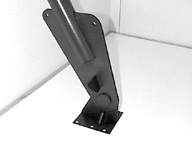 HTTP://www.columbia.edu/~archpub/BT/GATEWAY/remote.HTML
Task 4: Evaluation
An evaluation of all class and curriculum development projects is being conducted by Columbia University's Institute for Learning Technologies (ILT). ILT's report will be completed by about 14 November, 1996.
Task 5: Project Dissemination
As shown throughout this report, all curriculum content developed for this project is available on the WWW, and much of it is already being used by other Gateway schools. This report begins the dissemination of our Multimodal collaborative classroom efforts and techniques. A paper copy of the report is being delivered to Gateway Central this week. We hope to discuss the work done under this project at a Gateway conference to be held at Columbia later this year.