House, New York: Glass and Steel Wall
Architectural Record, June 1952 page 130-135
---
Architects: Skidmore, Owings and Merrill
Structural Engineers: Weiskopf and Pickworth
Mechanical Engineers: Jaros, Baum and Bolles
Interior Design: Raymond Loewy Associates
Contractors: George A Fuller Company
---
Glass and Steel Facade
The exterior of Lever House - 24 stories of blue green heat-resistant glass and stainless steel- was a technical design problem which required the joint efforts of architects, engineers, general contractors and sub-contractors. Its glass-paned skin is designed to be kept sparkling clean (Lever Brothers, manufacturers of soaps and detergents, are naturally pleased at this) with minimum difficulty or expense. The building has no openable sash. This not only prevents the entrance of the big city's dirt and grime, but is a means of reducing the total air conditioning load. It also lessens interior maintenance.

Window Washing Apparatus
Heat-resistant glass - 1404 panes - and stainless steel members are cleaned by two men with water, dtergent and squeegees, from a traveling gondola. (above) Gondola at top of tower; (below) 10.5 ton power plant travels around perimeter of roof on rairoad rails (gondola ready to go over the parapet.
Gondola
The heat-resistant glass likewise reduces both the air conditioning load and sun or sky glare. Wire glass faces the spandrels, which the building code required to be masonry. The structure itself is of conventional steel frame, with tower bays so laid out that only narrow vertical mullions, formed of paired channel shapes, interrupt the glass. Horizontal mullions and muntins are similarly light in section; all are shethed with 16 ga. type 302 stainless steel which is secured to the exterior glazing channels with hand-driven screws. Glazing channels were in turn screwed to structural mullions; the operation took time and was obviously expensive. However, this office building was designed for sole occupancy by Lever Brothers - even its ground floor has no tenants; a reasonably high construction cost, commensurate with the aim of providing an imposing, almost institutional, edifice, was not inappropriate.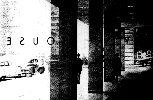 Ground Floor
Stainless steel is also employed extensively inside the building. (above) Stainless steel sheathed columns at sidewall arcade, note open ground floor
The openness of the ground floor (where much of the area is garden and pedestrian walks with only the essentials enclosed in glass) is also somewhat monumental, if not in expression certainly in its fundamental regard for the citizens of New York. In this aspect, the entire structure is thoughtful, pleasant and a decided advance over the average speculative builidng. Above the few lower stories the tower is so designed that its slim bulk permits what it can of a city vista - an impression heightened by the contrasting surroundings. This is something to be grateful for. Like the U. N. Secretariat, like the new Carnegie building now under construction, it is a narrow slab, which means that the typical office floor will contain few dark cubicles. The design is an enlightened venture in public relations, and is to be applauded; the glass and metal skin, also a source of public interest, necomes rather a stunt by comparison.
In plan, the enclosed ground-floor area contains display and reception space, waiting areas for visitors, a demonstration kitchen and an auditiorium. On the second floor are employees' lounge, medical suite, general office facilities. On the third floor, lowest of the tower, is the employees' cafeteria overlooking roof terraces. The remaining floors, up thorough the 21st, house offices of the parent and subsidiary companies. Above are the eqivalent of three floors of mechanical equipment. In addition to complete air conditioning, the building is fitted with what has been called " the most modern fire alarm equipment"; and with a conveyor system, newly developed, which not only picks up internal and outisde communications and distributes them vertically, but also tranports them horizontally to the mail room. In such technical aspects, Lever house is marvelously ingenious.

Lever House Under Construction
---