Faculty Bios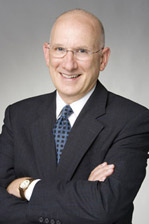 Burton L. Edelstein
Dr. Edelstein is Section Chair for Social and Behavioral Sciences and Professor of Dentistry and Healthcare Management. Dr. Edelstein's scholarly and policy work relates to improving the oral health of young children and eliminating oral health disparities through public programs that provide for dental care financing, dental and medical workforce enhancements, safety net facilities expansions, and preventive and disease management approaches to reducing oral disease burden.
Current projects involve secondary data analyses of Medicaid data claims sets and health insurance surveys; investigating the training, supervision, scope of practice and deployment of alternative dental practitioners/"midlevels"; engaging community health workers in the prevention of early childhood caries; and advancing oral health policy at the federal and state levels.
Dr. Courtney H. Chinn
Dr. Chinn, DDS, MPH, is an Assistant Professor of Dentistry at Columbia University College of Dental Medicine. Dr Chinn received his dental degree from The University of Washington before coming to New York to complete his fellowships in Advanced Education in General Dentistry and Pediatric Dentistry at Columbia University Medical Center as well as his Masters in Public Health at the Mailman School of Public Health. Dr Chinn is a diplomat of the American Board of Pediatric Dentistry and has experience in a number of dental settings including community clinics serving immigrant populations, school based and mobile clinics, and working with children with special needs. Currently, Dr Chinn's interests include immigrant oral health, health services research, access to care, and community based oral health programs for MCH populations.
Dr. William T. Friedewald
Dr. Friedwald is Professor of Epidemiology and Biostatistics at the Mailman School of Public Health. William T. Friedewald, M.D. received his medical degree from Yale University School of Medicine and has a medical license in New York State. He currently teaches the Capstone Course in Biostatistics, and lectures each year in the Epidemiology 1 course on randomized clinical trials and screening. His research career has focused mainly on randomized clinical trials in cardiovascular disease. His recent research has resulted in publications in two distinct areas. The first is in diabetes (The ACCORD Study Group, Writing Committee: Gerstein, HC, Miller, ME, Byington, RP, Goff, DC, Bigger, JT, Buse, JT, Cushman, WC, Genuth, S, Ismail-Beigi, F, Grimm, RH, Probstfield, JL, Simons-Morton, DG, Friedewald, WT: Effects of Intensive Glucose Lowering in Type 2 Diabetes. N Engl J Med 358;24, 2545-2559, 2008) and the second is in Traumatic Brain Injury (Zafonte, R, Friedewald, WT, Lee, SM, Levin, B, Diaz-Arrastia, R, Ansel, B, Eisenberg, H, Timmons, SD, Temkin, NR, Novack, TA, Ricker, J, Merchant, R, Jallo, J: Citicoline Brain Injury Treatment (COBRIT) Trial: Design and Methods. J Neurotrauma 26:2207-2216, 2009). His interests remain in cardiovascular research, diabetes, the use of the randomized clinical trial methodology, and in traumatic brain injury.

Dr. John T. Grbic
John Grbic is Professor of Dentistry and Director of the Clinical Research Center at the College of Dental Medicine. Dr. Grbic's research interests focus around clinical research and the pathophysiology of oral disease. More specifically, Dr. Grbic research involves the following fields:
1) Use of Gingival Crevicular Fluid and Saliva in Diagnostic Testing
2) The epidemiology of oral lesions in HIV infection
3) The relationship of periodontal disease to systemic diseases
4) Epidemiology and Pathogenesis of Osteonecrosis of the Jaw
5) Pharmacotherapeutic management of oral diseases including periodontal disease
6) Design of clinical trials
Dr. Piyumika Kularatne
Dr. Kularatne was the principal investigator on a 2-year pilot project, Health Literacy and Smoking: A Dental Clinic-Based Intervention funded by the American Heart Association's Clinically Applied Research Grant Program, and project specific aims were: to assess issues and barriers to smoking cessation for minority dental clinic patients, including functional health literacy, and develop a tailored health communication resource specific for this target population.
Interests include, but not limited to:
* Health literacy training for health care professions
* Patient-provider communication
* Organizational and system strategies to improve health literacy
* Tobacco control among underserved populations
Dr. Carol Kunzel
Research Activities: Dr. Carol Kunzel has been an investigator/co-principal investigator on NIH-funded grants for over 20 years, during which time she has had extensive experience with the development of telephone and mail surveys for national, New York State, and New York City samples of dentist practitioners. These survey research projects involve the measurement of dentists' attitudes, knowledge, clinical behaviors, in regard to adherence to evidence-based practice guidelines, and the identification of influential predictors associated with adherence to such guidelines. Dr. Kunzel's research has focused on dentists' attitudes and in-office practices in regard to early oral cancer detection, smoking cessation, management of the (un)diagnosed diabetic patient, hand hygiene and infection control, and delivery of care to the HIV+ patient. In addition Dr. Kunzel is involved in research regarding the interpretation of oral health symptoms and associated coping strategies of residents of Central Harlem and Northern Manhattan; as well as the relation between oral health literacy, utilization of dental services, and oral health status within these populations.
Dr. Dennis A. Mitchell
Dennis A. Mitchell, D.D.S., M.P.H. is the Assistant Dean for Diversity and Multicultural Affairs and the Director of Community-Based Dental Education at the Columbia University College of Dental Medicine. He is responsible for the dental schools' six diversity programs targeted for training, faculty development and student enrollment, and coordinates the community-based service program's site directors for the rotation of the pre-doctoral and post-graduate dental students. Dr. Mitchell has a joint appointment as an Assistant Professor in Clinical Dentistry in the Division of Community Health, Section of Social and Behavioral Studies, and the Division of Periodontics, Section of Oral and Diagnostic Sciences. Dr. Mitchell previously served as the Director of the Harlem component of the Community DentCare Network and the Director of Research and Community Dentistry at the Harlem Hospital Center Department of Dentistry for nine years. In this role he was responsible for the development and implementation of Columbia's offsite dental service programs in Harlem, now responsible for over 20,000 patient visits annually. Dr. Mitchell began his research career at the Columbia University College of Dental Medicine as a clinical investigator studying the Oral Manifestations of HIV Disease in Different Risk Groups. His current research interests include the Oral Health Status of Minority Children and Adults in Northern Manhattan and the Effects of Periodontal Therapy Intervention on Preterm Birth. Dr. Mitchell is currently the Co-Principal Investigator for the enrollment site at Columbia University for the NIH/NIDCR-funded Obstetrics and Periodontal Therapy (OPT) multi-center randomized clinical trial to study the effects of periodontal therapy on preterm birth. Dr. Mitchell received his B.A. in Neurobiology and Behavior from the Cornell University College of Arts and Sciences in 1986. He received his D.D.S. degree from the Howard University College of Dentistry in 1989, and his M.P.H. degree in Executive Health Services Management from the Columbia University School of Public Health in 1996.
Dr. Panos N. Papapanou
Panos Papapanou is Tenured Professor at the College of Dental Medicine and Section Chair for Periodontology. Dr. Papapanou research interests center around periodontal disease etiology, treatment and epidemiology. Dr. Papapanou is involved in the following projects:
1. Gene expression signatures in experimental gingivitis: An in vivo study of the gingival transcriptome during the course of bacterially-induced inflammation.
2. Periodontitis and chronic kidney disease: A clinical study exploring the association between periodontitis and stage 3-5 chronic kidney disease.
3. Clinical and Translational Science Award: A project aiming at providing infrastructure support for clinical and translational research across the CUMC campus.
4. Oral infections and vascular disease epidemiology study: A 6-year longitudinal study examining the role of oral infections in the development of carotid aherosclerosis and stroke.
5. Periodontitis, atherosclerosis, and the host response: The goal of this research is to dissect the mechanisms underlying the contribution of periodontal infections to accelerated vascular inflammation and atherosclerosis, using a model of hypercholesterolemic ApoE null mice infected with Porphyromonas gingivalis.
6. Periodontitis and peripheral blood mononuclear cell activation: An intervention study that examines the systemic anti-inflammatory effects of periodontal therapy, with special focus on the gene expression of peripheral blood mononuclear cells.
7. Aetna/Columbia University Research Advisory Agreement: A project that aims at developing evidence-based oral health care policy recommendations based on advancements in research and science.
8. Systemic effects of periodontal therapy: A prospective interventional study that examines the effects of periodontal therapy on the transcriptome and proteome of vascular endothelial cells, and peripheral blood monocytes and lymphocytes.
Dr. Lynn Tepper
Lynn Tepper is a Clinical Professor and Director of the Behavioral Science Department at Columbia University College of Dental Medicine. In this capacity, she teaches courses which focus on the psycho-social aspects of patient care, interpersonal communication, and dental interviewing. She directs the Geriatric Dental Clinic at Columbia University Medical Center, the Geriatric Dentistry Area of Concentration, and a monthly Geriatric Dentistry Seminar Series. She hold faculty appointments at both the College of Dental Medicine, and at the School of Public Health's Aging and Public Health Program, and heads up the Institute of Gerontology at Mercy College in Dobbs Ferry, New York. Dr. Tepper has published three major textbooks on aging, as well as over 20 journal articles and book chapters. Dr. Tepper is the recipient of several research grants from NIH, NIA, FIPSE, and NIGMS, which have focused on Minority Aging, Tobacco Cessation in the Older Minority Population, and Community-based Health Initiatives in Senior Citizen Housing, and the Design, Implementation and Evaluation of Gerontology Curricula. Her Post-Doctoral Training was at the Hebrew Home for the Aged, researching the effectiveness of patient assessment modalities. Her textbooks include Respite Care, Long Term Care, and Multidisciplinary Perspectives on Aging. Dr. Tepper serves on the Boards of the Foundation for Long Term Care, the New York State Association of Homes and Services for the Aged, Aging in America, and the Morningside Nursing Home. She is a Fellow in the Gerontological Society of America, and the Brookdale Center on Aging, and was a Delegate from New York to the last White House Conference on Aging.
Dr. Angela J. Yoon
Angela Yoon is assistant Professor of Oral Medicine, with clinical, teaching and research responsibilities. Dr. Yoon's research focuses on oral cancer pathology, early detection and chemoprevention. Dr. Yoon is also interested in examining the risk factors for oral cancer, such as environmental toxins (tobacco and alcohol), genetic variation (polymorphism), and infectious agent (high-risk HPV), and how these factors contribute to malignant progression. She works closely with Dr. Zavras on the pathology, biology and pathophysiology of oral cancers.
Part-Time Faculty
- Community Health
Tracy Allen, MLS
Victor Badner, DMD, MPH
Lawrence Bailey, DDS, MPH
Howard L. Bailit, MA, DMD, PhD
Ayxa Calero-Brechleimer, PhD
Tanya Darlington, DDS
Neal Demby, DMD
Caswell A. Evans, DDS, MPH
Allen Hindin, DDS
David M. Krol, MD
Roderick MacRae, DDS
Albert J. Thompson, DDS
Steven D. Ureles, DMD
Burton S. Wasserman, DDS

- Behavioral Sciences
Martha C. Baker, DMD
Renuka Bijoor, DDS
Dennis P. Bohlin, DDS
Edgar L. Buchler, DDS
Thomas J. Connolly, DDS
Wahida Karmally, MS
Steven M. Klein, DDS, MS
Barnet M. Levy, DDS, MS
Cheryl J. Ragonesi, MSW
Thomas Sedgwick, MS
Daniel F. Seidman, PhD
Leslie W. Seldin, DDS