History of the University Identity
In its 255-year history, Columbia has always employed some iteration of a crown as its official symbol, and like most universities, it also uses a shield and a seal. The shield, which was adopted by the trustees in 1949 and bears the inscription In lumine tuo videbimus lumen (In your light, we shall see the light), is rarely used today. The seal is used only by the trustees for official purposes, and its use is controlled by the Office of the Secretary.
For the first thirty years of its history, Columbia was known as King's College. But in 1776, the American Revolution forced a suspension of classes that lasted eight years, after which the College reopened with a new name—Columbia College. In 1896, the trustees approved the name "Columbia University in the City of New York." Both names have been used with a crown to identify the University, and many different crown designs have remained in concurrent use over the years. Today, the official logo is the modern crown adjacent to the full name of the University, but it is entirely appropriate for certain iterations of the crown to continue to be used by some schools, since those crowns have historical significance. Two such visible examples include the present-day Columbia College, which uses a historical version of the crown, and the Fu Foundation School of Engineering and Applied Science, which employs a crown reflecting its founding as the School of Mines. A number of schools use a modern version of the crown featuring three diamonds rather than echoing the three crosses of the traditional crown.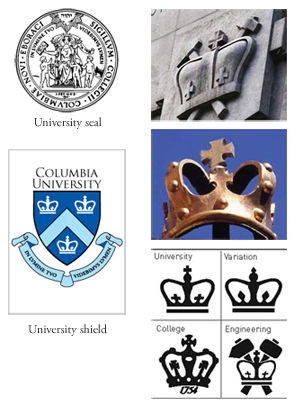 Next: The University Identity