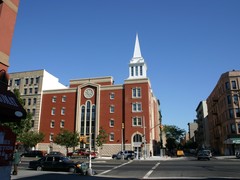 We love having visitors come to church with us. If you are an out-of-towner, an intellectually curious member of a different religion, just intellectually curious, or looking for some answers, either contact us or meet us at the gate!
Columbia's campus is located within the boundaries of the Harlem YSA Ward, which meets NW of campus at 360-368 (128th St.) Lennox Ave. The chapel is on the 2nd floor. For the 2013 calendar year, services are 9:00-12:00. Students typically meeat at the 116th gates 30 minutes before church starts to go together.
By bus: Board the M60 towards La Guardia (there is a stop right at the Broadway and 116th gates). Get off at Lennox, and walk three blocks north to 128th.
By Subway: Board the DOWNTOWN 1 towards South Ferry at the 116th stop. Exit at 96th, and transfer to the UPTOWN 2. Exit at 125th; walk three blocks north on Lennox to 128th.
Church of Jesus Christ of Latter-day Saints: www.lds.org