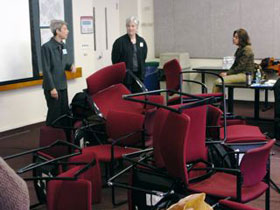 At the Oral History and Performance Conference, we tried to mimic what we did at the ATHE Conference. After we did an abstract eruption of the hurricane and were tossed from our "chairs" in our "homes" we then proceeded to go to audience members comfortably watching sitting in their chairs and politely asked them to give us their chairs and we kept piling their chairs into a big pile into the center of the ballroom of the hotel where we did the work thus causing the audience to be "homeless" (or "chairless" in this case). We also tried to take personal stuff like pocketbooks too I believe and throw them into the pile but those possessions were clung onto by most. We wanted them to connect with what it must feel like to suddenly be at the mercy of such a catastrophic event as Hurricane Katrina. They were then dislodged during the rest of the program where we also aired the seniors interviewed about their experiences talking above them on these huge tv screens (while Char and I moved around with taped recordings of the voices to the now "homeless/chairless" audience standing there). Other cast members were doing other things as well while all this was going on. At the end where we showed the final video oral history video on the screen the whole cast just altogether walked out of the ballroom and left the mess and the audience to deal with the aftermath of standing there "no place to go" and vulnerable. – Harriet Lynn

For me the central action of the four actors in the center of the space reflected the destruction from the original hurricane, and the moving of the chairs which followed came to represent the more massive destruction caused by the breaking of the levees and the flooding, which killed and displaced a large portion of the New Orleans population. As an actor I felt I was asking community members to try to help attack the breach that allowed the water to keep rising. There was an urgency in my asking for the chair or personal item. I actually asked for help from some audience members in moving the chairs, and referred to rising water. At one point I said to someone who refused to move, "The water is rising. It's not safe there." In my interactions I simply asked the audience members to join me in addressing the imaginative problem. –Char Nelson

Author:

Peter Harrigan

, Saint Michaels College


Harriet Lynn

, Heritage Theatre Artists' Consortium


Char Nelson

, Brigham Young University

Title:

Lessons from Katrina:

North Gulfport, MS, Senior Adults Oral History Interviews as part of the ReActions Event at ATHE Conference in New Orleans, Summer 2007
Formats:
Full-text transcript of presentation [PDF]

Slideshow of presentation [PowerPoint]
Includes embedded audio, size 250MB
Abstract: Lessons From Katrina: An Oral History Performance Saga

Panelists Harriet Lynn, of Heritage Theatre Artists' Consortium, MD, Peter Harrigan, of Saint Michael's College, VT, and Char Nelson, of Brigham Young University, UT were active participants in Lessons from Katrina, a live, fast-produced performance created on-site at the Association of Theatre in Higher Education (ATHE) Conference in August 2007 in New Orleans, LA. Lynn, Harrigan, and Nelson condcuted oral history interviews of eight seniors adults from N. Gulfport and Biloxi, MS as part of the performance.

ATHE's ReActions project is a high intensity and "high-risk" theatrical phenomenon, blending stylized theatre work using ritual, speech, and movement with video and audio interviews and images generated from their powerful Hurricane Katrina stories.

The intense personal stories captured in Lessons from Katrina were able to reach a diverse audience at ATHE ReActions theatre project in New Orleans in 2007 and at OHMAR's Spring 2008 Conference (March 13-15) in New York City.

At the Oral History and Performance Conference each panelist demonstrated their process, development, impact and culmination with Power Point, using digital audio recordings, photos, video, drawings and a recreation of the final performance of this unique oral history-based theatrical event.