Queer Diversity




Guest Curator: Stephen Davis, Columbia University Libraries
---
From its beginning, the mainstream lesbian and gay rights movement has struggled to recast society's view of homosexuality and homosexuals from "deviant," "immoral, or "against nature," to being just another variety of "normal." Nonetheless, as one might expect from a cause that took inspiration and energy from the 1960s political, sexual and cultural rebellion, the gay and lesbian movement includes not only those who are largely conformist, wanting simply not to be discriminated against; it also includes people who challenge the very concept of "normal" and find straight (heterosexual) society and culture to be inherently oppressive, or at least largely irrelevant to them. The term "queer," which has gained currency chiefly among the young and activist segments of the movement, affirms a genuinely separate identity for gays and lesbians and has been expanded to include groups such as bisexuals, gay transvestites, transgendered people, and other sexual minorities, who are marginalized and often despised by heterosexual and mainstream gay and lesbian society alike. In commemorating Stonewall as a catalyzing event, it should be remembered that those who "acted up" that night in June 1969 were for the most part drag queens and hustlers.
Despite sentiment within liberal straight society and the gay and lesbian mainstream that such marginal groups are a liability to the cause of lesbian and gay civil rights, they nevertheless present a fertile challenge to the movement and society as a whole: not only to tolerate diversity but actually to value it; to reflect upon the narrowness of gender roles and consider the possible loss to society (or at least futility) of demanding that men always act like "men" and women like "women;" to revise the concept of family to include other constellations of relationships; to acknowledge and expand individuals' erotic and sexual potential; and to appreciate and even enjoy the reflection--whether comic, mocking, provocative, outrageous, insightful or tragic--that queer culture can hold up to mainstream culture, as something that enriches society as a whole and enlarges the range of life possibilities open to each of us.
Below is a selection of the burgeoning queer alternative press, reflecting only some of the diversity of current "queer culture" as it thrives against the backdrop of the AIDS epidemic, increasing visibility and tolerance, and increasing hatred and bigotry.
---
Case Displays
The Adventures of Baby Dyke

The Adventures of Baby Dyke. Issue 2, 1992. By Terry Sapp. "B.D. Goes to S.F." Baltimore, Maryland. "In the summer of '91, heartbroken and hopeful, I dumped myself in the middle of San Francisco without a job, home, or connection. After two weeks, I ran out of food and money, but landed in a home amongst a household of caring bikers, artists, and incredibly cool lesbians. I will be eternally grateful for their hospitality, warmth, and friendship. My many thanks to all of those who renewed my faith in the goodness of people." --Terry Sapp a.k.a. Baby Dyke, p. [2] of cover.
Dyke Review Magazine,Spring 1994

Dyke Review Magazine. Spring 1994. San Francisco, Calif.: Christie & Stefin Company Publishers. "Why is it that women have to struggle to achieve the same status, job level, economic value that come so easily to men? Why as women, much less lesbian women, it is always harder for us? That we go above and beyond to get what we want and yes deserve! Wouldn't the world be a better place if women were in control, at the top? if we were the dominating society? Wow. Could you imagine how the world would revolve and change within those dimensions? Do you think it is ever possible?" -- Stefin Collins, p. 47.

The Family Next Door, April/May 1994

The Family Next Door: A Newsletter for Lesbian and Gay Parents and Their Friends. April/May 1994. Oakland, Calif. "Many lesbian and gay parents find themselves in dangerous or uncomfortable positions which prohibit them from coming out at their child's school or day care. Such situations restrict them from presenting a strong picture of self-acceptance to their children. These parents have to be even more creative and resourceful in their parenting strategies, showing their children that bigotry is a disease that lives outside the front door..." -- p. 2.
Frighten the Horses, No. 12, 1993

Frighten the Horses: A Document of the Sexual Revolution. No. 12, 1993. San Francisco, Calif: Heat Seeking Publishing. "The name [Frighten the Horses], comes from a statement made by Mrs. Beatrice Patrick Stella Campbell, a famous Victorian actress and friend (some say lover) of George Bernard Shaw. She was a member of an acting company in which two gay men, one rather older than the other, were having a not-very-secretive affair. Someone asked her if she didn't find this behavior simply scandalous. She replied, 'My dear, I don't care what these affectionate people do as long as they don't do it in the street and frighten the horses.'" -- From Letters to the Editor, p. 2.
Girlfriend!, Fall 1993.
Girlfriend! Fall 1993. San Francisco, Calif. "Why does Girlfriend! exist? Well, darling, we thought we made that clear last time. But apparently not. .... Girlfriend! is not about and for whom Girlfriend! is not meant." -- p.[1]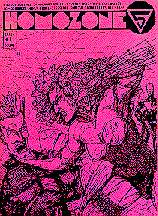 Homozone 5, no. 1, 1992.

Homozone 5. No. 1, 1992. San Francisco, Calif. "This comic book tries to say a lot of things. In some ways it's a worst case scenario of the future for homosexuals in America, should certain ill winds blow harder. It's a rejection of the death and destruction that patriarchal authority has bred. It's also an attempt to set the heroic place that drag queens have had in queer history firmly in the future..." p. [2] of cover.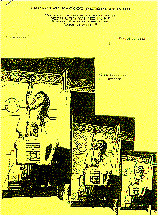 Infected Faggot Perspectives, no. 6 (1992,)

Infected Faggot Perspectives. Sixth issue, Feb. 1992. Los Angeles, Ca. "'Dedicated to keeping the realities of faggots living with AIDS and HIV disease IN YOUR FACE until the plague is over' . . . by, for, and about Infected Faggots. . . . W. Wayne Karr, Creative Director & CONCEPTUAL CONTROL QUEEN OF THE UNIVERSE (Infected Faggot since 1985? 1984? 1983? 1982? 1981?). Cory Roberts Auli, Managing Editor & FIERCE RULING PANSY-ASS FAGGOT (Infected since 1986?)."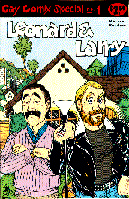 Leonard & Larry, 1992.

"Leonard & Larry" By Tim Barela. In Gay Comix Special. No. 1. Spring 1992. San Francisco, Calif.: Published by Bob Ross. Originally published in The Advocate and Frontiers. "Leonard & Larry is everyone's favorite gay couple . . . as matter-of-fact as a backyard barbecue, and just as fun. Barela offers a trenchant barometer of gay life in these times."--Mark Thompson, senior editor, The Advocate. (Quoted on back cover.)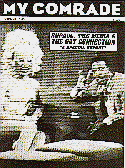 My Comrade, Summer 1993.

My Comrade. Summer 1993. New York, N.Y. Formerly My Comrade/Sister. "Silly and campy and sexy and drag-obsessed and 100% committed to the struggle for gay and lesbian rights." -- p. [3].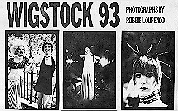 My Comrade. Wigstock Issue, Early 1994. New York, N.Y.
"Wigstock" (covered in this issue of My Comrade) has become an annual outdoor event for New York drag queens and their admirers. When it first began several years ago, it was a mild parody of "Woodstock," with folk music and (drag) country dress, but it has since become a popular glamour/club event.
Skin Two, Isssue 14, 1993.

Skin Two. Issue 14, 1993. London, England: Tim Woodward Publishing. "The worldwide explosion of fetish nightlife is a dominant theme in this issue. There are pages of pervy parties from Paris to Sydney to Tokyo to London. In Germany, the club scene is spreading from Munich to Moenchengladbach. In the USA, the West Coast and Chicago now have fetish events to rival New York. . . . Have all these rubbery revellers materialised from nowhere? Wherever are they all coming from? Out of the closet -- that's where!"-- Editorial, p. 5.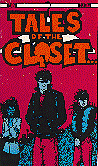 Tales of the Closet, Fall 1987.
Tales of the Closet. Vol. 1, no. 2, Fall 1987. New York, New York: Hetrick-Martin Institute for the Protection of Lesbian and Gay Youth.

"Dear Reader: I remember going to the library when I was 13 years old trying to see if I could learn something a bout homosexuality. I knew I was gay, but I wasn't sure just what that meant. The only things I had heard about homosexuals were terrible and just did not apply to me. But I was afraid that maybe my feelings meant that I was going to grow up into one of those 'terrible people.' . . . Things are still rough for gay and lesbian teenagers. But they are just a little better. This series of comic books is meant to help with some of the problems still faced by our young people. We hope that they let you know that you are not alone and that there are answers. Sincerely, A. Damien Martin, Ed.D., Executive Director and Publisher."-- p. [32],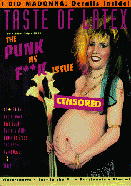 Taste of Latex, No. 9, 1993.

Taste of Latex. No. 9, 1993. San Francisco, Calif. "Welcome to Taste of Latex. An omnisexual magazine--all sexual flavors with no bitter after-taste of apology. . . . May this magazine affirm your leanings, expose your options, expand your limits, confirm your suspicions . . . No, there really isn't anything wrong with sex after all." -- p. 1.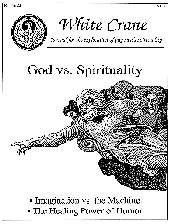 White Crane Newsletter, No. 20, 1994.

White Crane Newsletter: Journal for the Exploration of Gay Men's Spirituality. No. 20, 1994. San Francisco, Calif. "Gay men use all kinds of paths and life-styles to grow spiritually: meditation, psychotherapy, religion, dream study, yoga, ritual, relationships, gardening, sex, dancing, and much more, all with varying degrees of success. White Crane exists to explore all manifestations of spiritual searching among gay men." -- p. 2.