---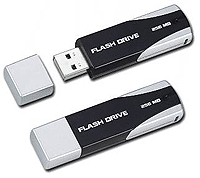 Columbia University Libraries recommends the use of USB flash drives instead of CD's and floppy disks. These drives are portable and hold more data than floppy disks.
The drives come in many sizes: 128mb, 256mb, 512mb, 1GB and more. For Windows 2000/XP and Mac OS X the drives can be used without any software; plug them in and they will show up as a Hard Drive. More Information.
Drives are available in any retail store where computer accessories are sold and are also available at the Columbia University Bookstore.