The Society of Columbia Graduates recently awarded 1996 "Great Teacher Awards" to two of Columbia's outstanding faculty. Professor of English and Comparative Literature George Stade received the
Professor of Computer Science John Kender
---
Columbia College award and Associate Professor of Computer Science John Kender captured the prize for the School of Engineering and Applied Science (SEAS).

The "Great Teacher" award originated in 1949 with its inaugural awards going to Mark Van Doren (College) and Edwin H. Armstrong (SEAS) the inventor of FM radio. Each year the recipients' names are inscribed onto a permanent plaque that hangs in Butler Library and stands as a monument to the great educators who have taught Columbia students.

The October 17 ceremony was held in Faculty House, where roughly 120 members of the Society gathered to pay tribute to Professors Stade and Kender. Among the notable arrivals was Senior Vice-President of ABC News Richard Wald `52C. Wald moderated a post-ceremony panel discussion of the current presidential election.

The evening began with a reception and dinner. Shortly after, Dean Austin Quigley of the College and Dean Zvi Galil of SEAS gave preemptory greetings and brought the Society up to date on current projects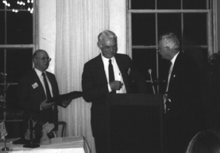 Professor of Comparitive Literature George Stade
---
and improvements occurring in their respective schools. Dean Galil stressed the difficulty of attaining excellent teaching in a research university, thereby underscoring the "Great Teachers"' accomplishments.

Then, acting Society president Stephen D. Hoffman `65C awarded Professor Stade with a representative trophy that imitates the engraving of the scholarly lion depicted on the memorial plaque in Butler Library. Along with the trophy a citation was also issued that depicted and highlighted some of Professor Stade's life-long accomplishments, which ranged from writing book reviews for the New York Times to his chief editorial position on the Columbia Essays on Modern Writers.

Professor Stade's speech reflected on his thirty-four year career at Columbia and culminated with the point that "great students make great teachers." Professor Kender was awarded a similar trophy that also bore a personalized citation highlighting him as a "Teacher of teachers" and praising his work in visual information processing and artificial intelligence.

"A teacher makes you more efficient and saves you the trouble from reinventing for yourself," Professor Kender declared prior to closing his statements with a quote from one of his favorite authors: "If I were [a good teacher] who would know it? . Pupils, students, you, God."