Participation
© 2015 Neurocognition, Early Experience, and Development Lab | 212-678-3319 | Teachers College, Columbia University
What does participation entail?
A typical lab visit begins with the guardian signing an informed consent document. After the child becomes acclimated to the study environment, he or she completes a series of language and memory tasks. Our infant participants watch videos of silly faces, play with puppets, and listen to recordings of novel words. Older participants play word games that tap into spelling and reading knowledge. All of the tasks are child friendly, and we encourage our researchers to engage the children and make the experience fun.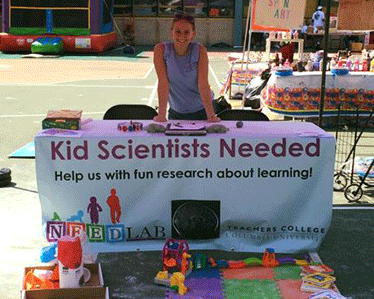 Developmental research depends on the support of families like yours. We invite families from the community to participate in studies throughout the year. All of our participants are compensated for their invaluable help.
If you are interested in being notified about future studies, please fill out the information to the left and click Submit. Our lab manager will contact you about current and future participation opportunities. Thanks for your interest!
If you have further questions about our research, please email needlab@tc.columbia.edu or call us at 212-678-3319.