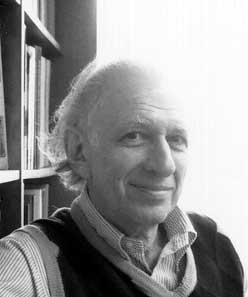 Dr. Eric Kandel
New York, N.Y., October 9, 2000 - Eric R. Kandel, University Professor of Physiology and Cell Biophysics, Psychiatry, Biochemistry and Molecular Biophysics at Columbia University, shares the 2000 Nobel Prize for Medicine with Arvid Carlsson of the University of Goteborg, Sweden and Paul Greengard of The Rockefeller University, New York, for their contributions to the field of neuroscience. Dr. Kandel, a Howard Hughes Medical Institute senior investigator, is a member of both the National Academy of Science and American Philosophical Society and a winner of the National Medal of Science.
Kandel's seminal work with the sea slug Aplysia, a creature with relatively few nerve cells and clearly delineated behavioral circuitry compared with vertebrates, demonstrated fundamental ways in which nerve cells alter their responsiveness to chemical signals to produce a coordinated change in behavior. The work has been essential not only for our understanding of the basic processes of learning and memory, but also for highlighting many of the cellular processes that are targets of psychoactive drugs.
Kandel's research has been pivotal in relating three psychologically defined forms of learning-habituation, sensitization, and classical conditioning-to subcellular processes and intercellular signaling. In his studies, Dr. Kandel found that simple behaviors could be accounted for by distinctive sets of nerve cells connected in invariant circuits. Dr. Kandel and colleagues found that learning produces changes behavior not by altering basic circuitry, but by adjusting the strength of particular connections between nerve cells. Dr. Kandel and co-workers also defined sets of genes and proteins that stabilize synaptic connections and trigger growth of new ones. More recently, Kandel's lab has extended this approach from simple forms of memory in the Aplysia to more complex forms of spatial learning in mammals.
In response to calls for an integrated approach to understanding the biological basis of behavior, Columbia established the Center for Neurobiology and Behavior with Kandel as its director in 1975. The Center, comprising faculty with appointments in the departments of Anatomy and Cell Biology, Biochemistry and Molecular Biophysics, Genetics and Development, Neurology, Pathology, Pharmacology, Physiology and Cellular Biophysics, and Psychiatry, applies research in these various disciplines to understanding the cellular and molecular basis of behavior, perception, and learning.
"This is a marvelous and exciting moment for Eric Kandel and for Columbia University," says Dr. David I. Hirsh, interim dean for research, Columbia University College of Physicians & Surgeons. "Dr. Kandel is a superb human being whose lifelong journey to understand the molecular basis of memory is one of the finest examples of what can result when true scholarship and dedication are combined with scientific brilliance."
Eric Kandel was born in Vienna, Austria in 1929 and emigrated from the Nazi-occupied country to the United States with his family in 1939. Educated at Harvard University and New York University School of Medicine, Dr. Kandel began his research career at the National Institute of Mental Health, where he studied mammalian brain neurophysiology with Wade Marshall. After completing his residency in clinical psychiatry, Dr. Kandel then began work as a staff psychiatrist at Massachusetts Mental Health Center in Boston while continuing research and teaching at Harvard Medical School.
In 1965, Dr. Kandel was appointed associate professor in the Departments of Physiology and Psychiatry at his alma mater, New York University Medical School, and was promoted to full professor in 1968. Dr. Kandel came to Columbia University in 1974 as Professor of Physiology and Psychiatry, beginning his directorship of the newly formed Center for Neurobiology and Behavior shortly thereafter. Dr. Kandel became University Professor in 1983 and a Hughes Senior Investigator in 1984.
Throughout his career, Dr. Kandel has maintained an active interest in clinical psychiatry, as well as in fostering the interchange of ideas between diverse disciplines examining the relationship between mind and brain.
To visit Nobel website, click here.
To read the New York Times story, click here.
-- Office of External Affairs, Health Sciences Divisions