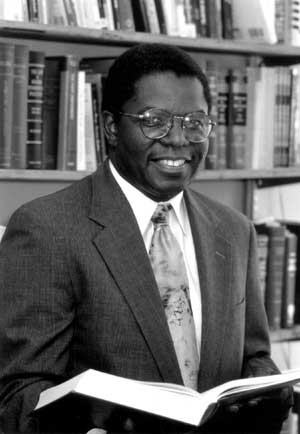 Kellis E. Parker
Kellis E. Parker, a noted legal scholar and civil rights activist who embraced jazz as a framework for understanding the law and, in 1972,became the first full-time black law professor at Columbia University, died on October 10 at St. Luke's Hospital in New York. The cause of death was acute respiratory distress syndrome, which struck him suddenly at the end of September, said Kimberly Parker, his daughter. He was 58.
"Professor Parker's classes in contract law and seminars on the music industry, remedies and the roots of African-American law educated and edified many generations of students," said Law Dean David Leebron. "We will deeply miss the optimism, enthusiasm and generosity he brought to every endeavor."
Parker grew up in Kinston, NC, where his parents owned and operated the first black dry cleaning establishment in town. Their struggles were recorded in Professor Parker's book, The East End Dry Cleaners Hello Blues. Music was what the family used to keep their spirits high and to augment the family income. Professor Parker's instrument was the trombone, his brother Maceo's was the saxophone and his brother Melvin played the drums. Both Maceo and Melvin became professional musicians.
Parker was one of five black students who integrated the University of North Carolina at Chapel Hill in 1960, where he worked with Rep. Allard Lowenstein to challenge segregation. At Howard University Law School he graduated at the top of his class and was editor-in-chief of the Howard Law Journal. Upon graduation he clerked for Spottswood W. Robinson III in the U.S. Court of Appeals for the D.C. Circuit. Planning to return to North Carolina to practice law, Parker instead took Judge Robinson's suggestion to try teaching. He secured a position at the University of California at Davis Law School, earning tenure after three years, and moved to Columbia Law School in 1972. He earned tenure there in 1975. At the time of his death, he held Columbia's Isidor and Seville Sulzbacher Professorship of Law. For a number of years he also taught seminars at Howard Law School and served as faculty advisor to Howard's Law Journal.
Professor Parker's primary area of expertise was contract law, but his unique intellect moved it in many new directions. His 1975 case book, Modern Judicial Remedies, was the first to introduce civil rights remedies into the regular law school curriculum. His subsequent writings, including Law and the Black Experience: A Minority Report, have all centered on using the law and a fresh and creative sense of justice to resolve the race issues in this country. He formulated legal strategies for cases at the Center on Constitutional Rights, the NAACP Legal and Education Defense Fund and for numerous other organizations and individuals.
An accomplished jazz trombonist, Professor Parker performed with the Don Shaw Group at the 1999 Naples, Italy, Jazz Festival. He was a familiar part of jazz bands around Columbia University as well as throughout New York and many European urban centers, but he joined most happily with Parker, the band of his son and daughter-in-law, Kellis Jr. and Darliene. These experiences, plus his course in music contract law, "Jazz Roots Revisited: The Law the Slaves Made," made him the first stop on the road to success for many young entertainers.
The family has requested that donations be made to the Kellis E. Parker Memorial Scholarship Fund, to be administered through the Law School.