Columbia University
P&S Social Dance Club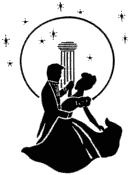 Welcome to the Columbia Social Dance Club. The Social Dance Club is . . . swing, salsa, waltz, tango . . . and much more! Our goal is simple: to teach and learn Dance. We gather about twice a month for lessons taught by professional instructors and fellow students. What better way to spend an evening? NO EXPERIENCE required!
The CLUB is also under NEW LEADERSHIP! Please welcome Amanda Herons, P&S Class of 2002! If you want to help or have fun, contact her!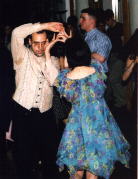 We welcome experienced dancers and your suggestions - come be a shaping force! We want your help! We are also the hosts of the Moonrise Dance Party- A party for anyone who loves to dance - Mixing club music with ballroom music, last year's party was a huge success! This year promises to be even better!
If you have any questions or wish to be notified of upcoming lessons and events via email, send your name, email address, and phone number to:
ash26@columbia.edu




Columbia University Main Campus Ballroom Dance Society
Dancing in New York: A list
Lincoln Center: Midsummernight Swing

---
Stay tuned or contact Amanda Heron at ash26@columbia.edu for more information!
---

Lessons are held at Columbia's Health Sciences Campus:

Bard Hall Lounge
Bard Hall
50 Haven Avenue
New York, NY 10032
(Take A,1,9 to 168th and Broadway)
---
Images