Program 3 - Tuesday, March 3rd
Beauty and the Beast : A Search for Miss Tibet
---
Director : Tenzin Tsetan Choklay

Release Date : 2002

Genre : documentary

Runtime : 13 min

Country : India/Tibet, China

Filming Location : India

Language : English/Tibetan with English subtitles
---
A short film about the first Miss Tibet in Exile beauty pageant in Dharamshala, India.
---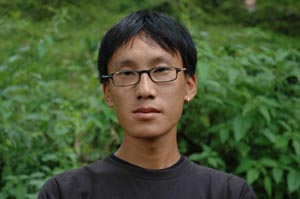 Tenzin Tsetan Choklay, a former student from Tibetan Children's Village in Dharamshala, belongs to a new breed of Tibetan youngsters who are in the field of Art and Media. After graduating from college in Chandigarh, Tenzin moved to Bombay exploring new avenues for his curious mind. While working at an odd job in Bombay, he rediscovered his interests in becoming a filmmaker and pursued it further by studying film at the Academy of Film and Television from Delhi.
Currently he is based in New Delhi working as a film professional for independent productions. His ultimate goal is to be able to tell a good story with his films. At present he is editing a film titled Milk and Opium, a Starke Film Production.
Beauty and the Beast is Tenzin's first attempt at filmmaking after he graduated from film school. "With this film, I wanted to cast Tibetan youth in exile in a new light and to show how they are all seeking their identities in a place where they can't call home."