March 21-28, 2012, San Juan, Puerto Rico
Ukrainian Cinema Gets Warm Reception in Puerto Rico
The Ukrainian Film Club at Columbia University presented a program of Ukrainian shorts at the Hecho en Europa International Film Festival in San Juan, Puerto Rico. This is a new and rapidly growing in scale and popularity festival, organized by the Alliance Française, to introduce to the Puerto-Rican film-going public the best and the most interesting of European cinema. Says Mr. Cyril Anis, the executive director of AF office in San Juan, "We would like to serve as a platform also for lesser known European cultures and cinemas."


From left: Sonia Fritz, Yuri Shevchuk, Camille Vandenbunder, and Sophia Sushailo.
At the request of the Festival Yuri Shevchuk put together a program of Ukrainian shorts that was shown in two separate screenings to intensely curious viewers. In addition, the first day of Hecho en Europa featured a conference "Identity and Filmmaking. The Case of Ukraine and Puerto Rico" with Sonia Fritz, documentary filmmaker and professor of film studies at the Universidad de Sagrado Corazon, San Juan, PR, and Dr. Yuri Shevchuk, lecturer of Ukrainian language at Columbia University, New York, NY, discussing in front of the audience in the state-of-the-art Fine Arts Miramar multiplex movie theater.
To give a fuller idea of perspectives, personal styles and narrative techniques of the contemporary Ukrainian filmmakers the program included feature, documentary and animation shorts. The shorts shared some important common traits. All were independent, made on a shoestring budget, all addressed some pressing issues of the Ukrainian condition. All staked out an idiosyncratic narrative territory while seeking to engage national and international viewer. All articulated the vision and sensibilities of the post-Soviet, but longing to be postcolonial, generation of film directors.

Among the feature shorts were: "Illusion of Happiness," director Daria Tkachenko, about a young man who falls for a pretty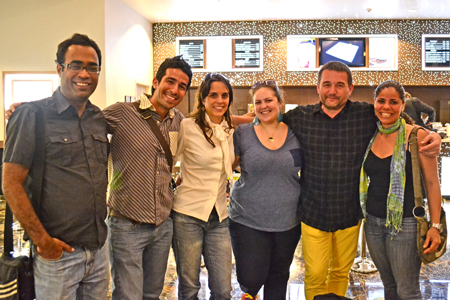 girl with a complicated story of her own; "The Last Letter," director Yuri Kovaliov, about a little boy who has something to teach the adults about kindness, empathy, and human decency in a society that lost its moral bearings; "Wardrobe," director Liza Kluzko, a story of a young woman who in order to support her son and realize her dream becomes a prostitute; "To Be Human," director A. Butuzova, a social pariah experiences an epiphany after his path crosses that of an unwanted baby left near a garbage can. "Flea Waltz," director Taras Tkachenko, portrays two elderly people desperately clinging to their homes, the last islands of humanity in the post-Soviet world that has succumbed to the craze of capitalist enrichment; "Images of Polissia," director Serhii Marchenko, takes the viewer to Polissia, the cradle of Slavs, a unique enclave where Ukrainian folk songs, ballads, and rituals preserve the memory of pre-Christian Europe; "To Become Firm," director Stepan Koval, a witty and quasi-philosophical take on how an individual in everyone of us clashes with society in search of one's very own self.
Each screening was introduced by Yuri Shevchuk and followed by discussion with visibly enthusiastic, if small, audience. On both occasions the discussion spilled out to the lobby. Instrumental in bringing together the Ukrainian Film Club and Alliance Française was indefatigable Sophia Sushailo, head of the Ukrainian Cultural Society of Puerto Rico. Our special thanks also go to Ms. Camille Vandenbunder, programmer of the Festival.