July 10, 2013, Kyiv, Ukraine
Chasing Two Hares to Come Out in Original Ukrainian Language Version.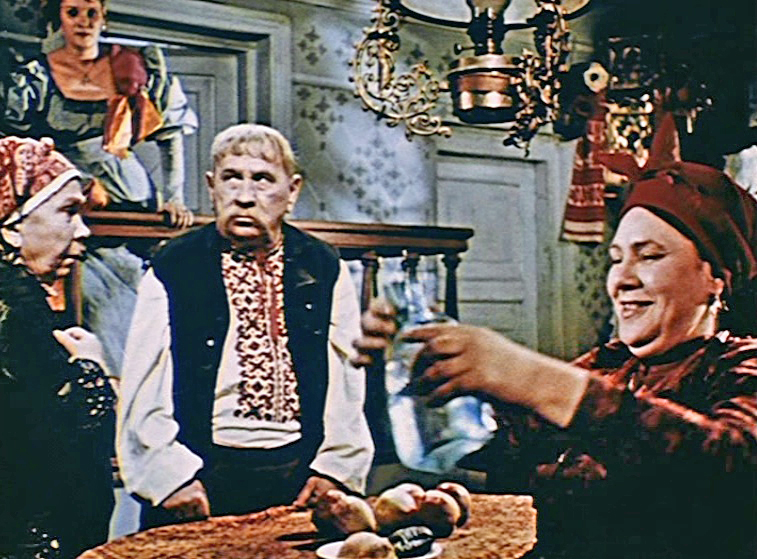 The legendary film's original sound track was found at the Mariupol Film Foundation. The official presentation of the Ukrainian version of Chasing Two Hares will take place this fall at the Kyiv festival "Molodist." Viktor Ivanov's legendary film, Chasing Two Hares, which was filmed at Kyiv's Oleksandr Dovzhenko Studio in 1961, will recover its original language - Ukrainian. The movie's millions of admirers are used to hearing stars Oleh Borysov, Marharyta Krynytsyna, and Nonna Koperzhynska's famous one-liners and comebacks in Russian. But director Viktor Ivanov originally filmed the movie in Ukrainian.
Made during Soviet times, the film was marked as "second category" and slated for showing only on the territory of the Ukrainian SSR. Later when it became wildly popular, the dialogue was partially rerecorded in Russian by the original actors and released for all-Union distribution. Since then the movie has been shown on TV exclusively in its definitive, Russian version.

Ivan Kozlenko (the deputy general director of the National Oleksander Dovzhenko Center) explains that the Center's film restorers ended up finding the Ukrainian sound track to the film not in Kyiv, but at the Mariupol Film Foundation. According to Kozlenko, Mariupol is home to a "great deposit" of interesting film treasures. For example, they have over 50 films from the Odesa Studio that can't even be found in the central Film Foundation in Kyiv.
As for Viktor Ivanov's film, the restoration of the Ukrainian version of the comedic Chasing Two Hare sound track will restore for viewers the real, live voices of the acting greats who worked in Kyiv. That is Oleh Borysov, Nonna Koperzhynska, Marharyta Krynitsyna, Mykola Yakovchenko, and Natalia Naum.

Kozlenko thinks that this will do the film historical justice, especially since Mykhailo Starytskyi's play, on which the film is based, was written in Ukrainian. Moreover the proto-foundation for his play was Ivan Nechui-Levytskyi's story "In the District of Kozhumyaky," also in Ukrainian. Viktor Ivanov's film won the Oleksander Dovzhenko State Prize only in 1999 after the director and Oleh Borysov had already passed away. The shooting of the film took place in Kyiv on Andryivskyi Descent.
According to Ivan Kozlenko, the official presentation of the Ukrainian version of the film Chasing Two Hares will take place this fall at the Kyiv International Film Festival "Molodist." The Dovzhenko Center plans to look for the Ukrainian sound track to Ivan Kavaleridze's famous film The Prostitute wherein the main character, played by Liudmyla Hurchenko, also speaks Ukrainian.
Translation from Ukrainian by Ali Kinsella.

(The UFCCU plans to hold a screening of the Ukrainian language version of Chasing Two Hares with brand-new English subtitles in New York City)