October 18, 2013, New York, N.Y.
A Sincere Glimpse into the Lives of Sincere Folks. Film Review of Such Beautiful People, dir. Dmytro Moyseyev, 2013.
Delicate sandy palette pervades nearly every frame
It starts, dream-like, with a pair of gigantic sea creatures (a pufferfish and a seahorse) gamboling to and fro against the Black Sea for an audience of two. After the viewer adjusts to the ethereality of the scene, the next striking thing about Dmytro Moyseyev's 2013 debut feature film, Such Beautiful People, is the delicate, sandy palette that pervades nearly every frame and helps carry the otherworldly mood from the opening scene through to the closing credits. Yet color is only part of what makes each artfully composed shot seem as though it's a painting in its own right. Director Moyseyev and cinematographer Serhii Tartyshnikov paid close attention to every arrangement of strings of dried fish, holes in screens, fluttering curtains, down to the last detail—a difficult task in a landscape where every element differs by just one shade of tan.
But both these things, the muted tones and meticulous composition—fortified by Valentyna Horlan's brilliant costume design—perfectly suit the calm pace of the picture and lend it a welcome gentleness. Like so many others, this is a movie about love, but this love isn't risqué: there's no betrayal, there's no intrigue, no secret families. Much like the coming and going of the factory workers and the ocean tides, it's steady and slow. Nor is the love limited to the typical heteronormative relationship that is most often shown on screen. One of Moyseyev's student films, I Have a Friend, explores the gay subculture of Kyiv. Here in Such Beautiful People, he again demonstrates his inclination to depict the full range of human relationships, three of which are the most important. Initially it seems as though the central plot is going to unfold around the friendship of Liuba (artfully played by Alla Binеieva) and Marta (Polina Voinevych). The two women share an abiding, sisterly affection for each other, unmarred by jealousy, spite, or rivalry. This is a relationship so rich that it fortifies and complements their own intimate relationships. Equally important is Kyrylo's relationship with his and Liuba's son. The two adventurers explore the costal environment, finding a seemingly sparse landscape actually teeming with creative possibility. Still what drives the plot forward is Marta's search (in some ways an anti-search) for a meaningful, long-term relationship, and not simply the one-night stands Liuba keeps suggesting.
The adults have left their city lives seeking tranquility and fulfillment at the sea. Kyrylo and Marta make their living fishing and selling their catches to travelers and high-end restaurants located in a nearby city. Liuba runs a fish and beer shack that serves the needs of the local laborers. And that's about it. The rest of their time they fill with drinking tea or beer together, entertaining each other with recitals for two, or occasionally exploring their surroundings. Theirs is a peaceful, satisfying existence sustained by their mutual love. But for Marta it isn't enough. When writer Ivan Dubak (Konstiantyn Danyliuk) from Ivano-Frankivsk (obviously not Ivan Franko, for he wasn't from Stanislav) stumbles into the picture and off Marta's dock, their calm, peaceful existence is unexpectedly yet subtly changed: Ivan just sort of melds into the sandy-hued life Marta has made for herself by the sea.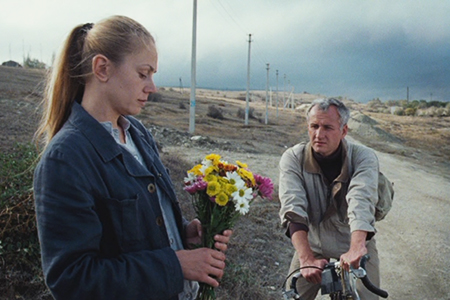 Marta and Ivan
The two fall right in step, Ivan filling the space that Marta's life had left open. They interact and take care of each other as if they've been together a very long time, so it's cute when they're shown discovering some of the most basic things about each other ("Sometimes I eat breakfast in my boat." "I like the café Golden Croissant.") Marta teaches Ivan about fishing and riding a motorcycle. In return, he cares for and supports her. When they take a short trip (where they meet with a deaf innkeeper—a new trend in Ukrainian cinema?), it becomes clear just how much Marta has come to rely on Ivan's presence.
The unearthly spell is broken when Marta has to travel to the city to find her Ivan. The viewer is reluctantly reminded that the beautiful people of the film don't really live in a marine fantasyland, but in living, breathing Ukraine. It's almost as if the city itself is incapable of maintaining the illusion. The cinematography take on an amateurish quality totally absent from all preceding scenes, and the dialogue becomes stilted and enigmatic: the booksellers are inappropriately sarcastic, the bartender somehow overly witty, and the café's revelers oddly aggressive. Despite the merrymaking and bustle of the city, it has none of the joie de vivre of the beachside retreat; no one there, not even the artists or those in the bookstore, was reading Japanese fairytales or reciting Ivan Drach. Marta's unhappiness and confusion are palpable and transmitted to the viewer. Mercifully the action returns to the refuge of the sea, the place where social conventions are familiar and understandable, and the place where our characters and the story of their lives belong.
As far as the language is concerned, the director himself admits that at times the dialogue might come off at times as strange or unnatural. This is in part accidental, in part intentional. Moyseyev grew up in Russian-speaking Kherson (not far from the sea, by the way!), and didn't really learn to converse in Ukrainian until he was in his mid-twenties: He had moved to Kyiv, started reading literature in Ukrainian, and made the choice to begin speaking it as well. He says that because of this unusual path to a "native" language, his tendency is toward a rather elevated, literary vernacular. He highlighted this in his script as part of an attempt to "de-regionalize" while "nationalizing" the movie. The screenplay also reflects the conscious—all too rare in Ukraine—choice of a director to make his movies in a language that is more often than not disdained as the voice of cultural production. Through this simple act, Moyseyev immediately gains admission to an elite group of filmmakers, who are trying to return Ukrainian to the screen.
Moyseyev could be criticized for writing an unbelievable story, for reproducing the hackneyed idea that all women are miserable and lonely without men, for depicting Ukrainians as unsuited to life in the city. Or he could be praised for his astute script that gives expression to various kinds of human desire without passing judgment on any of them. Moyseyev has made a lovely, commendable film. He tells an endearing story free of most clichés. The moments of disjunction where the dialogue or acting doesn't seem to fit the mood are minor and hopefully something he'll continue to excise from his craft as he makes more films.
Cast
Marta Polina Voinevych
Ivan Kostiantyn Danyliuk
Liuba Alla Bineieva
Kyrylo Oleh Stefan
Slavko V'yacheslav Hlushko
Others Mykhailo Savchenko, Mykhailo Zhonin, Oleksandr Yarema, Basyl Stiopkin, Mykhailo Ihnatov, Olena Kaplan, Zhanna Bohdevych, Oleksandr Morhatskyi, Dmytro Moyseyev
Crew
Director and screenwriter Dmytro Moyseyev
Director of Photography Serhii Tartyshnikov
Art Director Oleksii Balashov
Music by Maksym Shalyhin
Sound Director Anatolii Ivaniuk
Editor Oleksandr Novytskyi
Costume Designer Valentyna Horlan
Make-up Artist Inha Novikova
Set Designer Viktor Kharkevych
Photographer Khrystyna Shestovska
Costumer Liudmyla Chernetska
Assistant Art Directors Volodymyr Buhaichuk, Viktor Kharkevych, Andrii Dovhoteles
poem "Wings" by Ivan Drach