Over the summer 2007, UFCCU moved its events from Columbia campus to old and new summer venues. For the third time in a row, together with the Harvard Ukrainian Summer Institute it co-sponsored a series of three film nights at Harvard University. In an exciting new development, the UFCCU was asked to organized a five-day (July 11-15) Contemporary Ukrainian Film Festival at the legendary and much loved in the Ukrainian American community resort of Soyuzivka, known among its fans as Suzi-Q. This festival was the first of a kind and a great success with the Suzi-Q audiences.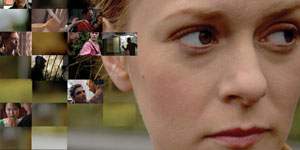 Following a successful precedent of the summer 2006 when we presented films as part of the Chicago-Kyiv sister-city culture festival sponsored by the Chicago City Council's Department of Cultural Affairs, the Club was approached by the Chicago Ukrainian Institute of Modern Art yet again to bring a three-day program of Ukrainian films to the Windy City. This year our Chicago appearance promises to be even more exciting: we joined efforts with Mr. Zygmunt Dyrkacz, the founder and director of the renowned Chopin Theater, which since 1990, has actively promoted independent and world cinema, to organize a Ukrainian-Polish film Festival entitled Post-Revolution Blues. It will take place on August 24-26, 2007.


At the same time the UFCCU continued to expand its already unrivalled collection of Ukrainian films. Over the last months, we acquired the entire film legacy of the father of modern Ukrainian film Oleksander Dovzhenko restored and digitally re-mastered.


Our new acquisitions also include the latest film by Kira Muratova Two in One slated for theatrical release in Ukraine in September, By the River, Eva Neymann's directorial debut in the narrative feature genre, the entire program of the Open Night Film Festival which promotes the works by young Ukrainian cineastes, documentary films Bozhychi, by Anastasia Kharchenko and Liza, by Taras Tomenko.


Our film series entitled "Ukraine, a View from the West" has also grown to include Radiophobia by Julio Soto (Spain), Mister Pylypenko and His Submarine, by Jan Hinrik Drevs, René Harder (Germany), Orange Chronicles by Damian Kolody (USA), narrative feature Acts of Imagination, by Carolyn Combs (Canada).


We are actively expanding our collection of foreign films masterfully dubbed into Ukrainian. This rubric has grown to include the Danish narrative animation film Terkel i Khalepa (Danish Terkel i Knibe). Its characters sport Danish names and speak hilariously imaginative Ukrainian youth slang using the voices of such Ukraine's pop stars as Oleh Skrypka, Fahot i Fozi, Foma from the Mandry, Katia Chilly, and Vitaly Kozlovsky. Other recently Ukrainian-dubbed foreign films in the Club's collection include animations Karlsson på Taket (Karlsson Who Lives on the Roof) (Sweden) and Cars (USA), as well as narrative feature Pirates of the Caribbean. The Dead Man's Chest.