Uptown Vocal
Uptown Vocal is the premier jazz and pop a cappella group of Columbia University in the city of New York. As we enter our third decade of bringing jazz/pop to the CU community, our repertoire includes major pop hits like Beyonce Knowles' "Single Ladies" and Ben Folds' "Still Fighting It", as well as timeless jazz standards such as "My Funny Valentine" and "Fly Me to the Moon".
We perform at numerous functions both on and off campus throughout the year and regularly grace other college campuses with our musical talent and unusual attractiveness.
Members
Allison Heimann aka Allypoo or Alsriff, may spend lots of time with the basses, but actually has the daintiest soprano voice south of 114th St. This jewel in UV's crown comes to the Big Apple from her home in the Cleve and brings with her a love for jazz improvisation, arranging and soloing. She's Uptown's resident Ayn Rand Scholar and always checks her premises... except the premise that everyone is always trying to kiss her. Allison can usually be found outside of Philosophy Hall arguing with Rodin's statue or in Café 212 buying up all the Neuro-trim. Aside from that, you can count on Allison to have three things: rhythm, fever, and eyes for you. Cha chee cha chee cha!
Solos: But Not For Me, Fever, I Only Have Eyes for You, I've Got Rhythm
Arrangements: God Only Knows, Mas Que Nada, My Romance/Bad Romance, Moon River, Teenage Dream, Silver Bells, Besame Mucho
Danielle Strassman spends most of her time taking advantage of the East Coast, a different flavor from her West Coast origins of Los Angeles. When she isn't singing like a diva in rehearsals, she can be found flipping grilled cheese for Columbia University's "Feel Good", an organization that donates its proceeds to help destroy world hunger. As a fellow 'Doctor Who' and 'Buffy' fanatic, Danielle's big voice and even bigger heart complete the UV ensemble.
Solos: My Funny Valentine, Cry Me a River
Arrangements: Do It Again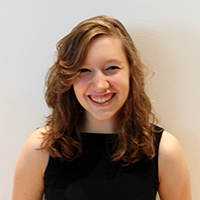 Lizzy Karnaukh is a beautiful Russian ballerina who is as talented as she is adorable. She is equipped with stellar blending abilities, but her sweet soprano tone graces us with solos as well! She sounds especially zoppity on ballads. Lizzy hails from New Jersey, Uptown Vocal's favorite state. She glows with Princeton pride but absolutely loves her new home here in New York. In her spare time, Lizzy enjoys watching and/or crying over episodes of Doctor Who on Netflix. You can also find her devouring Annie's mac and cheese, giving amazing massages, or humming holiday tunes at any time of year. We love Lizzy and the group wouldn't be the same without her!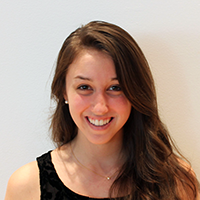 Hailing from Tampa, Florida, Betsey Giammattei is probably more famous than you. With more YouTube hits than Ben Kaplan, she is poised to take over the internet with her original songs, stunning soprano, and--of course--unusual attractiveness. She can also speak Chinese, which will aide her in her quest for international stardom. Before Betsey really blows up, though, the Columbia community will have the privilege of watching her perform, free of charge, for four years. Both a solid group member and a knockout soloist, Betsey is definitely one to watch, and she'll surely keep listeners coming back for more.
Solos: Straighten Up and Fly Right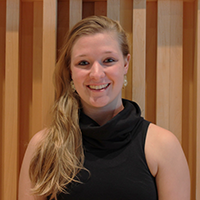 Mary Glenn is Uptown Vocal's prima ballerina. When she's not busy pirouette-ing, playing her cello, or standing in for the MD's pitch pipe, Mary makes gourmet grilled cheese for the student-run, humanitarian organization known as Feel Good, whose profits go towards the World Hunger Project. While this blonde-haired, blue-eyed lady may seem like an angel, her low, sultry bass - cough - sorry, tenor! What? - sorry - ALTO tones suggest a darker side. Even though she often wears socks with cute kittens on them, Mary is a dog person and, in fact, hates cats. She also works as a bartender and babysitter, but not at the same time. Mary is a Spanish and Human Rights major, and hails from Wellesley, MA.
Solos: Caravan, My Romance/Bad Romance, Do It Again
Jane Kim Characterized by her hip garb, spontaneous hip-wiggling, curiously wide vocal range and unusual capacities for whimsy, Jane is a sopralto sooner hugged than forgotten. She hails from Tenafly, New Jersey and is at Columbia to study computer science, but when the weather is nice it tends to not involve large lecture halls. Some enthusiasts have suggested that she step up and replace Lady Gaga's musical career altogether. She is the shortest member of Uptown Vocal.
Visit her website janekim.me
Solos: My Romance/Bad Romance, Teenage Dream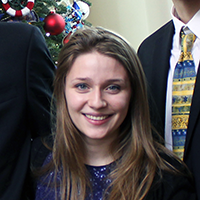 Rachel Rosen, majoring in Economics and Social History, hails all the way from London, but her flowing blonde hair suggests Nordic undertones - Sweden? Norway? Finland? We may never know. Rachel's interests include being the newest and sultriest member of UV, having a dog who has a PhD, fruit, and being a Well-Woman peer educator over at Barnard, where she talks about women's health issues to other Barnard ladies. Additionally, Rachel thinks "cashews are the devil's work." Listen for her too-cute-to-handle "dooby dooby doo" in Let's Do It and her solo in Ipanema which only suggests that she may in fact be the elusive girl she sings about!
Solos: The Girl from Ipanema, Twisted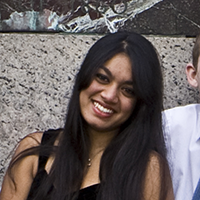 Joya Ahmad hails from the booming metropolis of Philadelphia, but her true home is among the grandness of nature. Joya delights in charming forest animals by humming "Colors of the Wind," picking the Stayman Winesap yaboes growing wild amongst the trees, and offering nesting birds strands of her luscious tresses, themselves the color of a raven's wing. In short: she is Pocahontas. Isolated from her woodland home, Joya has committed herself to improving the world through engineering, hoping one day to create something as magnificent as the Large Hadron Collider (in her own words: "both the largest particle accelerator in the world AND the largest cryogenic facility in the world - double home run!!"), only with more magic in it: in the future, Joya intends to create machines that run on imagination. Until that glorious day, and the resulting Nobel, Joya sings both soprano and alto with UV (she has a stunning range comparable to that of her favorite singer, Regina Spektor).
Linda Cartolano is one of Uptown Vocal's sweetest (and smallest) members. Her cheerful attitude and too-cute smile brighten every UV rehearsal and performance, but don't be fooled – she sings like a true diva! Her wide range, big voice, and can-do attitude are awesome assets to the alto section. Linda and her many younger siblings come from Eastchester, New York... and after hearing us perform, maybe they'll even form a sibling a cappella group of their own! Listen for her sassy solo in How Deep is Your Love/Ain't No Mountain High Enough (UV arrangement by Allison Heimann), and many more to come.
Solos: How Deep is Your Love/Ain't No Mountain High Enough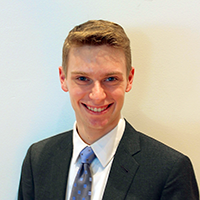 Reuben Arnold is a fabulous tenor in Uptown Vocal! As a econ-political science double major concentrating in history, UV is the jazz-a-licious icing on the cake of his busy academic schedule. His tantalizingly terrific tenor tones can be heard in every song, but he shines on his solo in the classic Duke Ellington tune "Sophisticated Lady" (UV arrangement by Connor Spahn). Reuben hails from the great state of Wisconsin, and before you ask, yes, the cheese really is that good and it really is that cold. While some in the group are hasty to anoint him as future President of the Universe, for the moment he's much happier singing with a bunch of fantastic people in this excellent a capella group.
Solos: Let's Do It, Sophisticated Lady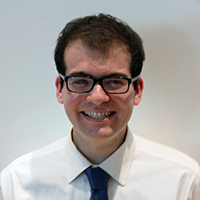 Ben Kaplan is a sassy scatting native New Yorker. He knows all the lyrics to every pop song you know and can belt them in all his tenor glory like it's his job. He also infuses his pop-inspired, omg I-can't-believe-how-accurate-he-is-without-being-autotuned solo voice into some of our classic jazz standards, like Moondance and Moon River, to create a new style called Moon Jazz--the future of music when we colonize the moon. In his spare time, he likes to go yabo-picking and imitate Youtube icons (Kingsley, anyone?). He is one of our number one soloists in Uptown Vocal, and there is never a dull moment with him in the group.
Solos: Ain't Misbehavin', I've Got Rhythm (Anthropology), Misty, Moondance, Moon River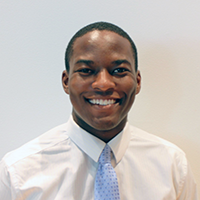 Jonathan Dean aka Jonathan 'Light Blue' Deantini, hails from the cologne section of your favorite Filene's Basement. His buttery tenor falsetto will make you melt (that is, if you're still in solid form after gazing into his steely-crystal eyes.) Though known primarily for his golden pipes, Mr. Dean has a heart of platinum. He's always game to help out his friends, particularly in times of olfactory crisis, and may be counted on even when only one of his arms is working. He's sexy and he knows it-have you heard him sing the Moondance at parties?--but despite being a stand out soloist in a league of his own, he's one of the smoothest and blendiest members of the group, and we wouldn't be complete without him!
Solos: The Night We Called It A Day, How Deep is Your Love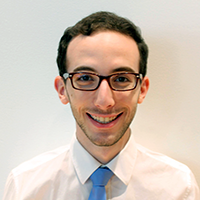 Michael Gildin, as though willed by Vulcan, has smoothly wedded himself to the precious alloy that is Semper Sub. The lusters of his precise base lines and molten pelvic gestures have solidified the Bass Section (previously in flux), and enhanced its conductivity in terms of heat, electricity, and sexual magnetism. A truly noble metal, his musical talents allow him to excel in many extra-UVicular activities, but with great aplumbum, Mg makes his schedule ever malleable for the sake of Uptown Vocal. Michael is always on the next level. Known for his classy disposition and occasional knife wielding, never let him catch you saying that the party is cooling off, because he will promptly inform you that it is yet to begin. He came from Pennsylvania to study Political Science and Pre-Med at Columbia College, but what many don't know is that he is also a Jazz Pianist Extraordinaire. If you walk by John Jay Lounge at the right time of day, you just might hear a masterful jazz standard or two compliments of Michael Gildin. Above all else, however, he is a treasured member of Uptown Vocal and a welcome addition to Semper Sub. Michael is the greatest human being ever.
Solos: The Girl from Ipanema, Somewhere Beyond the Sea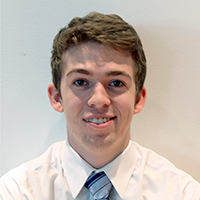 Devin Wright, aka Devicakes, is from the idyllic hamlet of Mahopac, NY. He plans to study physics and math. A true renaissance man, he's broken the nerdy/sexy dichotomy, as he enjoys the best out of both worlds. He aspires to Aristotle's axiom that "the mark of an educated mind [is] to be able to entertain a thought without accepting it." Hence, he entertains himself with nerdy webcomics like xkcd.com. In his spare time, he plays the cello, writes music, and travels to Time Square at 3AM like any true New Yorker should.
Solos: Chattanooga Choo Choo, Singin' In The Rain, Twisted
Tareq Abuissa is the man your man could sing like. Picking out a B flat by ear is like playing whack-a-mole with a manhole cover-to this guy--it's just too easy. But Tareq's musical abilities extend beyond his perfect pitch and angelic voice; he also plays the cello and the piano. Hailing from Iowa City, Iowa to join us, Tareq also goes by his alter ego Ta'areq, the Icelandic Witch-King.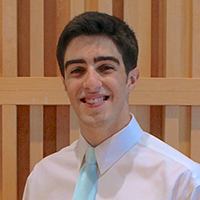 Gabriel Blanco joins UV from a point precisely equidistant from Venezula, Switzerland, and Cincinnati. His extremely fresh bass singing is matched only by his superhuman mastery of electricity, which will only grow as he continues his study of Electrical Engineering. He cultivates the intersections between his engineering knowledge and love of music, and he is currently designing an innovative effects pedal which makes a guitar sound like a vocal jazz group. Gabe is not only a bass but an electric bassist; indeed, fans and critics alike claim to hear a hint of the instrument's powerful rumble as Gabe sings.
Solos: Autumn Leaves, Besame Mucho
Raymond Wayne Heimann, aka "Ray," "Patrick Bateman," or "Bubbers," hails from the gleaming city of Cleveland to grace UV with his smooth solo voice and his dulcet basso. Ray enjoys reading and translating Classical Literature, especially the murder parts, and running in the park wearing a purple bandana (watch out for this). While his countenance can be intimidating and his muscles fearsome, Ray is a sweet fellow who engages in many gentle pursuits, including violin, piano, and writing poetry in various classical meters. He is definitely NOT a murderer. Ray can be found in the gym, in Ferris Booth eating up all the biscuits, or in his room watching anime. No matter the time or weather, Ray always has a smile on his face, a song in his heart, and hip glasses on his face. (Ray is a non-murderer.)
Solos: Fly Me to the Moon, Mas Que Nada, Mack the Knife, Come Fly with Me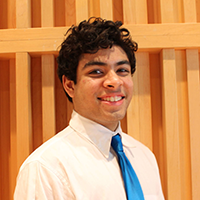 Mikhail Qader is here to add a whole new flavor to the shrimp-fried gumbo that is Uptown Vocal. Mikhail is the crawfish in our bayou, the beads in our Mardi Gras parade. He's the cajun spice that's been missing from our musical jambalaya. It seems that New Orleans, the city that gave birth to Jazz Music, has also given birth to Mikhail, a jazz man the likes of which the world has never seen. In addition to playing the saxophone like he was descended from Charlie Parker himself, Mikhail's also got that sexy, soulful "Semper-Sub" bass voice that makes all the ladies swoon.
But don't be fooled by his curly black locks and his irresistible swagger, this boy's got smarts too. He knows his way around all sorts of modal harmonies, multi-tonic changes and tritone substitutions. In fact, it is said that Mikhail has never not known what a tritone substitution is. When he's not making music, Mikhail is out to to electrify the world with his winning personality (and several 20 Amp DC Power Supplies) as an Electrical Engineer in SEAS.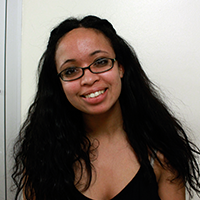 Heather Nickels is a girl with simple tastes. All it takes to make her happy is a good book, a cold glass of soda and her own villa somewhere in the Tuscan region of Italy. And that villa better come stocked with a closet full of designer clothes. And tons of kick-ass platform shoes. And a private jet. You know what? Scratch that. The villa is actual a hidden base of operations where she can lead her double life as Nikita, a jet-setting secret agent. Who also steals diamonds.
Alright, alright. So Heather may not exactly have "simple" tastes, but "simple" is so last year. Heather is multifaceted and multitalented. She's mysterious and awesome. And you know what? She's also got tremendous blend, an outrageous range and a sexy solo voice. And to top it all off? She's also cooler than you.
History
Uptown Vocal has been around for 20 years, and we have way too many alumni to list on this page alone! Click here to go to our Alumni portal and learn more about the history of Uptown Vocal!
Auditions
Thanks to everyone who auditioned in the Spring, we saw some immensely talented singers! If you didn't get a chance to audition this semester, we will be holding next round of auditions in the fall, at the beginning of next semester.
Congratulations to Heather Nickels (BC'16), our newest member!
Contact
With our blend of classic jazz favorites, contemporary hits, and a bit of comedy thrown in on the side, Uptown Vocal is a perfect fit for your engagement! UV has performed to acclaim at hundreds of events, from weddings and private parties, to charity events and company banquets. We've opened in concerts for big stars like Ben Folds and performed series at venues like the QE2 cruise ship. Whatever the size or scale, Uptown Vocal can make your event unforgettable.
For booking information or any other questions and requests, please contact us at uptownvocal@columbia.edu.