The Garden Necropolis: Art and Architecture in the Landscape of New York's Woodlawn Cemetery
September 3–November 1, 2014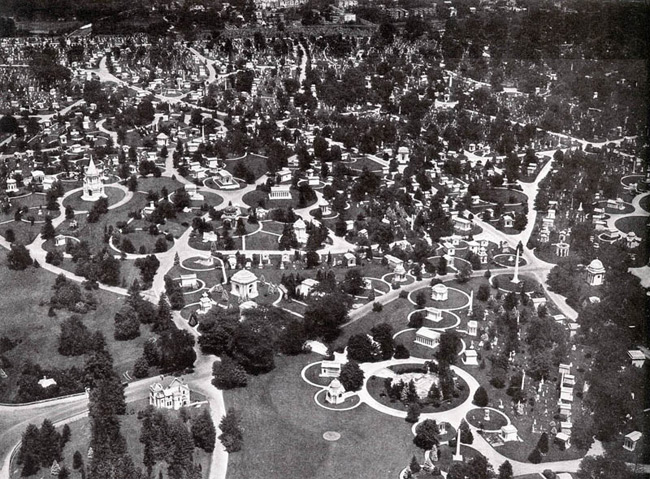 Curated by Janet Parks, Susan Olsen, and Charles D. Warren
Presented in collaboration with Avery Library and Woodlawn Cemetery
Woodlawn, a non-sectarian cemetery, was founded in 1863 by some of New York City's most prominent citizens. The cemetery tells the story of New York City and the nation from the industrial age through the twentieth century to today. Among the veritable "Who's Who of American History" enshrined there are many nationally significant figures or persons closely associated with the history of New York and the surrounding area.
Woodlawn's memorials represent some of the finest examples of architecture in the nation, constituting an exceptional collection of collaborative works by preeminent architects, landscape designers, sculptors, and artisans of the late nineteenth through the twentieth centuries. Acclaimed architects such as McKim, Mead & White designed some of Woodlawn's 1500 significant monuments and mausoleums, as did Carrére & Hastings, Daniel Chester French, and John Russell Pope. Woodlawn's sizable assemblage of mausoleums and memorials in tandem with the extensive archival documentation of the designers and artists who created them comprise one of the largest such bodies of work in the United States. Meticulously preserved by the cemetery from its inception, these records were donated to Columbia University's Avery Architectural and Fine Arts Library in 2006. For the 150th anniversary, this exhibition will explore some of the finest examples of sculpture, stained glass, metal work and architecture from Woodlawn Cemetery.
Janet Parks is Curator of Drawings and Archives, Avery Architectural and Fine Arts Library, Columbia University; Susan Olsen is Director of Historical Services, Woodlawn Cemetery; Charles D. Warren is principal of the Manhattan firm, Charles Warren Architect.