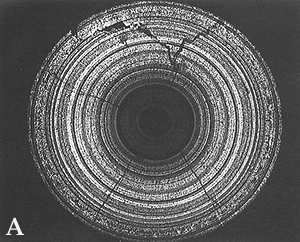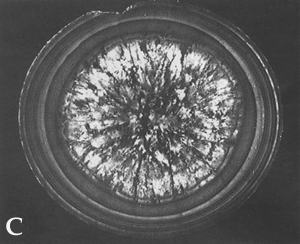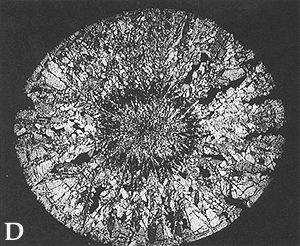 Plate 163
Sections of cave pisoliths
---
Plate 163 gives an idea of what pisoliths look like under the microscope, in transmitted light (thin section). Different microstructures and growth patterns can be appreciated. Two main fabrics stand out: 1) zoned-concentric, and 2) radial. Specimens A and B have a dark core of aragonite (less stable form of calcium carbonate), while the outer shell is made of calcite. In B, the core has a botryoidal shape and consists of aggregated particles.
The diameter varies between 2 cm (A and B) and 5-6 cm (C and D).
The concentric zonation of pisoliths indicates a discontinuous growth; longer pauses are manifested by micro-unconformities (see B), which imply that accretion was not continuous and the particles remained stationary for some periods. The constituent carbonate crystals are so tiny that cannot be resolved. In the radial pattern, on the contrary, they are much larger. This means that a secondary reorganization (a recrystallization ) has occurred, which led to an enlargement of the original crystals.
The pisoliths were collected in caves within the karstified Messinian gypsum near Bologna, Italy.
Photos: G. G. Zuffa 1970.
---