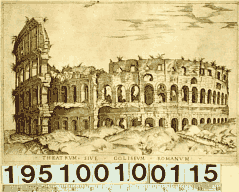 ---
Title: Theatrum sive Coliseum Romanum.
Translated title: Roman Theatre or Colosseum.
Artist: Lafrery, Antoine,1512-1577
Title and publishing information from Avery catalogue; publisher name and date are attributions. Part of the Speculum Romanae magnificentiae compiled by the 26th Earl of Crawford (James Ludovic Lindsay, 1847-1913).

cplatemark 23.3 x 33.5 cm. (9 1/4 x 13 1/4 in.).

Avery Library. Catalogue of the Earl of Crawford's "Speculum Romanae magnificentiae", now in the Avery Library / by Lawrence R. McGinnis, ... Herbert Mitchell. New York : The Library, Columbia University, c1976.