Click here for Westchester County Quickfacts

New Rochelle's location on Westchester's Long Island Sound shore places it within one of the state's wealthiest counties. According to 1995 estimates from the United States Census Department, Westchester has New York's fourth-highest median income, at $53,043. Only Putnam, Nassau, and Rockland, also New York City suburbs, and all much smaller in size than Westchester's 443 square miles, lead it.

As shown on the map above, Westchester County borders, on its south, the New York City borough of the Bronx. According to historian Frank E. Sanchis, this location at New York City's door-step has "always put it in the center of activity relative to the balance of the nation." Indeed, Westchester's development has historically been fueled by its proximity to what has been, since 1820, America's largest city. Before the days of railroads or highways, Westchester had the trade routes of the Hudson River and Long Island Sound; later, in the 18th century, the primitive post roads to Albany and Boston were cut through Westchester's rolling, wooded hills.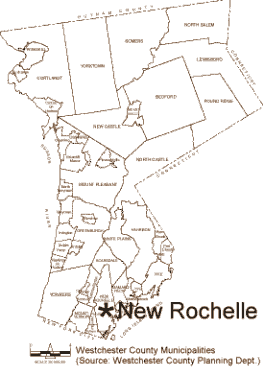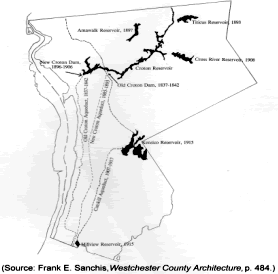 When New York City's population boomed after the 1825 completion of the Erie Canal, Westchester furnished many of the city's raw and finished goods. Iron foundries were located throughout the county, and Westchester's numerous brickyards and marble quarries provided the materials for the thousands of row houses and monumental new institutional buildings spreading across Manhattan. When Newgate Prison in Greenwich Village was no longer adequate, it was replaced in 1828 by Sing Sing, "up the river" in Westchester County. When a reliable and clean source of drinking water was needed, New Yorkers looked to Westchester, where the Croton Dam was completed in 1842. Today, as the map at left shows, the county is still a vital link in the New York City water supply system, even as development pressures have threatened water purity.
In the 1840s, the railroads came. In 1844, the New York and Harlem Railroad reached White Plains; the New York and Hudson River line was completed to Peekskill in 1849. That year, the New York and New Haven opened its route through eastern Westchester. Soon thereafter, population began to shift from the northern half of Westchester to the south, clustering around railroad stations. All three railroads, which now originate from Manhattan's Grand Central Terminal, are operated by the Metropolitan Transportation Authority, and are heavily used by commuters. The map at right shows today's routes in Westchester.

The railroads' effectiveness at stimulating development was seen in the establishment of Mount Vernon, which is located between New Rochelle and Yonkers and, like the other two, borders the Bronx on its south. Unlike Yonkers or New Rochelle, which date back as communities to the 17th century, Mount Vernon, according to Sanchis, "was a new idea - a community of people who were economically dependent on [New York City], and who would be traveling back and forth every day - a commuter suburb." Together, in 1851, a group of skilled tradesmen affiliated with "Mechanics Mutual Protection No. 11" in New York City purchased five farms totaling 369 acres, and subdivided them according to a grid plan. The leader of the group, John Stevens, saw the endeavor as a means of improving the condition of New York's working class by freeing it from rent payments and enabling it to enter the class of property owners. Mount Vernon was incorporated as a village in 1852, and rapidly grew to become a city 40 years later.

Between 1865 and 1920, Westchester's population boomed, multiplying from about 100,000 to almost 350,000. During the 1920s, the county's growth became channeled along the routes of its new automobile parkways, the finest highway system in America. Following the 1925 completion of the Bronx River Parkway, the world's first limited-access public motor-route, Westchester built a highway system that was second to none, much of it funded by projected increases in real estate valuations. Development, largely consisting of single-family homes along the parkways' edges, boomed. The Saw Mill, Hutchinson River, and Cross County Parkways were begun during a period of intense parkway building before World War II, and although no longer aesthetically outstanding, they continue to funnel automobile drivers in and out of New York City.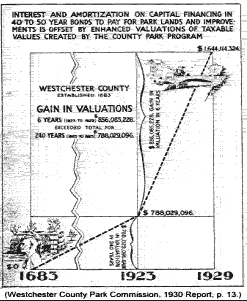 Linked by the new highways was an equally impressive system of golf courses and lush county parks. Among these was New Rochelle's Glen Island, taken over in 1925 by Westchester County, and famous in the 1930s for the appearance of prominent big bands at its Casino; and Playland, a model amusement park completed by Westchester County in 1927. Playland, now on the National Register of Historic Places, is still operated by county government. Amenities such as these earned Westchester a reputation as the nation's most desirable suburb.
Westchester's prosperity was underscored by the decision of many New York department stores to open branches in the county beginning in the 1930s. B. Altman opened its White Plains store in 1934; Arnold Constable followed, in New Rochelle, in 1937. Lord & Taylor completed its Eastchester store in 1949, the same year that Macy's opened in White Plains. In 1953, General Foods became the first of many corporations to leave behind its Manhattan headquarters for a new suburban campus, in White Plains, seen at right. The section of Westchester Avenue near White Plains, a major headquarters location, has since become known as the "Platinum Mile."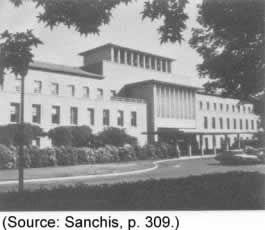 Westchester has enjoyed the benefits of having an affluent, largely white-collar population. Today, it remains a major center of corporate headquarters. School drop-out rates in the county are a scant 1.5%, and 80% to 90% of students continue their educations past high school. Although population grew slowly from 1980 to 2000, from 866,599 to 871,894, the county is becoming more diverse. Between 1980 and 1990, the African-American population grew by 15%, and the Asian population, by 113%.