Diagnostic measurment of the canal system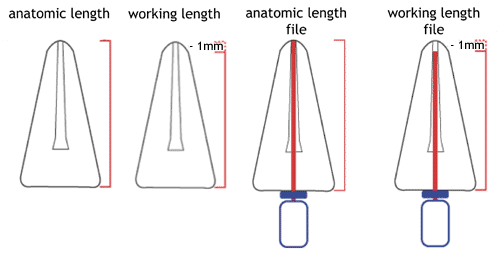 * Please note these figures are drawn without the apical constrictions
The WORKING LENGTH of a canal will be measured 1 mm short of the radiographic apex of the root.
The initial file used to take the diagnostic measurement will be set to the anatomic length. (i.e., the measurement from the occlusal landmark to the radiographic apex).
Other than this initial anatomic length file, all subsequent file measurements will be set to the working length measurement (i.e., radiographic apex measurement minus 1 mm).
The apical region must be cleaned without: a. blocking the apical constriction or b. destroying the apical architecture
The purpose of the anatomic length file (smallest file) is to maintain the patency of the apical region.
When the initial file is placed into the canal an easily observable landmark (i.e., cusp height or incisal edge), will be used to measure the length of the canal. [Any occlusal adjustment to remove undermined cusps, should be done before determining the diagnostic measurement, otherwise another x-ray will have to be taken to reconfirm the measurement.]
If an x-ray shows a file length that is 2 mm or more from the radiographic apex, the file must be readjusted and a new x-ray taken to confirm the diagnostic length of the root canal.
Rubber or silicone stoppers are used to measure the instrument at the occlusal landmark. These stoppers can move, therefore, recheck their position against the designated landmark as you continue to clean the canal.
When the working length measurement has been confirmed, the instrumentation at the working length should continue to, at least, three (3) instrument sizes above the file used to initially take the diagnostic measurement.
*Remember: since all canals vary in size and shape, the above rule should be used only as a guideline for cleaning the canal system. This guideline should be used with flexibility depending on the specific tooth that is being treated.
Measurement Control Technique
Instruments should always be used with a rubber stop as a measurement control. The instrument tip pierces the center of the stop at right angles; it is then slid along the shaft to the correct working length. If the stop is not placed squarely at a right angle to the shaft of the instrument, a measurement error will result.
| | |
| --- | --- |
| | |
| A. Measurement Technique | B. Proper placement of measurement stops. |