Lost and Illiterate
---
Scattered students feel their way around Moscow
By DANIEL BURKE
Posted Wednesday, March 19, 2003; 1:30 a.m.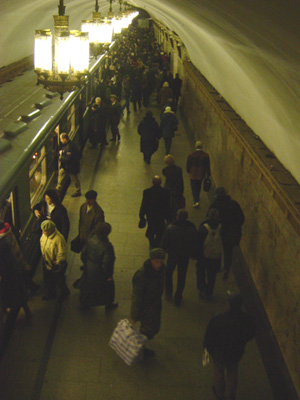 Moscow - Passengers leaving a metro train at the Tretyakovskaya station, deep beneath the streets of Moscow. PHOTO: Sara Leitch
MOSCOW - If America's missiles have the same honing systems as its journalism students, the bombs bound for Baghdad may bounce off the moon. A phalanx of fledgling journalists - Ari's Army - armed only with notebooks and "s'paseebas" spread out across Moscow today in search of a scoop.
Tim Lavin, on the way to a Catholic Church near Lubyanka, found himself "irredeemably lost."
"I thought I was in Kazan," he said, referring to the next city on the group's tour, a Trans-Siberian train ride away.
Lavin, acting on a tip, sought a priest in the building next door to the Church of St. Louis. Instead of clergymen and Bibles he found himself staring at a couple of surly soldiers.
"Presumably that wasn't the parish center, with the Red Army keeping guard," Lavin said.

He eventually reached several sources, including Father Michael Ryan and the Rev. John Calhoun, who spoke of the difficulties minority Catholic and Protestant churches face in Moscow. He made an appointment to interview the Vatican's ambassador to Russia and returned to camp with a full notebook.
Also playing host to a reporter were the Hare Krishnas, who Dan Evans peeked in on. His visit was auspiciously timed, as the temple was celebrating the birthday of an earthly avatar of Krishna. Dressed in a multi-colored array of sarongs and saris, nearly 200 Krishnas sang jubilant songs of praise and thanksgiving. The musicians, playing tabla drums and a sitar-like instrument, laughed and egged each other on as the song built to a crescendo.
"It was so loud in the temple my ears were buzzing," said Evans.
As the song peaked, the worshippers thanked Krishna for the 108 foods they are allowed to consume - including milk, honey, and gee - by pouring carafes full of the fragrant liquids over a two-foot statue of the deity.
After meeting with the Krishnas for several hours and taking pictures of the stunning ceremony, Evans hitched himself a ride with a confused Azerbaijani. The man had just returned from England, and his white Toyota Corolla, with its steering wheel on the right side, didn't do much to help him adjust to driving in Moscow. Barreling down the center of the road, singing "Hare Krishna" along with the tape in his car, the man turned to Evans and said, "Moscow streets like roller-coaster, no?"
Jamal E. Watson, who planned to meet in the evening with members of the city's African community to talk about some of the issues confronting people of color in Russia, took advantage of a free afternoon and headed for the Kremlin.
Outside the fortress' forbidding red-brick walls, under the Hershey-kissed domes of St. Basil's, he soon became the star attraction.
A troop of teenage students from Moscow surrounded Watson, asking to have their picture taken with him, and later excitedly exchanged their rubles for dollars and Russian words for English ones.
"They probably thought I was Bill Cosby," Watson joked.
Other journalism students, with appointments earlier in the day, had less financially rewarding exchanges with Muscovites.
On her way to the South-West apartment complex, Sara Leitch twisted and turned around several times on the trams. Eventually, she did get to meet an interesting man, Mikhail Roshchin, an Old Believer -- one more than she found in the States -- who had a dog named Olga and brewed very strong tea.
When Leitch apologized for showing up at the appointment over an hour late, Roshchin was conciliatory.
"People always get lost in Moscow their first time here," he said.
That was certainly true of Alexandra Alter, who after spending most of the day coursing through the city's labyrinthine metro system, finally found the Jews for Jesus' office.
"I think I traversed through, like, three time zones," she said.
She did find the office, however, and had a long, talk with the secretary of the Hebrew-Christian mission group, who showed her a photo album of the missionaries and made her some tea. It was a lesson in patience, as Alter eventually scored an interview with the head of Jews for Jesus' Russian office after charming the secretary.

Fording the streams of Moscow traffic provided another lesson to the young journalists. "You know that really crowded boulevard where the cars drive by really fast," Michael Serazio quipped. "Those are really fun to cross on foot."
Leaving the religion beat behind, Serazio came up with a story that combines elements of the Russian mafia, politics and national pride: hockey. After an interview with the son of the most famous hockey coach in Russia, Vasily Tikhonov, Serazio came away impressed by Russian dedication to the sport.
As for myself, I went to a Charismatic prayer meeting in downtown Moscow. There, Father Daniel Ange, a French Catholic priest, held forth on the relationship between the Roman Catholic and Russian Orthodox Churches.
"They are like two little girls," Ange said. "They fight one another, they pull each others' hair, they scratch each others' faces, and they bite. But their will be a period of maturation, and soon the little girls will grow up to be beautiful teenagers."
The congregation of young Moscovites began giggling.
"OK, maybe that's not the best metaphor," Ange admitted.
Click on to

photo gallery
< Dispatch Day 4: Previous Next: Dispatch Day 6>