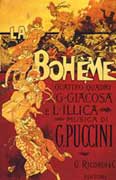 Principal Characters:
Rodolfo
Marcello
Colline
Schaunard
Mimi
Musetta
Benoit
Alcindoro

Time: 1840; Place: Paris
ACT I
On Christmas Eve in Paris, two poor young bohemians, Marcello, a painter, and Rodolfo, a poet, attempt to work in their freezing garret. Their two roommates, Colline, a philosopher, and Schaunard, a musician, return home. Even though Schaunard has brought home some food, the bohemians decide to take their holiday dinner in the Latin Quarter. Just then, Benoit, their landlord, arrives to demand his overdue rent. The men ply him with drink, and when he boasts of marital indiscretions, they throw him out with feigned indignation. Marcello, Colline, and Schaunard leave for the Latin Quarter. Rodolfo promises to join them after finishing some work, but a knock at the door interrupts him. Mimì, a young neighbor, enters, wishing to relight her candle. Obviously ill, she nearly faints, and drops her room key. Rodolfo is instantly attracted to her and manages to detain her by concealing her key after he secretly finds it. He also snuffs out his own candle, and as the two search in the darkness for her key, their hands touch. Spontaneously, they pour out their love for one another.
ACT II
A festive crowd celebrates Christmas Eve in the Latin Quarter. At the Café Momus, Rodolfo introduces Mimì to his roommates. Their carefree mood changes abruptly when Musetta, Marcello¹s former lover, appears with Alcindoro, her elderly paramour, in tow. Musetta attempts to attract the attention of Marcello, who deliberately ignores her but then finally succumbs to her charms. Musetta gets rid of Alcindoro, and instructs the waiter to give him all of their bills. She and the bohemians escape through the crowd.
ACT III
Early one snowy February morning on the outskirts of Paris, Mimì arrives seeking Marcello. She tells him that she and Rodolfo have separated, driven apart by his jealousy. Earlier that morning, Rodolfo had arrived there, and when he now emerges to speak with Marcello, Mimì conceals herself and overhears their conversation. Rodolfo tells Marcello that he wants to leave Mimì because of her flirtatious behavior. Finally he confesses that she is mortally ill and admits his guilty feelings; he knows that the harsh conditions of their life together have undoubtedly worsened her health. Hearing Mimì¹s coughing, Rodolfo suddenly realizes that she has overheard everything. The two lovers pledge to stay together until spring, while Musetta and Marcello argue and separate.
ACT IV
Rodolfo and Marcello, now separated from Mimì and Musetta, again attempt to work in their garret. Schaunard and Colline arrive with supper, and the four fantasize about attending a fancy ball, and then enact a mock duel. Suddenly, Musetta enters with Mimì, who is near death and wants to be with Rodolfo. Musetta and Marcello leave to sell some of their possessions in order to buy Mimì medicine and a muff, and to summon a doctor. Colline also departs to sell his coat for needed money. Left alone for a few moments, Mimì and Rodolfo reminisce about their first meeting and their love. The others return, but before the doctor can arrive, Mimì dies.
(from New York City Opera Web site)
The Score
Visit an Indiana University site to see pages of the score (1917 edition, voices with piano reduction), click here: score.
View the Special Collection of the Sibley Music Library at the Eastman Conservatory of Music. This page shows the title-pages of all the editions of La Bohème and eight other operas by Puccini, with bibliographical information.