What can a television detective, some Bollywood movie stars and a series public service advertisements do to alleviate the HIV epidemic in India? Quite a lot, thanks to the BBC World Service Trust.
Background:
Some 5.7 million people in India are infected with HIV, according to 2006 estimates of the
Joint United Nations Programme on HIV/AIDS
. This gives India the second-highest HIV-infected population in the world, behind only South Africa. The US Center for Disease Control's
Global AIDS Program in India
reports that sexual transmission accounts for over 85% of the HIV infections. People at high risk for infection in India include those with other sexually transmitted infections, female sex workers, and injection drug users. The CDC has found that an increasing number of individuals who were previously considered low risk are becoming infected, especially among women and youth. Some 1.2 million Indian children have been orphaned by the disease. The CDC points out that India's vast population of 1 billion makes containing the epidemic a difficult challenge.
The BBC World Service Trust's Mass Media Program
Overview:
Between 2001 and 2007, the
BBC World Service Trust
produced a mass-media campaign to educate India's rural populations about HIV/AIDS and ways to prevent infection.
The Trust partnered with
Doordarshan
, India's largest television network, and the
National AIDS Control Organisation
to carry out the $22.8 million project (11.2 million in British pounds), which was funded by the United Kingdom's
Department for International Development
(DFID).
The campaign's wide range of activities included:
production of TV and radio programs and informational booklets,
training in television skills for partner organizations,
product dissemination,
project management,
staffing and administration, and
research and evaluation.
Central to the campaign were three entertainment serials that aimed to harness the power of broadcast media to meet the public health needs in India.
Jasoos Vijay - Detective Victory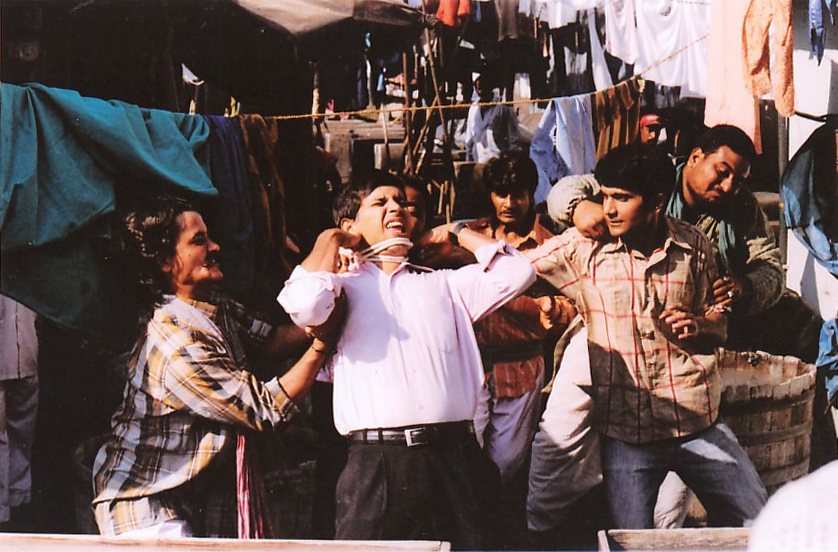 Each week Detective Vijay struggles to solve a mystery while also informing viewers about HIV/AIDS.
Explosions, fires, fights and stunts -- some on motorcycles, some on skis -- abound in this action-packed drama, the flagship television program of the Trust's campaign. This award-winning show, which features Detective Vijay as its HIV-positive protagonist, became one of India's most successful programs, climbing to a spot among the top ten most popular shows in the country nation-wide. Produced in Hindi, the weekly half-hour episodes were dubbed into seven regional languages and broadcast in 17 states, reaching 70 million viewers. They were also cut into an interactive video package for NGOs to use in areas where broadcast signals were not available. The show's target audience was young men living in rural India. To get their attention, the producers used action, high-quality production values and an interactive component, in which viewers try to solve the mystery before Vijay does on screen. As the audience is drawn into the drama, it is exposed to the messages woven into the plot concerning HIV/AIDS. The BBCWST's India Team stress that intensive pre- and post-testing is done with focus groups to ensure the show is both interesting and culturally appropriate.
Haath Se Haath Milaa - Let's Join Hands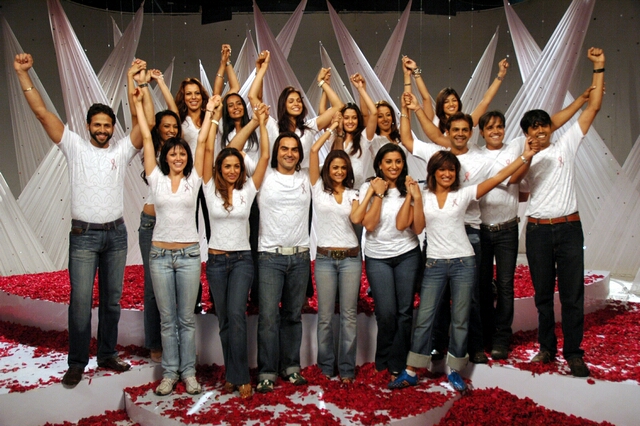 The album-cover photo for the show's theme song.
Bollywood celebrity Shilpa Shetty and a young "Yuva Star."
Utilizing the draw of Bollywood celebrities,
Haath Se Haath Milaa
is a weekly reality show that highlights a different Indian "Yuva Star" (a young person working to raise HIV/AIDS awareness) every week. Like
Jasoos Vijay
,
Haath Se Haath Milaa
has been dubbed in regional Indian languages and broadcast widely, reaching a total of 51 million viewers. The show has included interviews, challenges, HIV- and AIDS-related activities, film clips and songs, all of which are wrapped into a strong story-telling narrative. It targets young Indians aged 18 to 25, and seeks to create role models of those working to prevent the spread of HIV. Among the show's products was a music video that featured more than 40 Indian film and television stars. The video served as the opening title sequence for the show, and also garnered three Indian Telly Awards.
Public Service Advertisements
The third television component of the campaign was a series of 50 public service advertisements, each of which were one minute long and reached more than 150 million people. Created to be interesting, culturally accurate and informative, the ads have directly delivered HIV/AIDS messaging in a variety of entertaining ways.
One ad featured two men watching the trapeze act at the circus and comparing the necessity of the safety net to a condom. Another showed a group of women chatting about the routes of HIV-transmission while awaiting a doctor's appointment. A third included a strong-man competition in which the winner announces that he had himself tested for HIV. While those three ads were live action, a fourth was created more playfully in claymation. It features a wife who sings about her absent-minded husband who can't get much right, but does remember to buy condoms. The song ends as the wife plants a kiss on the man. "I love you, my dumb fool," she sings.
Impact:
The BBC World Service Trust has one of the most advanced Monitoring and Evaluation capacities in the field. The BBCWST India Team has devoted significant resources and effort to asessing the HIV/AIDS mass-media campaign. A baseline study was conducted in 2005 and compared to a 2007 study of Indians who had watched the shows and advertisements, as well as those who had not. The research demonstrated that the campaign had augmented audience knowledge of routes of HIV transmission, prevention of HIV transmission, treatment of HIV/AIDS and the benefits of using condoms. The Trust's reported behavioral findings showed that over the time period studied:
There was an 11 percent increase in condom use among women who did not watch Jasoos Vijay, while there was a 16 percent increase among women who had watched the show.
There was an 6 percent decrease in men who consistently used condoms with sex workers among those who did not watch Jasoos Vijay, while there was a 22 percent increase among men who had watched the show.
There was an 10 percent increase in women who used condoms that did not watch Haath Se Haath Milaa, while there was a 25 percent increase among women who had watched the show. Among men, there was an 14 percent increase in condom use among those who did not watch Haath Se Haath Milaa, while there was a 22 percent increase among men who had watched the show.
There was an 16 percent increase in men who consistently used condoms with sex workers among those who did not watch Haath Se Haath Milaa, while there was a 62 percent increase among men who had watched the show.
Keys to Success:
The BBCWST India Team credits the effectiveness of the campaign to its holistic design and continuous monitoring and evaluation. Great pains were taken to ensure the shows were appealing and remained culturally on target with rural Indians. For instance, many storylines of
Jasoos Vijay
(such as whether Vijay should marry and, once he did, if his wife should continue working) were discussed with focus groups before and after production. Another technique to keep audiences comfortable was to script conversations directly about HIV/AIDS among characters of the same gender, a theme which is prevalent in the public service advertisements. Finally, the shows combined a glitzy look and feel that conformed to popular television trends, combined with depictions of rural Indian life that the target audiences found familiar. The India Team acknowledged that the cost of this sort of production, monitoring and evaluation is prohibitive for many organizations, and that the BBC World Service Trust, as an arm of the BBC, is uniquely positioned to produce and disseminate such a sophisticated mass media campaign.
JR