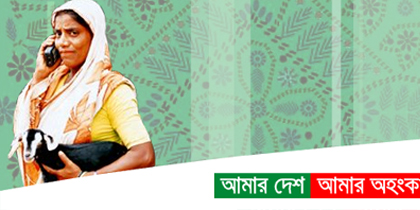 Introduction:
Cell phones are transforming the way business is done in developing countries. The
GrameenPhone
program in Bangladesh is one of the most innovative examples, connecting people and transforming them into entrepreneurs at the same time. All it takes is a subscriber and a renter. The owner of the phone charges others to use it, and thus both earns a profit and enhances communication.
Background:
According to Columbia University economist and emerging markets expert Jeffrey Sachs "The cell phone is the single most transformative technology for development."
In the past, most people in developing countries have lacked access to telephones, which could save them both time and money. Since many developing countries have poor landline infrastructure, especially in rural areas, cell phones present an excellent alternative. A cell phone can be used for medical purposes, banking services, or for accessing crop prices. Evidence suggests that bridging the communications gap can increase incomes and can help the overall economic performance of a developing country. Once cell phones are brought into a developing country, they quickly become a necessity.
Iqbal Quadir
, a Bangladeshi, came up with the idea of GrameenPhone. Educated at the Wharton School at the University of Pennsylvania, he left his job in investment banking in 1993, to help solve the communications problems in his home country. With a massive commercial venture in mind, Quadir took on the task of connectivity because he felt it was a key element for economic development. He asked with the Norwegian telecommunications company Telenor to support the project. Quadir uses the phrase "connectivity is productivity" to explain the powerful link between cell phones and the economy.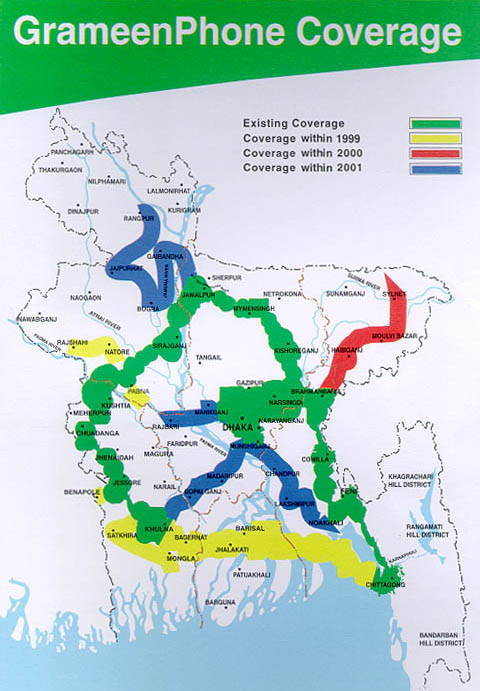 Case Study:
GRAMEENPHONE is a for-profit
GSM
-based (global system for mobile communications) cellular operator in Bangladesh. It started operations in March of 1997 and is currently the largest mobile phone company in Bangladesh. The company was planned to have subscribers, like normal cell phone companies, but people in villages would purchase the phone and then rent it out to neighbors, friends, or their so called clients to make calls.
GrameenPhone became a joint venture between
Telenor ASA
, one of the largest telecommunications companies in Norway, and Grameen Telecom Corporation, a part of the
microcredit
pioneer
Grameen Bank
of Bangladesh. After raising about $50 million in equity and $65 million in loans from development banks, GrameenPhone was launched. A key attraction for investors was the capability to provide micro-loan backing to local entrepreneurs, who could then retail phone services to the communities around them. Currently there are approximately 22 million subscribers to cell phone service in Bangladesh. Slightly over 10 million are GrameenPhone customers as of December 2006.
Grameen Telecom operates the national
Village Phone
program, acting as the sole provider of telecommunications services to a number of large cities and rural areas. Village Phone works as an owner-operated GSM payphone, whereby a borrower takes a BDT 12,000 (currency name- Bangladesh Taka) loan from Grameen Bank to subscribe to GrameenPhone, which is approximately $200 US. The borrowers trained in operating the system and billing it at a profit. Users can contract either a prepaid subscription or a postpaid subscription.
Telenor of Norway owns 62% of the company and Grameen Telecom own 38% of the shares. There are more than 255,000 Village Phones in operation in 55,000 villages around Bangladesh. The phone company brings in over $1 billion with infrastructure investments. Before GrameenPhone came into existence, there was only one phone for every 500 people in Bangladesh. Phone ownership is expected to reach one phone per every three people before the end of 2007 .
Grameenphone television advertisement
Grameenphone animated logo advertisement
Results:
GrameenPhone is expected to increase employment among Bangladesh's rural poor. This program has been replicated in other countries, including Rwanda and Uganda, by South Africa's
MTN
, and in the Philippines by
Globe Telecom
. These projects regularly seek advice from the original pioneers, Grameen Foundation USA.
Pilot programs are being considered in Cameroon, Cambodia, Senegal, Democratic Republic of Congo and Mali. The Grameen Foundation has released a
Village Phone Direct kit
sold to microfinance institutions around the world.
In Kenya,
Mobile for Good (M4G)
has launched an effort to alleviate poverty via
SMS
. Over a hundred people per week have been able to find work using M4G. This project is also being replicated in other developing countries. Kenya's
M-Pesa
program allows users to deposit, withdraw or transfer money using a cellular phone.
Conclusion:
As Grameenphone continues to grow, other developing countries have caught onto the idea. Grameenphone has developed further SMS and mobile internet services where users can download songs, ringtones, movieclips and more. They can even recieve incoming calls while browsing. This is a likely next step for other developing countries, once their cell phone programs are running smoothly.
Other resources:
The Cell Phone Revolution in Kenya
United Nations Foundation
Archive for the "GrameenPhone" Category
Cell Phones in Developing Countries