"The mass media, if democratized and put in the hands of local communities can become true vehicles of cultural expression and affirmation. They can report, highlight and reflect highly localized issues, news and cultures there by nurturing intimate audience communities and reinforcing local identities. They can contribute to a public discourse that encourages debate and introspection by a society about itself, its social mores, attitudes and problems." -- from a pamphlet by activists who are trying to sell the idea of community radio to Indian government.
The Indian government never gave permission to communities to operate radio stations. For years, the government-controlled All India Radio (AIR) was the only radio service since the1920s, when radio broadcasting began in India. Community leaders, activists and UNESCO campaigned for the rights of community radio. Finally, in November of 2006 the government issued a set of Community Radio Policy guidelines making it possible for registered non-government organizations (as mediators for communities) to set up community radio stations.
http://mib.nic.in/CRS/CRBGUIDELINES041206.pdf
But there is a catch to the regulations: transmitters can cover only less than 6 miles of aerial distance. This limits the reach of the station and increases the cost to set up a station. Moreover, the Indian Broadcasting Minister, Priyaranjan Dasmunshi, said that the community radio stations will
not
be allowed to broadcast news and current affairs programming. The implication is that the news and local current affairs programs are not relevant and would not meet the developmental, social and cultural needs of the people in a district or rural block or suburb in a city. In result, India has only technically permitted community radio, but communities still have not won the right to control their airwaves.
During the democratization of airwaves campaign, activists experimented with a project that came closer to true "community radio."
A grassroots organization called Drishti Media Collective produced radio programs in a remote part of Kutch district in Gujarat, India in 1998. They put together a series of several-minute-long radio programs with local village women, and broadcast it in the government-controlled radio, All India Radio (AIR). This experiment has grown over the years both in popularity and public participation.
The regional identity of Kutch within Gujarat is distinct and well-defined, and the language serves as an emotional identification point for most Kutchis. Hence, Drishti consciously planned programs to be a vehicle for the public articulation and expression of Kutchi identity. The Kutchi dialect has no written form. Gujarati language had acquired hegemony over all public discourse—education, government procedures, public systems and the vernacular press.
Samples:
Kunjal Panje Kutchji
December 1999, Kutchhi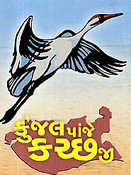 This program was designed to generate a debate in the Kutchi society on gender and freedom, and reflect local culture with participation of local communities. The serial explores the changing identity of women and the response it evokes from society, through the character of Rani, a woman leader of Ujjas village, as she steps out from her home (private domain) into the village panchayat (public domain). The program's creators hoped to generate a debate on gender issues as well as Swaraj (self-governance) among the listeners.
Tu Jiriyo Ai!
March 2001, Kutchhi
Following the earthquake in January 2001, this radio serial was designed to fulfill a very real need of the people to get accurate and fast information about relief and rehabilitation, provide a platform for an exchange of ideas and perspectives between village people, the government and NGOs, to provide people a voice their emotions, and to keep alive the kutchi spirit of self-help, dignity and pride.
Kutch Lokji Vani
July 2002, Kutchhi
The vision guiding the program was to move towards greater community participation. This 45-minute weekly radio serial was designed as an audio magazine. It had three distinct sections: Pardafaash (Expose), Musaferi (Magico-realist Travelogue) and Lokvani (People's Voice). Like the previous programs, KLV went on to become a very popular program on radio in the Kutchi language. Pardafaash (Expose) is investigative reportage aimed at unearthing social and political scams, corruption in rehabilitation works, culpability of government, and vested interests.
It became a very good example of Radio Activism. Musaferi is a magico-realist travelogue segment with the Vayro (Wind), Dharti (Earth) and Kala Dungar (Mountain) as partners in the journey. This section resurrects history, culture, music and legends of Kutch, re-interpreting them in the contemporary context arguing with Tradition and Modernity and voicing silenced cultures. Lok Vaani is a segment for direct community participation through Lok Mat (Opinion Poll), Charcha (Studio Debate) and Farmaish (people's requests).
Bandhani ji Gaal
Jan. 2005, Kutchhi, English
Bandhani Ji Gaal is a magico-realist travelogue segment of the previously-listed program Kutch Lokji Vani. This segment was re-mastered and broadcast by popular demand.
From an Experiment to a Movement:
Drishti trained and transferred skills to 16 rural men and women in radio programming -- in material that included the fundamental rights guaranteed under the Constitution of India, the basics of digital recording, investigative journalism, narrative structuring, and the creation of audio masters. Rural people were chosen as reporters, which meant that the program was produced with the active participation of the people it was seeking to address. Drishti-KMVS later became the pioneers of a movement to democratize India's airwaves and fight for the community's right to run and manage their own Community Radio Stations.
Stalin K. is one of the founders of the Drishti Media Collective and is a key spokesperson for the movement to democratize India's airwaves. He is one of the campaigners in the movement for community radio in India.
Clips:
http://news.bbc.co.uk/1/hi/world/south_asia/4219362.stm
http://www.hinduonnet.com/thehindu/mag/2001/11/18/stories/2001111800020300.htm
http://www.hindu.com/thehindu/mag/2007/02/04/stories/2007020400060400.htm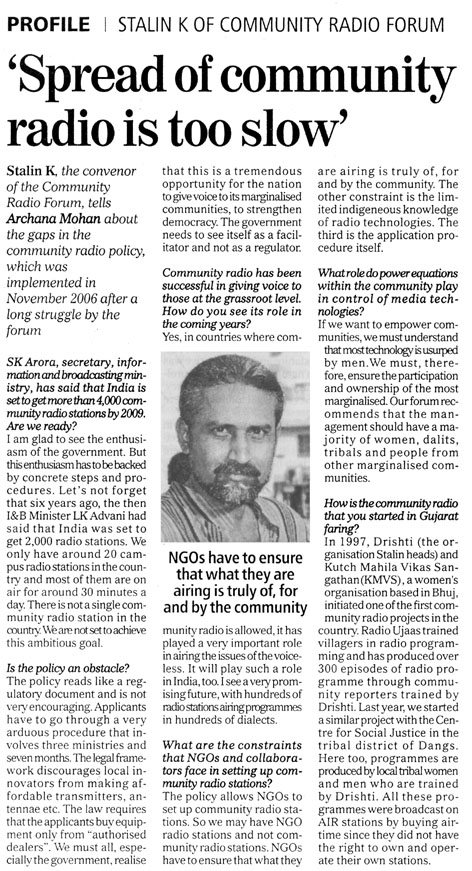 Conclusion:
Indian government still believes that controlling information is its business, as shown by several intelligence reports and submissions made by ministers. L.K.Advani, former Home Minister, stated on the floor of the Parliament said that government was wary because insurgent groups could use radio to spread their messages. Radio is cheap and effective in a society like India, where illiteracy is still about 40 percent. But activists say the government's worry is pointless, and it is merely finding an excuse to control its monopoly over information. Democratizing information through community radio stations is essential in a country like India, with its 28 recognized official languages and several hundred others that are still spoken but unrecognized. Free, unrestricted community radio can transform the "problem" of such cultural diversity into an advantage.
Photo courtesy: shunya.net, pbase.com
Newsclips: Business Standard, The Hindu
VJ