This document is a subsection of Platforms/Nigeria
ICT's Impact on Nigeria
---
---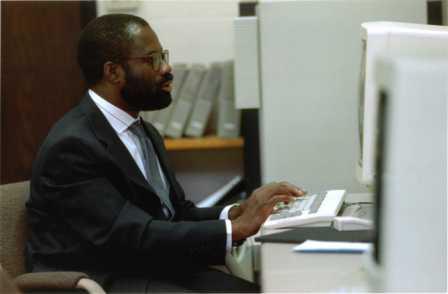 Nigerian born Philip Emeagwali making waves in the supercomputer industry.
Media
Nigerian media organizations have a strong presence in cyberspace. They include
The Guardian Newspapers
,
The Thisday Newspaper
,
The Independent Newspaper
and
New Age Newspaper
. However, Nigerian journalists have yet to be well equipped in information and communications technology (ICT) like company sponsored laptops with mobile internet access, digital recording devices, open access mobile telephones; nor work in news rooms fitted with state-of-the-art multi-media equipment.[1] Nevertheless, they have identified e-mail as the preferred medium for interviewing news source, with 70 per cent of them using it to conduct dialogue and discussion with readers, listeners and viewers.[2]
Knowledge of ICT is now a requirement to be a journalist and an aspiring journalist must pass an ICT test before he/she can be employed in the job.[3] This has also made it possible for Nigerians to work as correspondents for international media organizations like
Radio France International
,
BBC
,
Voice of America
and
Deutsche Welle
.
Competition from news websites and online freelance writers is impacting Nigerian media organizations and journalists alike. The websites are usually based and operated from either Europe or America. Popular sites include
gamji.com
,
nigeriaworld.com
,
nigeriansinamerica.com
,
biafranigeriaworld.com
,
kwenu.com
,
odili.net
and nanka.org (now known as
ukpakareports.com
) etc. While some of these websites are national in outlook, many of them appeal to particular ethnic groups and audiences. An owner of such fledgling websites, Adebola Mogaji,
Naijacommunity.com
, claimed that his site received an average hit of 60,000 visitors daily. Philip Adekunle, administrator of
nigeriavillagesquare.com
, believed that news websites have become a first source for information on Nigeria by both Nigerians and non-Nigerians. However, doubts have been cast on some websites as to the motivation behind their set-up and the sources of funding.[4]
Freelance writers whose articles appear regularly in the known independent websites, as well as in the websites of some of the traditional newspapers, include Okey Ndibe, Paul Adujie, Sabella O Abidde, Mobolaji Aluko, Reuben Abati, Levi Obijiofor, Rudolf Ogoo Okonkwo, Victor dike, Femi Ajayi, Alfred Uzokwe, and Onyinye Oyedele.[5]
One self-dubbed citizen journalist,
Omoyele Sowore
, based in New York, set up the
saharareporters.com
website because, in his own words, "If you have ever travelled through any West African country you will be really pissed at Nigerian leaders, there is no basis for the current poverty and the wreckage of Nigeria, that in itself is more than enough to motivate anyone to shoot up Nigerian leaders, writing exposes, as you call them is my basic method of anger management since I don't have the means or motivation to nuke up our leaders, writing became an option because I hate stories in the local media that carries clichés such as 'names withheld'. I think our style of writing demystified those journalistic jargons and clichés. It was also an avenue to deliver unadulterated news report to average readers with access to the Internet, though still a negligible minority."[6]
Social Engagement
The development of information and communication technologies has made it possible for people in Nigeria to watch international events and happenings as they unfold, via international cable television stations like
CNN
,
Aljazeera
and
BBC
. The country has even launched an Internet TV,
Nigerian.TV
, to provide access to news about Nigeria, including information on the Nigerian capital market and business, as well as hotels and travel.
Where blogging is concerned, the country is catching up with the rest of the world. The social initiative,
NigerianBloggers.com
, aims to encourage Nigerians to blog and change the trend of downloads to uploads by creating a voice for Nigerians in the diaspora. It is a network founded in 2005 by Mr Kayode Muyibi, a young Nigerian student entrepreneur based in Cyberjaya Malaysia, in collaboration with the first Nigerian Information Technology Youth Ambassador, Mr. Gbenga Sesan, amongst others.[7]
NigerianBloggers.com
acts as the nation's blog aggregator, with different categories including technology, business, news, blog, and search. Mr Muyibi explained that the network was primarily developed to unite Nigerian bloggers around the globe, syndicating their content and discussions through its forum. There are 395 blogs on the aggregator as at December 3 2007 and its membership cuts across professions and regions of the globe.
Political discussions on the Net
Another useful indicator of social engagement is the public discussion on the Internet relating to major national issues like an election.
In the recent local and national elections of April 2007, a team of election monitors from the
OpenNet Initiative
(ONI) traveled to Nigeria to test for evidence of Internet tampering. Certain sensitive political sites were inaccessible around the time of the elections, but these blockages appeared to be caused solely by structural problems in Nigeria's faulty telecommunications network. ONI's technical monitoring did not reveal evidence of deliberate attempts to block or disable websites critical of the current regime, either during or directly preceding the elections. These conclusions were reached through the analysis of tests carried out by the ONI, a partnership among research institutes at the universities of Cambridge, Toronto, Harvard, and Oxford.[8]
Rafal Rohozinski, an ONI principal investigator and team leader for the ONI's election monitoring work opined that result might be atypical given the reported increase in 'just in time filtering' of time sensitive Internet and communications services such as SMS that ONI has observed around other elections, including in several other African countries.
The ONI team conducted two types of tests during the election period, both of which were carried out by a field team in Lagos. The first testing protocol monitored activity related to a set of politically sensitive sites accessed through a number of Nigerian Internet service providers (ISPs). The results of these tests were analyzed by researchers at the Citizen Lab at the University of Toronto. A second series of tests was run by researchers from the University of Cambridge scanning for anomalies in overall network traffic. Testing began a week before the local elections and continued through the national elections under the coordination of a team of researchers from the Berkman Center for Internet and Society at Harvard University.
It is likely to be early days yet to ascertain the extent of freedom Nigerians will enjoy on the Internet. This is as much due to government's technical abilities to control access and regulate information flow as well as the sophistication Nigerians have in exploiting the Internet and new media for social and political mobilization.
E-Learning
Education
Nigeria has several education related projects.
One example is
SchoolNet Nigeria
which was launched in September 2001 with the support of the
Ministry of Education
, Ministry of Telecommunications,
Ministry of Science and Technology
and the Education Tax Fund. It is a non-profit organization set up to create learning communities of educators and learners who use ICT to enhance education within and beyond Nigeria.
SchoolNet Nigeria
embodies a partnership between a diverse range of public and private sector interests to mobilize Nigeria's human and financial resources for the purposes of using ICTs in education. Its programs include:
DIGINET (Digital Inclusion)
PEOPLE NET (Human Resource Development and Capacity Building)
K-NET (Knowledge Warehouse)
VOX-NET (Advocacy and Marketing)
The Think Quest Africa, on the other hand, is an international initiative in which high school children collaborate with other children to create websites that address a range of important issues. The
MTN
Book Aid Project, launched in November 2002 together with
MTN Nigeria
and Education Tax Fund, aims to assist at least 10,000 secondary schools in Nigeria with print-based educational resource materials.
Mobile Learning
To improve literacy, especially in the rural areas, the Nigerian Government has introduced radio and television educational programs, as well as supplied hardware such as radio, television and electric generators, and built viewing rooms for public use. One such educational program is 'Literacy by Radio' which has been implemented throughout the country in 2007. It provides instructions and relays messages to Nigeria's nomads, who are typically on the move while grazing their cattle. Tele-centers that provide Nigeria's rural and nomadic peoples with practical skills acquisition are being used to teach topics such as health and socio-economic issues that affect their daily lives.[9]
A study by R A Aderinoye, K O Ojokheta and A A Olojede from the University of Ibadan, Nigeria, hopes to encourage the
integration of mobile learning into the nomadic education programs in Nigeria
. They argued that the National Commission for Nomadic Education's various approaches such as onsite schools, 'shift system' schools with alternative intake, and Islamiyya (Islamic) schools, to provide literacy education to its nomads have not helped noticeably to improve the literacy rate among Nigeria's nomadic people. They observed the opportunity available to leverage mobile learning using low cost mobile technologies like mobile telephones with simple text messaging features which are prevalent in many parts of Nigeria to improve the situation.[10]
Their contention is supported by the fact that the pastoral Fulani, with a population of 5.3 million, carry radios with them during herding. Their study also showed that 81.4 per cent of Nigerians own a radio while 31.6 per cent of Nigerians own television sets. This broad access to radio can therefore facilitate the flow of information to both urban and rural areas and the development of community education.
Gender empowerment and poverty alleviation
The Rural Telephone Project, which received the
3GSM Barcelona Conference's 2006
'Best Community Use of Phone' Award, began with five phone ladies in one state, covering three communities. Today it extends across 12 states, with 680 phone ladies covering approximately 300 under-served communities in all geopolitical zones of Nigeria.[11] Equipped with a yagi antenna and solar panels, the phone ladies are able to receive and deliver phone calls and text messages to community members unable to afford or access a telephone. This simple service has empowered women, including people living with HIV/AIDS to fend for themselves, generating adequate income to pay for basic needs including healthcare, feeding, shelter and education for children.
Most government poverty alleviation programs, like the one above, have been able to generate employment for the people. There are many call centers in villages and towns, mostly operated by people between ages 20 to 29 years (38 per cent), mostly women with secondary/ post secondary education. Some of these people run shops to sell GSM accessories as a means of self-employment and sustaining livelihood (80 per cent and 84 per cent respectively). Past studies have shown that over 2,000 persons are directly employed by GSM operators and an estimated of 40,000 Nigerians are benefiting from indirect employment generated by GSM operators in Nigeria. ICT has also assisted in the area of micro-credits finance and cooperatives. Farmers now organize cooperatively to manage their access to market. Credit is now easily made available to the poor for a better quality of life through such social groups and ICT.[12]
Through devices like the GSM telephone, transaction costs for many poor Nigerians have drastically been reduced. People make calls before traveling and for business transactions. The technology has led to increased service innovation, efficiency and productivity.
Formation of women association, farmer associations and community-based organizations in rural areas act as training centres and access points for ICTs. From such group, the poor will be thought on how to use computers for word processing, making complex calculations and tables of their work plans and income and expenditure. The access points will also play the role of information centres where price lists, weather forecasts will be available in any form either as print, digital, audio, video form.
Giving the agricultural sector a boost
The 'Center for Commercial and Agricultural Information' (PICA) is an Internet project designed to help farmers.[13] Launched in Togo to enable farmers and traders to interact over prices and availability of products, the center is equipped with computer and Internet facilities that integrate data and mobile technology. It provides a
web page
that allows producers and tradesmen to consult in real time over price lists for the ECOWAS region. Farmers can also receive free information on mobile phones on the prices of 400 agricultural producers of the regional markets in West Africa, that is Benign, Burkina Faso, Cape Verde, Ivory Coast, Ghana, Guinea, Guinea Bissau, Liberia, Mali, Niger, Nigeria, Senegal, Sierra Leone, Gambia, Togo. Farmers can then conclude commercial transactions with their partners from any of these areas.
The platform is also equipped with a system that makes it possible to send SMSes to producers, salesmen and purchasers.
This project is supported by the regional network of information systems of market and agricultural trade in West Africa (
MISTOWA
) that aims to increase regional agricultural trade and food security through the improvement and linkage of existing regional efforts to generate, disseminate, and make commercial use of market information.
Back to Nigeria
---
[1] Uche Nworah,
The Impact Of The Internet On Journalism Practice In Nigeria
,
Collegehandouts.com
, 2006
[2] Sikirat O Shehu,
Impact of ICTs On Journalism Practice
, All Africa, October 27 2006, Factiva
[3] Ibid. O Shehu
[4] Ibid. Nworah
[5] Ibid. Nworah
[6] Ibid. Nworah
[7] Remmy Nweke,
Blogging As a Trend in Nigeria
, Daily Champion/All Africa Global Media via COMTEX, January 13 2006
[8]
Nigerian Internet Remains Free of Tampering During Tumultuous Elections
, OpenNet Initiative Blog, April 30 2007
[9] R A Aderinoye, K O Ojokheta, and A A Olojede, University of Ibadan, Nigeria,
Integrating Mobile Learning into Nomadic Education Programs in Nigeria: Issues and perspectives
, The International Review of Research in Open and Distance Learning, Vol 8, No 2 (2007), ISSN: 1492-3831, June 2007
[10] Ibid. Aderinoye, Ojokheta and Olojede
[11]
ICTs As Tool for Achieving MDGs (2)
,
Daily Champion
(Lagos), October 11 2007
[12] Obayelu A Elijah, University of Ibadan and I Ogunlade, University of Ilorin, Nigeria,
Analysis of the uses of information and communication technology for gender empowerment and sustainable poverty alleviation in Nigeria
, International Journal of Education and Development using ICT Vol. 2, No. 3 (2006),
http://ijedict.dec.uwi.edu/viewarticle.php?id=172&layout=html#top
[13] Noel Kokou Tadegnon,
E-agriculture for Togolese farmers
, BizCommunity.com, September 3 2007. ICT Updates From Around the Continent [analysis], September 11 2007, All Africa, Factiva