A Chinese monk uses a mobile phone to take a digital photo
Introduction:
In 2006, China implemented the "real-name" mobile phone registration system, requiring prepaid mobile phone users to register their personal information when purchasing phone cards. This policy was designed to counter the daily bombardment of the junk text-based SMS ("short message service") advertisements that mobile phone users receive in China. It is unclear, however, whether the registration system has succeeded in protecting user privacy, due to inconsistent implementation. Additionally, the government and telecom companies have been unable to protect mobile phone users' personal information once it is collected.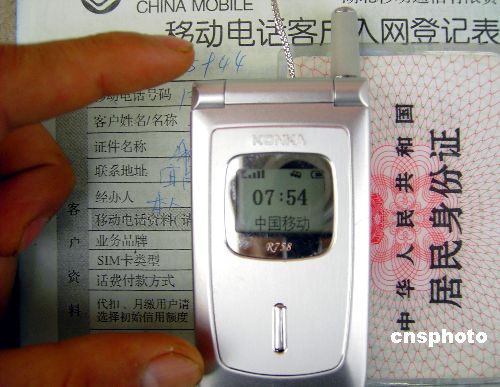 Cellular phone, valid ID and real personal information
Background:
The majority of mobile phone users in China receive an avalanche of junk SMS messages -- from fraud schemes to advertising, from messages about smuggling to marketing for guns, drugs and prostitution -- on a daily basis. Of the 1,911 mobile phone users questioned in a China Youth Daily Newspaper survey, 74.8 percent received junk messages every day. Another 23.8 percent received them occasionally, while a mere 1.4 percent said they never received junk messages. But when asked what measures they would consider to combat this problem, respondents were hesitant to support any government policy that would require them to register their personal information. Of those surveyed, 7.2 percent said they were willing to provide their private information while 27.7 percent were unwilling. Despite the Chinese public's reservations about a mobile phone registration system, the government moved forward with a policy requiring all mobile phone users, including those using prepaid phone cards, to present a form of ID and register their personal information into the system.
Case Study: China
China has 338 million mobile phone users, 200 million of whom use prepaid phone cards. Before the real-name policy was implemented, only those mobile phone users with monthly contract plans had to present a form of ID and register their personal information. As a result, criminals could easily buy prepaid phone cards at their local newsstand using fake names, and send messages to groups of mobile phone users. One of their common schemes was to tell users they had won a lottery. When users contacted them about claiming their prizes, the criminals asked them to send money for shipping or insurance. Once these were paid, they were never heard from again.
The registration program for prepaid phone cards was first piloted in 2004 and 2005 in the southern Chinese cities of Shanghai and Quanzhou. These cities partnered with large telecom companies Quanzhou Mobile and China Unicom to implement city-wide mobile registration systems. After the new registration system was launched, the Quanzhou telecom operators' revenue declined sharply. Chen Guozhong, Deputy General Manager of China Unicom, reported that after the new program began, China Unicom Quanzhou division experienced a 20 percent decline in mobile phone registration applications. Additionally, there was a significant drop in customer satisfaction as the applications now required more paperwork and it took twice as long to receive a new mobile phone number.
It is unclear whether this new system is doing anything to protect cell phone users' privacy. Some applicants use fake IDs to buy mobile phone numbers. (Under the real-name policy, a person may still hold up to 10 numbers at a time.) These are difficult to distinguish from real IDs without the use of expensive identification verification machines. Ironically, the real-name registration system can make sending illegal messages more convenient for criminals. Criminals are able to steal lists of registered users' personal information from cell phone companies or prepaid phone card vendors, buy a relatively inexpensive group text message sending machine, and then send junk or fraudulent messages on a massive scale.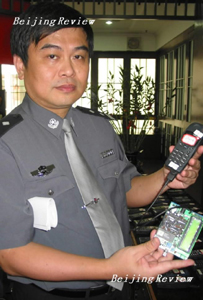 The policeman demonstrates how the group message-sending machine works
Public Reactions:
Support for the real-name policy in China is mixed. According to the China Youth Daily survey, 44.9 percent of respondents favor the new policy, 42.1 percent of those surveyed are against it while 13 percent say "it is hard to say." The new policy was intended to be carried out nationwide before the end of 2006. However, logistically it has been extremely difficult to re-register all of the 200 million users who use prepaid phone cards. In addition, the policy has been unevenly implemented. Some phone companies still do not require mobile phone users to present a valid ID and their personal information as they fear they will lose customers. Meanwhile, many of the small street-corner businesses that sell prepaid phone cards do not take the registration process seriously. This can result in registration information that is stolen and sold by intermediate operators.
Developments in Mobile Phone Technology to Keep Private Information Secure:
Encryption Software
Mobile phone manufacturers have responded to the problem by developing their own encryption software to protect mobile phone users' privacy. This includes
Intellisense Infotech ZPlus v1.0.S60.
The web page for this product reads: "This software is your best partner; it guarantees that your personal information on your cellphone won't be seen by others." The
Intellisense
software allows users to hide their contact lists, personal information, videos, images, texts or other documents. Personal information is retained as long as needed, including passwords, credit card information or other confidential information kept in your phone and is protected using
encryption
. The software is adaptable and can be used with multiple phone types.
Fingerprint Passwords for Mobile Phones
The leading Chinese mobile phone brand,
CECT
, developed a new model: Fingerprint-T100. It uses biometric fingerprint recognition technology to protect users' privacy and is said to be the most secure mobile phone on the Chinese market. Through the fingerprint detector, CECT T100 users set up their phone so their fingerprints act as their passwords. Access to contact books, message boxes and calendars are limited to subscribed users, preventing others from using these mobile phones.
BC